Huge News: Twinkle Gets A Makeover!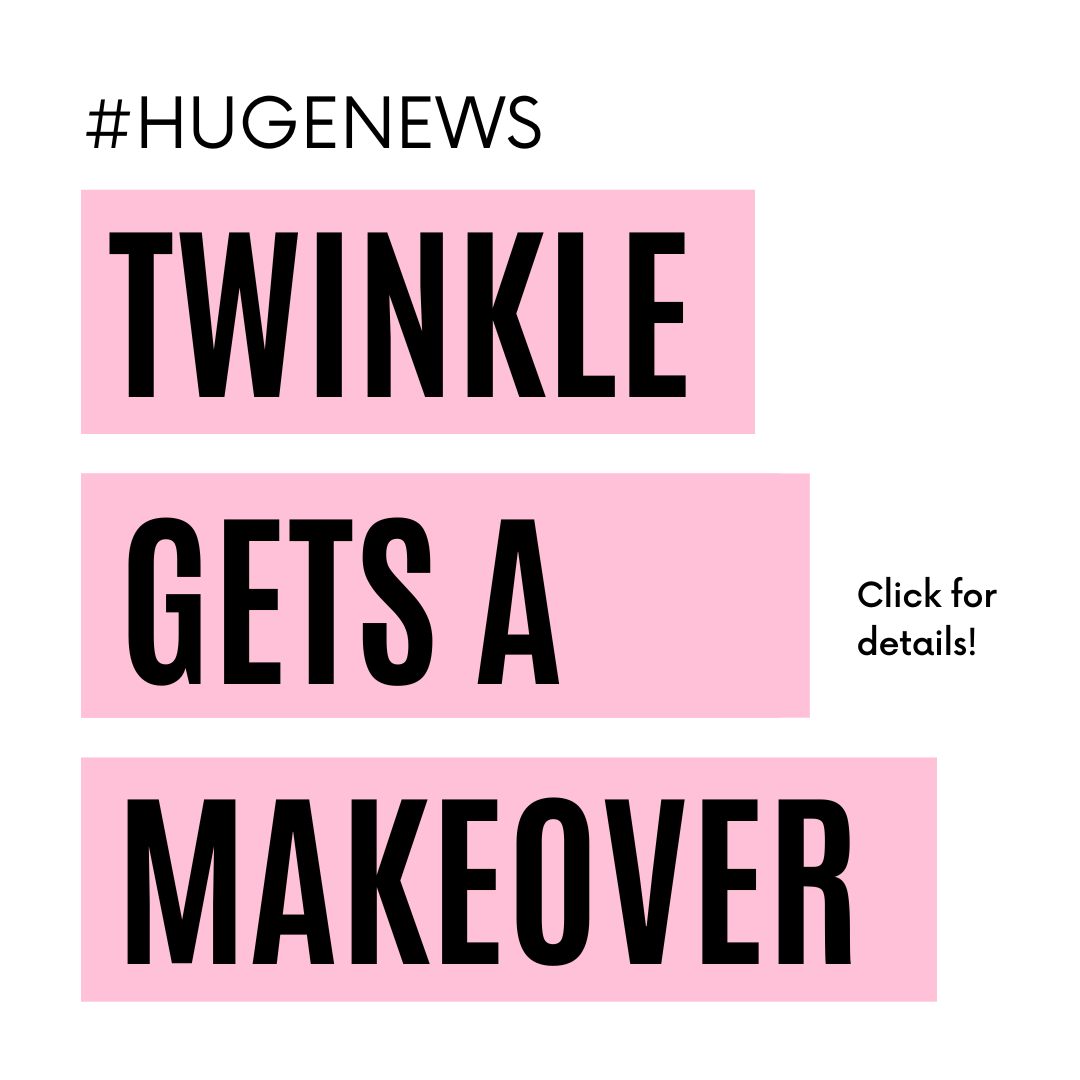 Friends - 
I have huge news. 
Twinkle Apothecary is getting a makeover.
And I don't just mean the labels on the jars and bottles. 
Everything is about to change. 
EVERYTHING!
First, the store:
As you might have heard, Field Study Clothing will close its doors at the end of August, moving to an online-only presence. With that, the Twinkle Apothecary in-person shopping experience (as it is now!) will also end.
After August 2022, local shopping and online order pickup in Oklahoma City will be by appointment only inside the Twinkle studio. 
AND YOU WILL NEED AN APPOINTMENT!
Because instead of stocking inventory I'll be custom-blending my skincare to your specifications! 
That's right! I'm turning my little shop into a bespoke skincare studio, where you'll have the opportunity to take control of your routine by working with me to design your own cleanser, facial oil, toning mist, and body oil.
I'll hand-make the products for you as you order them, whether you're coming into my studio by appointment or shopping online. 
I'm having SO MUCH FUN reformulating and working out all of the behind the scenes details, and I've even enlisted a professional design team to help me create a brand-new brand look.
I CAN'T WAIT to turn the page on a new chapter of Twinkle Apothecary this fall!
In the meantime, here's what to expect… 
Makeover sale pricing:
Pretty much everything is 30% off, online and in-store, while supplies last. But don't panic, I'll continue to make all of your Twinkle Apothecary skincare necessities until my new product line is ready to share. 
Products that are staying:
Acne Spot Treatment*
Eye Serum*
All-Over Balm 
Facewhip*
Translucent Mattifying Powder 
The Stain 
Shimmer Powders*
Eye Tint
Products that are getting a slight update: 
Deodorant 
(Will be available in just one scent/formula.) 
Wave Spray* and Dry Shampoo 
(Same formula, new scent!) 
Shimmer balms*
(They're going to be more pigmented and slightly less glossy!)
Products that are being DISCONTINUED:
Facial oil for Acne Prone Skin 
Makeup Remover + Cleansing Oil
Sensitive Facial Butter 
New (bespoke!) products in the works: 
Facial Oil 
Cleansing Oil 
Powder Cleanser
Body Oil 
Hair and Grooming Oil 
Toner* and After Grooming Mist 
Hydrating Mists
Face and Body Butter* 
Bath Salts*
* = these products will have a new, lower price!
The perfumes: 
ALL of the Twinkle Apothecary fragrances will be archived (but still available to members of the Twinkle Patreon community!) 
Seasonal favorite scents will be available in small batches depending on the season.
The Notes by SGC fragrances will re-merge under the Twinkle brand and be available to purchase here on this website.
The timeline:
Please stock up on your favorite products on sale this month.
If you're local, I hope you'll take advantage of being able to shop and sniff in-person during Field Study Clothing's retail hours. (11-5 Tuesdays - Fridays and 11-4 Saturdays)
The final day to shop in-store at Field Study Clothing will be August 27th during the Make Ready Market. (9:30 am - 1:30 pm)  
After that, I'll probably take a few weeks to reset before I open my studio doors by appointment to create my new products with you, so you'll have to hang tight. (I highly suggest stocking up on what you need now!)
Come autumn, Twinkle will be rocking a whole new look, and serving up even more delicious skin for everyone!
Stay tuned:
I'll be sharing more updates as I can via this blog, my email list, and social media.
Of course, I'm already sharing behind the scenes peeks at everything I have in the works on Patreon, and, patrons will get to test everything new before it's made available to the public. I still fully intend to share all of the Twinkle "classic" skincare recipes there too, so you're always welcome to join my secret club for the inside scoop! 
Ok. Enough talking.
Ready, Set... 
STOCK UP ON BEAUTY BUTTER!
EDIT: OCTOBER '22 - Unfortunately, after a few awkward-to-rude encounters in my studio, I've decided that I will not be open for appointment-based shopping to the public going forward.
I'm going *exclusive* and will only be open to members of my Patreon community because I want every interaction I have with my customers to be mutually respectful and kind.
That said, everyone is invited to join and $5/month gets you in the club! 
- Stefanie -