New - Bulk Options for Your Most-Used Products!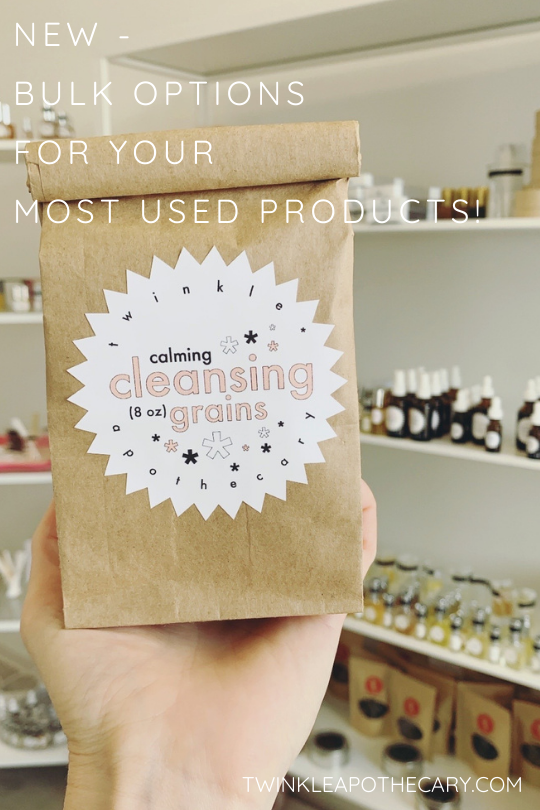 Shop update alert! 
Do you like saving money and the environment? 
Silly question, of course you do.
Well, now you have the option to buy bigger bottles of your favorite skincare products so you can refill your own bottles at home! 
I know, I know... I know that ideally you'd prefer for me to offer a bottle return program, or a way to ship your bottles back to have them refilled. However, I've given this topic A LOT of (YEARS OF) thought, and I just can't figure out how to make it work for my business model. Even if I had the budget and the space for an industrial size autoclave to sterilize bottles for reuse, I couldn't possibly add washing and preparing the bottles (peeling off the old labels, etc.,) to my current workload. Seeing as how a discount is expected for refills, I don't think it makes sense to hire someone to do such mundane yet laborious work either. Shipping bottles back and forth is also EXPENSIVE (it costs about $10 minimum for me to ship a 1lb package one way these days) and after the additional labor (not only the making/pouring/packing/shipping of the products, but the administrative work on my end to coordinate the back and forth exchange,) I would certainly go broke, not to mention lose what's left of my mind, trying to make it work. 
Also, heads up, because I know you will ask!
In-store refills for my local shoppers will be back in June, but keep in mind that they will look different than before, seeing as how I no longer have regular retail hours. It'll be a drop-it-off-and-pick-it-back-up-when-it's-ready type of a situation, for a percentage off of the regular retail price. Stay tuned for the details! 
In the meantime, here's what I've come up with for both my online customers, and locals who don't want to hassle with coordinating a refill drop-off! 
In addition to my already available powdered-product refills in biodegradable refill bags, the following products are now available in "bulk" (enough to refill your bottle between 4-16 times!) 
Eye serum and Acne Spot Treatment
Now available in a 2 oz amber glass dropper bottle for $100, which will refill the 5 ml roll-on about 12 times, (a $168 retail value,) or the 10 ml roll-on bottle about 6 times (that's a $148 retail value. MAJOR SAVINGS HERE!)
Now available in a 32 oz amber glass growler bottle for $100, which will refill your 2 oz bottle 16 times (a $224 retail value!) or your 8 oz bottle 4 times (a $112 retail value.) 
Original facial oil, facial oil for acne prone skin, and sensitive facial oil 
Now available in an 8 oz clear glass bottle (with pump for $120 or without for $118) which will refill your 1/2 oz bottle 16 times (again, a $224 retail value,) or your 2 oz bottle 4 times (a $144 retail value!) 
 - and that's not all - 
Exfoliating facial cleanser, calming cleansing grains, facemasks, and salt soaks now come in a double size refill bag, (enough to fill an 8 oz bottle twice!) so you can stay stocked longer. 
 BUT WAIT THERE'S MORE! 
Not to veer off topic, but in case $100+ per item is out of your budget I think it's worth mentioning that you can now pay for purchases over $50 in 4 interest-free installments when you checkout using the shopPay option through my website.
(This option is not available in-store on on my mobile app, yet.) 
This is brand new so I still need to update my website so the installment option is visible on the product pages, but it is live at checkout. To take advantage of the payment plan, click on the blue shopPay button. 
The shopPay button is in the lower right of your cart here: 
Or at the top of the checkout page, here: 
Click on it, and you'll see a screen like this, letting you know what your installment payments would be: 
This way, you can pay for your bulk items (or whatever you want,) over time to save money and packaging and still stay on budget! 
Sound good? 
 Trust me, if I ever figure out a way to make long-distance refills work as a one woman show, you will be the first to know. Until then, please recycle or repurpose your glass twinkle bottles.
I hope you will consider taking advantage of these bulk options though - not only will they save you A LOT of money in the long run on the products you go through most often, it's less shipping materials used, less shopping trips, less plastic spray caps, less roller balls, less labels, and in the end, much less work for me... haha!
But seriously, labor and wages are an important yet often overlooked aspect of sustainable business practices. I'm trying to do things completely holistically here, so the more efficiently I can work and earn a living, the better, right?! 
As always, if you don't have glass recycling in your area, you are welcome to send your (clean, un-broken) bottles back to me and I will recycle them via the private (not city-owned/operated and thus much less likely to wind up in the trash) service that I pay for here at my shop.
 Oh and one last thing - I'll go into this in more detail as I solidify my in-store refill service plans, but it's good practice to clean out your bottles in-between refills. 
How often to clean your bottles:
I'd recommend cleaning out your water based product bottles at least every other refill and oil/powder based product bottles every 3rd refill, sooner or later depending on how quickly you go through the product.
(Keep in mind that the oil based products have a one year shelf life and water based products should be used within about 6 months - you don't want to contaminate good, fresh products with old, expired products!)
How to:
To clean - wash in hot soapy water, using a bottle brush to scrub any product residue out from around the bottom rim. You can then rinse the bottles with a small amount of high-proof alcohol (rubbing alcohol is fine) or boil them in water (preferably distilled) for 3-5 minutes to further sanitize. Allow to COMPLETELY AIR DRY before refilling. Water = mold and bacteria overgrowth so they MUST BE DRY before you add product. You could also use a baby bottle steamer or UV light box to sanitize, or rinse them in an iodophor solution. At the very least, hot soapy water and allowing them to completely air dry is way better than nothing.
I know this is a lot of information to process, so I'm sure you'll have questions for me! Sadly, I've had to disable the comments on my blog posts because there was too much spam, so you'll have to email me to get in touch. 
Oh, one last thing if you've read this far - keep in mind that these bulk options are made to order. I won't be stocking them in my shop, so don't expect to be able to come in and buy it off the shelf during an open studio day. Always allow at least one business day for me to make your products if you're picking up locally! 
 And that's all. Phew!
Excited to hear your thoughts! 
Stefanie