Top 5 Summer Beauty Essentials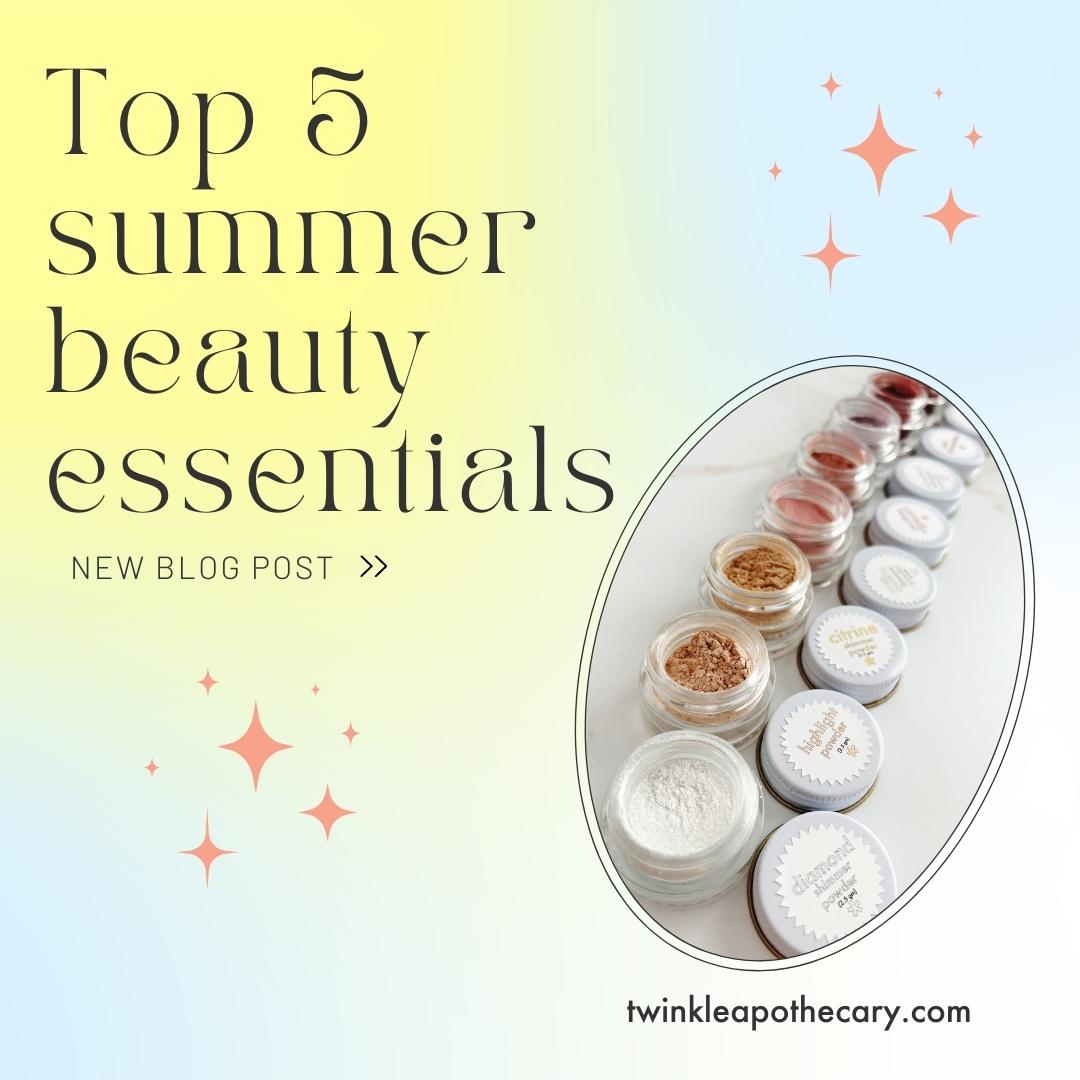 So you've got the basics down...
(deodorant, travel skincare set, etc.,)
but are you living your very best summer life?
I don't know why this would ever happen, but if I could *only* have 5 products for the summer, I know exactly what I'd pick. It might not be what you think!
Keep scrolling to see my summer must haves and shop the collection. If you haven't tried these twinkle faves, now's the time. Also, great news: they're good throughout the year!
1. After Shave Mist: I don't groom without it!
I honestly don't know how I ever lived before this product. It's the only thing that's ever truly worked to heal razor bumps and ingrown hairs for me. (If you loved my bikini balm, THIS is better. Trust me!)
I use it immediately after shaving, and then daily (shower > bikini brush > after shave mist) to keep ingrowns at bay.
Bonus: it soothes bug bites, freshens up sweaty underarms, and is packed with anti-inflammatory ingredients to heal sunburns and rashes!
 2. Hair oil: Saves my strands from the swimming pool! 
Ok, so I used to never get my hair wet in the pool, but now that I'm dye-free and living my best gray life, swimming with my kiddo is A LOT more fun.
A few drops of hair oil after I've washed the chlorine out makes all the difference. It keeps my ends from getting crunchy, and my hair is so much more manageable afterwards! Better yet: apply a full dropper to your hair before heading to the pool, then a few drops after you wash for extra moisture.
Honorable mention: All-Over Oil 
I'm not cheating, I'm just providing *options.* If you really can only add a handful of products to your life, All-over oil works just as great in your hair!
Of course, it also provides skin-barrier strengthening softness to your whole body and face. Don't forget: your body skin needs protective moisture in the summer months too!
 3. A rich moisturizer for after-sun care
Don't forget about facial balm and beauty butter in the summer! These moisturizers are both packed with antioxidants to fight the free-radical damage caused from UV rays. (Meaning, they'll prevent pre-mature aging while evening out your skin-tone and protecting your skin-barrier!)
I use beauty butter on my face every night before bed, and supplement with green tea balm on my face and body after I've had too much sun. The results for my fair, easily sunburned skin are incredible!
If you're sensitive, the sensitive facial butter works just as well. Who needs essential oils when you've got the antioxidant power of blueberry seed oil?!
4. Translucent Mattifying Powder: I don't Facewhip without it!  
Honestly? It kind of blows my mind that some of you are out there using facewhip without this on top!
I have oily skin, and translucent mattifying powder is essential for me year round, but I definitely use more in the summer. It keeps my face from melting, but I still feel dewy and soft, never dry or cakey!
I apply it with a powder puff on my face after my facewhip soaks in, and in-between every makeup step to set my colors. (On my eyes too!)
I'll reapply at work if I get sweaty, or in the evening if I'm going out!
5. Shimmer Powders over balms. (Or, under!) 
Speaking of powders, I'm more apt to use shimmer powders (versus the shimmer balms,) on my face in the summer.
They make me glow without adding more weight or moisture to my skin. If I do go for a balm, I'll always layer a shimmer powder underneath to set it and add another layer of color. You can really vary your look this way!
Of course I can't not mention this limited edition shimmer powder color!
Summer Saturdays is the exact same color as last summer's "The Gloss." I just selfishly wanted to bring it back in a powder because it's the funnest and prettiest highlight for cheeks and eyes, and layers so well with so many of my favorite twinkle colors!
Heads up though: there are only 2 left in stock at the moment. Catch it while you can! 
Need more product recs for the season? Scroll down to shop all of my picks for summer!
Stay cool out there,