Hair Oil Vs. Hair Tonic: Which should I choose?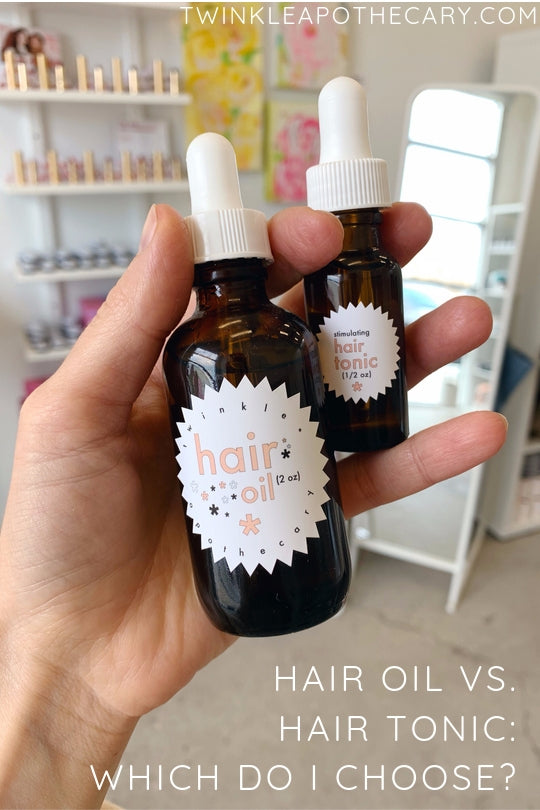 Ope! Looks like you've stumbled onto an ooooooooold blog post here! 
The good news: You've also stumbled into a very cool independent shop that's full of handcrafted high-quality plant-based goodies for your hair, body and face. 
Click here to shop the current collection.
The bad news: Hair Tonic was discontinued in January 2022! 
You can scroll down keep reading, or, you can learn more about our lusciously moisturizing and shine inducing hair oil here.
Either way, thanks for stopping by! 
Hiya! 
Thought I'd take a break from my makeup chronicles this week to address a very frequently asked question in the shop: 
What's the difference between hair oil and hair tonic? 
The short answer: 
Hair Oil is a moisturizing treatment for your hair. 
Hair Tonic is a moisturizing and stimulating a treatment for your scalp. 
I'm sorry to be confusing, but I couldn't very well put "scalp tonic" on my bottles, now, could I? I mean who would buy that?! 
And, technically you can use Hair Tonic in your hair as well as on your scalp, so I needed a name that covered both. 🤷🏻‍♀️
Anyway...
let's talk about hair oil. 
My hair oil is a product that has been a consistent best-seller since I released it almost 4 years ago. It's a rich blend of coconut, avocado, jojoba, and evening primrose oils, with lavender, carrot seed, ylang ylang, and geranium essential oils. 
It's thicker feeling than any of my facial oils or serums, and a little goes a very long way. 
It helps smooth and strengthen your hair, conditions the scalp, adds shine, de-frizzes, decreases static, and just generally makes things way more manageable. 
You can use just a couple of drops to help keep your hair soft daily, or, you can use a full dropper or two as a deep conditioning treatment before you wash. 
Those with fine hair (like myself) will want to start very small when using hair oil. I like to start with just one drop after my hair has already mostly dried to make sure I don't over do it, but you can also apply it to wet hair. 
Those with thick, curly, coarse, and/or dry hair will enjoy using it a little more liberally. (Curly girls love this product!) 
And everyone can stand to do a deep conditioning treatment before washing at least once a week to keep your hair healthy and shiny! 
Here's how: massage 1-2 droppers of hair oil through the ends of hair and into the scalp. Comb through and let it sit in your hair for 30 minutes to overnight, then wash it out. 
Now, hair tonic... 
I created hair tonic because I wanted something more lightweight than hair oil that I could use to condition and stimulate my scalp to promote growth without making my hair look oily. 
Watermelon seed and jojoba are both very nourishing, yet balancing, oils that have a much lighter feel than the coconut, avocado, and evening primrose mix in the hair oil. 
Rosemary and ginger essential oils add a slight warming sensation to stimulate the scalp, while carrot seed essential oil is said to promote thickness, so I added it to this one too! 
Hair tonic is light enough that you can give yourself a scalp massage with it daily, even if you don't want to wash your hair every day. Just apply a few drops to your fingertips, rub them together, and start massaging your scalp. 
You can also apply it to the ends of your hair like the hair oil - it will effectively soften, strengthen, and add shine too! 
Hopefully this helps you make a decision...
If you're still stumped, I'd recommend thinking about your hair type, and what issues you're trying to address. 
If you have thick, coarse hair and your main concern is dryness, preventing breakage, and/or frizz, I'd say go for the hair oil. 
If your main concern is itchy, flaky scalp, or if you have fine hair that you don't want to weigh down, go for the tonic. 
Of course, you could always get both. 😉
(Just gotta throw that out there.) 
Also! There's a hair tonic in the October beauty box (shipping next week, 10/15,19) so that's a great way to test it out, along with some other self care goodies, at a great price. 
Here's to happy, healthy hair this fall! 
-XO-