Beauty and the Budget - Easy Ways to Save in 2019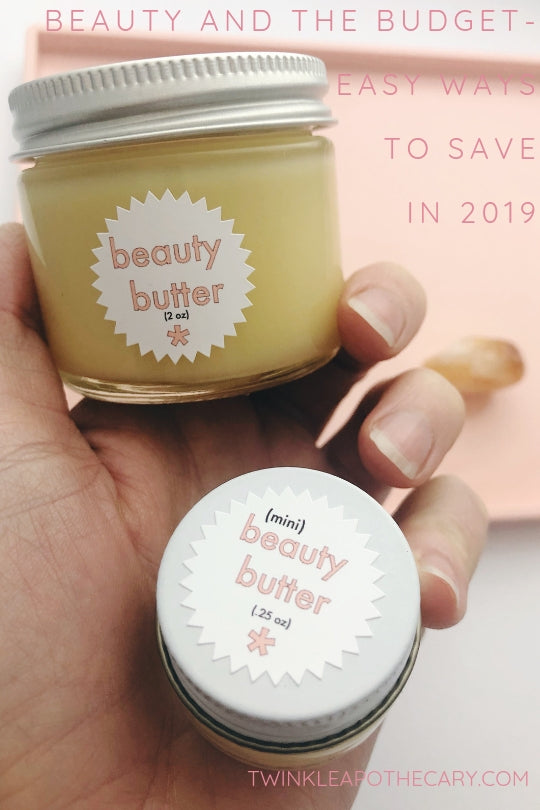 Raise your hand if you're trying to be better at managing your money this year. 
(HI!!!! ME TOOOOOOO!)
I get it guys, I so do. I know it probably feels like I'm trying to get you to buy everything all the time (because I totally am because I know that my products will make your life better) but I don't actually want you to go broke buying skincare! One of the reasons I started this business was because *someone* needed to make some good, clean, stylish products that were actually affordable already, and I try very hard to stick to that mission with every business decision that I make. If it's not practical, effective, sustainable, and attainable, I do not want!
So since it's the time of year that we're all being good and sticking to our New Year's resolutions, I wanted to take a quick moment to go over some of the ways you could be saving a little extra money when you shop with me in 2019. I'll be posting on some of them (like the rewards program and subscriptions) in more detail a bit later, but wanted to give you a quick rundown of my top twinkle money saving tips first so you know your options and can start making the smartest decisions for your personal budget right now. Here goes:
1. Subscribe to save 15% on your necessities
Oh that's right, the discount for subscribing is now 15% ‼️ so you can save even more on all of the things you need to not run out of! 
I've got a blog post in the works that goes over how to manage your subscriptions so stay tuned for that, but most of you seem to figure it out just fine on your own, and it really is quite simple! 
All you have to do to order a subscription is select the "buy it now & subscribe" option when you add the product to your shopping cart. 
It looks like this: 
Then, select how often you'd like for the product to come to you by selecting an option from the drop down menu under "deliver every" 
The options are 1 month, 2 months, or 3 months. 
Note that not every product is available for subscription, but most are! Right now only the products that I make in-house and can guarantee I'll have in stock all the time are available for subscription. (So basically no seasonal items, accessories, or fine fragrances.) Think of this as your go-to for all of your go-to products! 
Heads up: if you already have a recurring subscription order, you need to cancel it and buy a new one to get the 15% discount - otherwise you'll just continue to get the old 10% discounted price. Email me if you need help with this! 
If I didn't already have access to unlimited Twinkle Apothecary products ;) I would totally subscribe to the necessities that I run out of every month so I could save money to splurge on makeup and perfume. ;) ;) Here's an example of how much you can save: 
Here in my cart, you can see that I have toning mist to renew every month, deodorant to renew every 3 months, and cleanser every 3 months as well. Buying those full price would cost me, $74 or, $488 per year. Yowza. 
But with the subscription discount, it's $62.90, which is an $11 savings (so you can get a lip tint or an acne spot treatment maybe?) and you're saving $73.20 per year, which is enough to justify buying a couple of fragrances, am I right?! 
This is such an easy way to save without having to wait for a sale or anything! 
You can also change your subscription at any time - like if you want to switch up your deodorant scent or need to add or remove anything. Just log into your account to manage your recurring orders! (I'll be posting a tutorial shortly so stay tuned...) 
I also totally do not mind if you choose this option just to get the discount once and cancel right away, but please don't forget to cancel and then expect me to refund you after I've already shipped it. That's just rude. Also bad for the environment... You will get an email reminder before your next charge date, so please be responsible and stay on top of that stuff for me, OK?!  
Oh, and if you're local you can still come into the shop to pick up your subscription order if you don't want to waste the shipping. Just select store pickup at checkout or send me a message that you'd like to come in for pickup!  
There are a couple of catches with the subscription option.
One: it's not compatible with my mobile app. Recurring orders are run through a separate checkout process and they don't cross over (yet.) So if you're shopping on your phone, you'll have to navigate to your web browser to make subscription purchases. This means that you might have to temporarily delete the app so it doesn't try to automatically open when you're on my website on your mobile device. Better yet, just do it on your computer! 
Two: you can't combine subscription discounts with other coupons. Again, the subscription checkout doesn't cross over with my app or regular website checkout, so the coupon codes don't either. If you have a rewards program coupon (more on that below) you're trying to use, just message me before you place your subscription order and I can add the coupon in the system for you. Otherwise, subscription products are not included in any other sale. And no stacking coupons, sorry. If you're trying to save, I recommend using the subscription discount to get your necessities, then taking advantage of my annual sales or other coupons to get the fun extra stuff. Exception: Cyber Monday is the one day per year that I offer a subscription box sale so mark your calendars.  
Okay? Ok. 
2. Rewards Program 
Guyssss.... so many people are not taking advantage of this and I don't know why because it's so easy!
Go to twinkleapothecary.com and look in the bottom right corner of the page. 
See where it says "check your twinkle stars balance?" (The little pink banner?!) 
Click on it, and this pops up: 
Scroll down to where it says "Twinkle Stars" and click on "ways to earn." You'll see that you can earn a ton of "stars" or, points, for different actions - like creating a customer account (100 points) or following Twinkle Apothecary on social media (50 points per platform) or writing a product review (100 points) or even shopping (1 point per $1 spent, or 2 points per $1 spent in our OKC shop!) 
Now, go back, and click on "ways to spend." You'll see that with all of those options it really won't take any time at all to earn your first $5 coupon. 
So how does it work? You just log into your customer account and it tracks everything for you. If you're shopping in the app or in our OKC shop just make sure to use the same email at checkout every time so you don't get multiple accounts going - you want all of your points to go into one account so you can earn more coupons! 
To check your points balance, you just click on the banner where it says "check your twinkle star balance" (I mean...) and log in where prompted. If you have enough points for a coupon, copy the coupon code it gives you and paste it into the coupon box at checkout. It will work on the app or the website. If you're shopping in person, just make sure to mention that you want to pull up your account and check for any available coupons incase we forget to ask! 
Now, go back and see where it says "referrals." Note that you could be missing an easy opportunity to get a whole $10 off your order! 
Log in, and it will give you a unique link that you can email to your friends or post on social media. 
Anyone who clicks on this link to shop the amazing products that you've recommended to them gets a coupon for $5 off their first order, and when they make a purchase, you'll get a coupon for $10 off your next order. 
How fun is that?!
Just please don't be weird and refer yourself using a different email account. I can totally tell when you do that even if you make up a different name and, yes, I judge you a little bit. LOL. But seriously, the reason I offer the discount is because I'm hoping you will help spread the word about my brand, so please be courteous and help a lady with a $0 marketing budget out, ok? Thanks in advance!  
There is one catch with the rewards program, and that is that you can't check your points balance on the mobile app, so you'll have to go to the actual website to check your balance and get your coupons. However, you do still get credit for every purchase, whether its on the app, website, or in the shop, as long as you enter your account email at checkout. 
So after you finish reading this you can log into your account and get crazy posting product reviews, right? Yay! 
3. Buy BIGGER 
Real talk, I recently had to raise my prices on a lot of my mini/sample items, because I cannot keep them in stock. It feels like you all have gone mini CRAZY! I buy these dang jars in packs of 400+ and they're gone in a matter of weeks. I know they're adorable and that you do need a way to test things out before buying the full size, but they're actually a lot more labor for me. More raising my arm to pour product into smaller jar openings, more drips to wipe up, more labels to peel and stick, more price tags, and because lots of people are just buying the minis over and over, it's more shipping waste. 
This is why I offer significant savings when you buy the larger size. 
Know that I'm not trying to make you feel badly for buying minis. I want you to feel comfortable buying whatever size you feel is appropriate for you, I just want you to be aware that you can save a lot of money over time when you go for the bigger size option.  
For example - toning mist. 
1 mini is $8
It takes about 7 minis to equal 1 2 oz bottle. That's $56 dollars. (!!!!!)
The 2 oz bottle is $12
It takes 4 2 oz bottles to equal 1 8 oz bottle. That's $48 dollars.  
The 8 oz bottle is $24
So, if you know you love it, you're saving soooooo much money when you just buy the big one already! Plus I don't have to ship it to you as often (the big jar of beauty butter can last me 6 months in the spring/summer when I just use it on my face!) - so mama earth also says TIA.
4. Monthly App Exclusive Discount 
If you have an iPhone you need to get on this one. If you don't have an iPhone, they are still working on the Android version but it is coming. I share the app-exclusive discount with everyone during the last week of every month so keep an eye on your inbox and social media to get the code so you're not left out! 
How it works: just download the app, open it up and scroll down to the bottom of the homepage. There, you'll find a banner with the details on that month's special, which I update on the first of every month. It's always something different. Sometimes it's small, and sometimes it's extremely generous. This is just my way of saying thanks for carrying my shop around in your pocket 24/7 and putting up with my push notifications. (How cool is that by the way? Technology is amazing!)  
Also, I only do 1 (or maybe 2) sales per year, so if you're one of those people who've got to have a sale to justify shopping, this is for you!  
Also, also, you do not have to make your purchase in the app to get the discount! The coupon code works on website too, and, all you have to do is mention that you'd like to use the app discount when you come into the store, and we will always honor it for you. It's just not something that I advertise in-store because I want it to be an exclusive treat for my loyal followers. (You!) 
5. Refills 
Even if you don't live in OKC and can't take advantage of our in-store DIY refills, there are still tons of refill options on the website, and they're a better deal than buying a fresh bottle every time! 
The Exfoliating Powder Cleanser, 
Translucent Mattifying Powder, 
are all available in refill bags - made from recycled and recyclable plastic. 
Looks like this: 
They'll refill a big 8 oz bottle once, and a small 2 oz bottle 3-4 times. 
Get yourself a funnel and you'll be all set! 
For even more savings, subscribe to the refills! (See #1) 
If you're in OKC - please make use of the DIY refill option that I offer in the shop! The powders aren't available quite yet because I still need to make a decision on jars and shelving, but all of the oils, toning mist, and hydrosol are ready to go. I got so, so, so, many requests for this last year, so now I am just over here waiting for you to get in here with your bottles... 🙂
Doesn't get easier (or less expensive) than this folks. 
What else can I say? 
Ah, yes. The last tip I have for today:
So, this one is just for my OKC friends.
(Can you tell that I'm reallllllly trying to get you in here?!) 
Now, when you come in with your Keep It Local card, you get 15% off your entire order, all the time. If you don't already have one, I sell them for $15 and you can use them all over town. It pays for itself very quickly. 
I look at this discount as the time/money that I don't have to spend shipping you products if you live in the area. Don't get me wrong, I don't mind shipping at all, but it does save me money when you come in and shop in person so I'm passing that savings onto you for Keeping It Local. The Keep It Local program is also a great way to find out about and support more of your favorite local businesses!  
So how 'bout it? 
Are you feeling inspired to change up the way you shop here to save money? What are you planning to do with your extra cash?! 
Let me know what you think of my tips, and what other questions you have for me so I can work them into my subscription and rewards tutorials.
Do you have any tips that I forgot to mention here? Do tell!  
Happy budgeting, friends! 
-XO-