A Two Minute Skincare Routine for Busy Mornings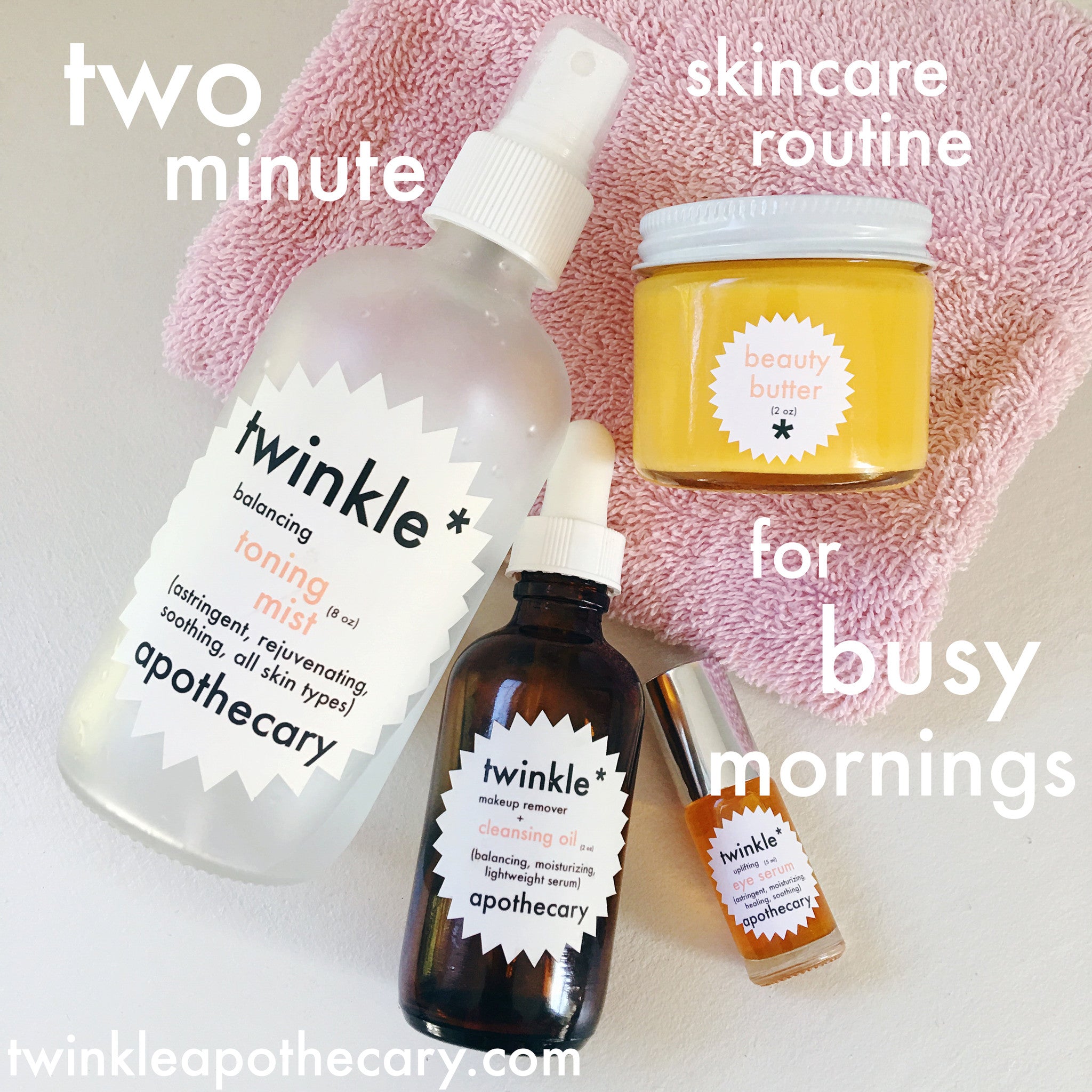 Hello! Hope you all had a happy and restful holiday! Are you back to work, or still on vacay? I'm back at it (obviously) and I thought today might be a good opportunity to share another one of my skincare rituals with you, just in case you're currently looking for ideas to save on time but still take good care of yourself in the new year!  
Here's a short and simple routine for anyone who's in a rush in the AM. Which is probably everyone, right? If not, just know that I am very jealous of your lifestyle. 
Personally, I tend to stay up late working nights (someone's gotta handcraft the beauty products...) so waking up in time to take my 4 year old to preschool is usually a bit of a struggle.
So here's what I do. It takes two minutes (or less) I PROMISE! 
If you've gone to bed with clean, makeup-free skin, a good spritz of toner is really all you need in the mornings. I shake the bottle well (always do that before use to disperse the essential oils) liberally spray my face & neck, then pat dry with a towel. You can rub this on with a cotton ball if you've got a minute, but I usually don't, and the spritz & pat works just fine for me! 
The witch hazel helps to clean any lingering dirt/debris while tightening your pores, and the essential oils of neroli, lavender, ylang ylang, geranium, and orange help heal, soothe, brighten and balance skin. Plus it feels super refreshing and smells lovely! 
While my skin is still a bit moist from the toning mist, I massage approximately 3-4 drops of this oil into my face and neck. I love that the jojoba and watermelon seed oils are super lightweight and absorb quickly, while the essential oils of chamomile, ylang ylang, geranium make my skin look radiant!  
I quickly roll this under my eyes (a little goes a long way) then tap any excess up into my eye lid/crowsfeet area. This serum is a little power house of plant based oils (and also coffee) that work wonders to firm up, heal, and moisturize delicate skin. A must for me every morning! 
Usually applied on the way to wherever I'm going ;)
And that's it! I know this looks like a lot of words, but actually doing it takes a couple of minutes, tops, and I swear it's worth every second! 
-XO- 
Stefanie