Our Nighttime Skincare Ritual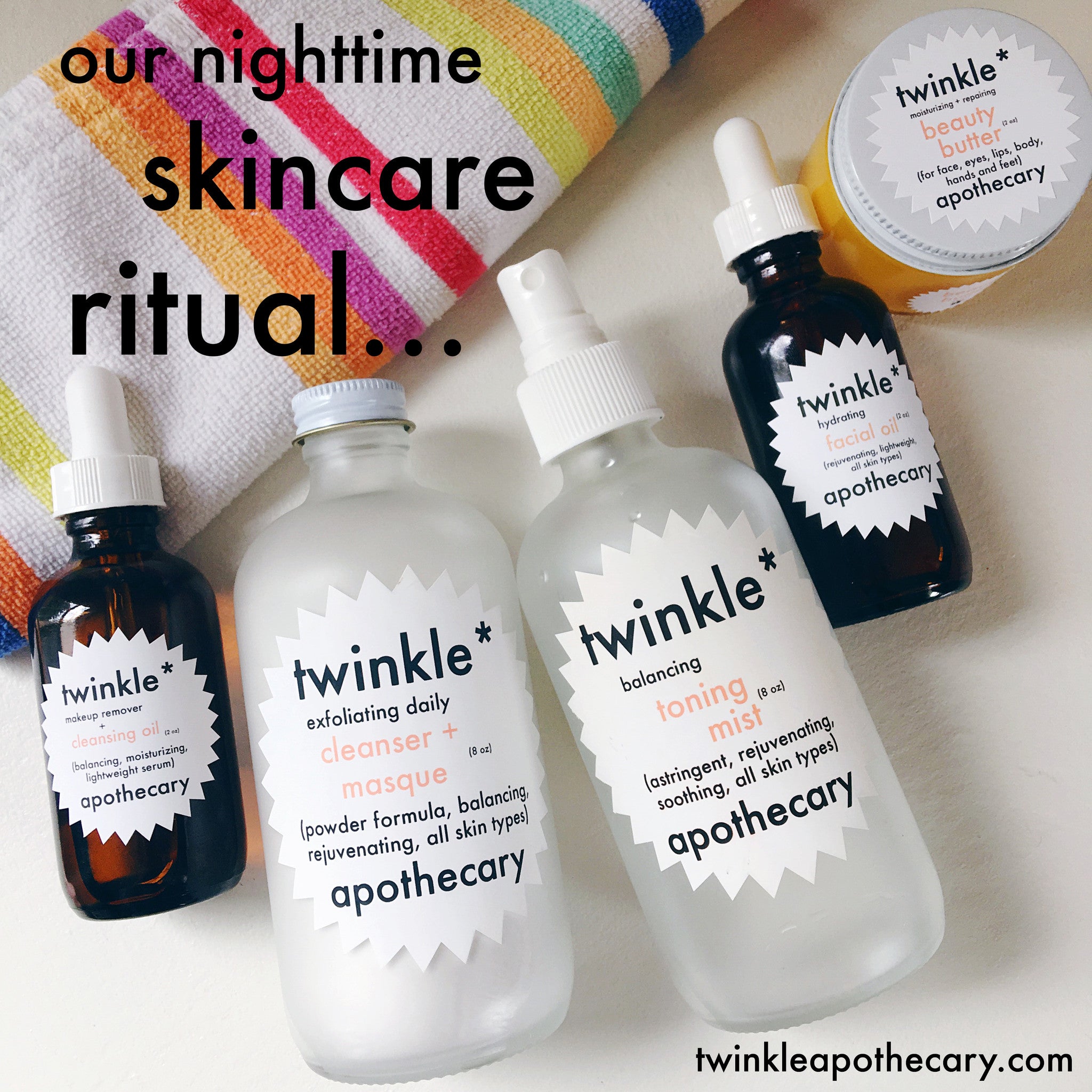 One (or two) of the things that I really (really) love about my facial care line is that it's multitasking and customizable. In fact, when people ask me about how to use my powder cleanser, toner, and facial oils I could just go on and on... because there's actually tons of different ways to incorporate these products into your beauty routine! 
I'm pretty much always changing up how I care for my skin, depending on whether or not I wore makeup that day, or was outside in the sun and wind, or how busy/tired/stressed I'm feeling, or if I'm breaking out (extremely rare these days, but it does happen occasionally!) So I thought it'd be fun to share all of my little tips & tricks here on the shop blog! 
This post is dedicated to my full nighttime skincare ritual. Starting with makeup on, and assuming that I actually have the time and energy to complete the process. This is the whole shebang. It's a bit luxurious, almost like a mini-facial, but it is SO WORTH IT. 
(Mostly I'm without makeup and falling asleep at my desk every night... but don't worry, I will absolutely share my half/lazy nighttime routines with you here also! If you follow me on Snapchat you've probably already seen a few...)     
Here we go!
Step 1: Makeup Remover + Cleansing Oil 
I massage a full dropper of oil into my dry skin and neck, then eye area, to loosen makeup and dirt.
At the same time, I'm heating up/running hot water over a washcloth. 
I'm not shy about rubbing the oil into my eyelashes/waterline because I'm about to remove it completely. 
I lay the warm washcloth over my face and eyes for about a minute (like a hot compress) to give my pores a quick steam. 
Then I wipe my face and eyes clean with the washcloth. (This hot compress method is how my eye doctor recommended removing makeup years ago, so I always try to remember to do it when I wear eyeliner and mascara!) 
Step 2: Powder Cleanser + Masque & Toning Mist 
I'm right handed, so I sprinkle about a tablespoon or so (eyeballed, of course) of the cleanser into my left hand. 
I use my right hand to wet my face down a bit with water from the sink. 
Then I use my right hand to spray the toner onto the cleanser that's in my left hand to wet it down. (It takes about 10-12 pumps of the toner to get it the right consistency for me.) 
I make a paste by rubbing my left fingers into the cleanser/toner mixture. 
I massage the paste onto my face and neck (avoiding the eye area) using circular motions.
I let the cleanser dry on my face as I brush and floss my teeth. Hello, now it's a masque!  
I rinse the cleanser/masque off with warm water and pat dry.  
Step 3: More Toning Mist 
I spritz the toning mist onto a cotton ball and rub it over my face just to be sure I've gotten every last speck of dirt off of my skin! 
(Sometimes, I just spritz my face and pat dry.) 
(But, if I've worn CC cream or foundation, or have been outside in the Oklahoma wind that day, I find that the cotton ball method is more thorough.)
Step 4: Acne Spot Treatment (optional) 
If I see anything that looks like it could possibly be turning into a pimple, I roll the acne spot treatment over the area. 
I find that catching potential blemishes early is when this treatment is most effective (and it really is!)  
I gently massage/press approximately 3-4 drops of facial oil into my face and neck. 
A little goes a long way! (I always have to remind myself of that...) 
I use this much (see pic!) because a little of this goes an even longer way than the facial oil. 
I gently massage it into my skin and neck, concentrating on my eye/crows feet area and working my way out. 
If I have any dry patches (rarely... usually just the tip of my nose in winter) I massage a teeny extra bit there. 
If I happen to have any cuts, bruises, mosquito bites, sunburn, etc., on my body I try to remember to massage a teeny extra bit there also! 
If I'm feeling fancy, I use it on my hands and feet. 
Right before I get into bed I put it on my lips. 
Usually I find that it's still in place when I wake up the next morning. 
Step 8: Wake Wake Up With Beautiful Soft, Clear, Even Skin 
For real. This stuff makes me happy. 
:) 
-XO- 
Stefanie