5 Things I Wanted To Share This Week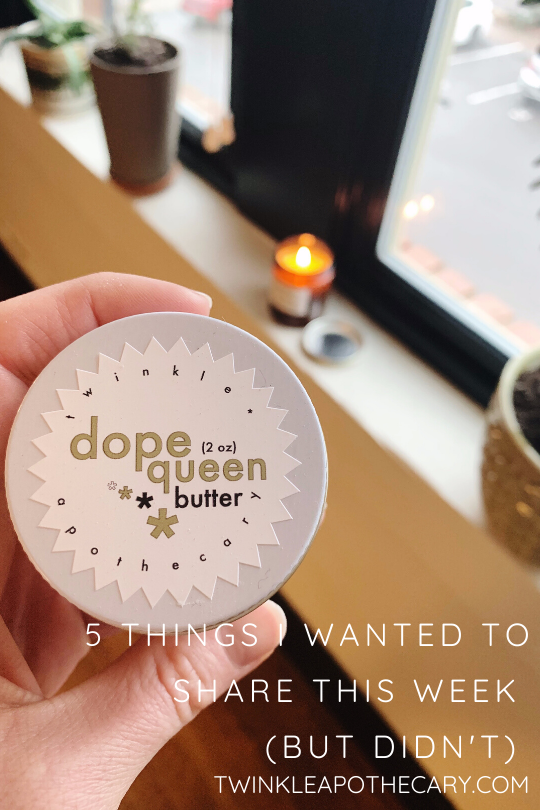 (but didn't...) 
Until now! LOL 
OK guys. I've gotta be honest. I am LOVING not being on Instagram. 
So much so that I don't know how I can go back... 
I know I need to. 
Or, do I?
GAH... I don't know if it's my age, or my commitment to my own self care, but it's just becoming so ridiculously easy for me to step away from things that don't serve me, and I needed this break to understand just how much Instagram wasn't serving me, or my business. 
I didn't post for a week, and guess what happened to my business?
Um, nothing. 
People came into my shop, they placed orders online, they emailed me... 
It was a totally normal week. Only better because I was free. I didn't feel like I was dancing around on my phone, constantly trying to get your attention. 
I don't really know how to move forward from here - it feels weird to abandon it completely, but it also feels like a massive waste of time at this point. And I'm no stranger to avoiding things that don't work for me - so it's looking like Instagram might just be one more casualty in a long like of "things Stefanie doesn't do for her own peace/sanity/sense of integrity." (Like the car line at school pickup, cable TV, Black Friday weekend, and dating apps, just to name a few...) 
I like to think of it less like I'm hiding away from the world, and more like I'm cultivating my own inner world of peace, happy thoughts, and good vibes. Maybe my inner world will rub off on the outer world in some way? (I kind of like to think that it does through my products!) 
I'd rather share more quality content here in a way that feels both efficient and healing for me (as opposed to draining/soul sucking) that would also lead to you better understanding me, my brand, and my products, which would then hopefully lead to you feeling confident to make a purchase that ends up fulfilling your needs. I invite you to come to me on your own time, instead of just compulsively, constantly scrolling, trying to get to the end of your feed. 
There. Now you are free too. ✨ 
All of that being said, here are a few things I wanted to share with you from this week, but didn't: 
1. BTS Production Stuff 😍
(Doesn't this perfect pink clay mask look like Neapolitan ice cream? It kinda makes me hungry!)  
I don't feel like I was necessarily more productive this week, but rather, I was able to move more slowly and intentionally through my work, and because of that, I was much more aware of how enjoyable what I do can be. Blissful even! 
There is something so delightful about swirling clay through flour. Dropping a single drop of patchouli in a bottle of acne spot treatment and watching it bubble like a mini, delicious smelling lava lamp... pouring melting wax and watching it re-harden all shiny and smooth and pretty...  
It's grounding and sensory and aesthetically pleasing and makes me feel really earthy and yummy and happy and magical. On one hand, I wish everyone could get in my kitchen and experience the joy of it, but on the other, there's something kind of indulgent and romantic about being the only one who gets to see everything come together. 
It's funny, because when I first started my business I assumed I'd eventually hire employees or outsource my production so I could focus on the "big stuff," but I actually love the making part so much that I'm changing those plans in my mind. It's not a common way of thinking in our society, but being/staying small is actually a legit (some might even say, recession proof, 🧐) business strategy. And I think that you guys also love that I'm the one who makes everything too. I mean, I don't just think that... several of you told me that this week, and, message received! 
So, while I haven't been live-streaming everything I do every second of the day, rest assured that I'm still over here totally blissed out by all of it, and instead of planning to take over the world, my challenge going forward is to find/keep my balance and figure out a way to keep doing just this for as long as possible. Balance might mean I don't post a picture of every little pretty thing I do, (and it is all beautiful!) but you're always welcome to come by and take a peek IRL. 🙂🤷🏻‍♀️ 
2. Works In Progress 🎉
I am so, so excited about the perfumes I'm working on right now you guys. 
WIPs on my desk right now are the February Perfume Junkie scent, March, and the Asterisk Collection Edition #9. 
Okay, so February and #9 are P-E-R-F-U-M-E-S ! ! ! !
These are the kind of fragrances that I'd like to make a lot more of going forward. Sometimes I hold myself back from doing my thing because everyone tells me that they just want to smell like clean laundry all the time (yuuuuk my least favorite smell on the planet, by the way 😝 and also maybe why every time I make something that I think is fresh and clean people tell me it's "too earthy" as if I'm not working with materials that COME DIRECTLY OUT OF THE GROUND OMFG) but you know what?
No.
You're gonna smell sexy as hell next month and you're gonna like it. 
February's scent reminds me of this incredibly heady, rich, powdery Lubin scent I used to wear in my 20s (which I was gifted from my retail job because obviously I could never afford it!) and I didn't plan or expect it to smell like this, (seriously I don't/would never attempt to dupe another brand's scent) but the fact that it does makes me smile real big when I wear it because being introduced to those niche perfumes is what got me into fragrance so it feels kind of full-circle in a way, you know?  
#9 is also very rich... it's a jasmine based, tropical floral with lemongrass and pink pepper, almond and galangal root... sandalwood, vetiver, even some chocolate! I have no idea when it will be ready but I'm loving how it's coming together so far! 
March is loosely inspired by my aromatherapy perfume, Be Loved... only, very loosely, because I try to make the perfume junkie scents something that anyone would like and no one but me seems to like that one, 🙃 but I also just can't get enough of that jasmine-patchouli combo, especially on a cloudy/rainy day that feels like spring. So it does have jasmine and patchouli, but also lavender, and oakmoss, and petitgrain, which gives it a fresh, cologne-like vibe... Think of having your windows open after the rain while you're burning some of this delicious Sunol incense. So freaking good. Incidentally, several other of my perfumes are loosely based on Be Loved - Edition 3 + 8 are the first ones that come to mind... I love exploring and finding different ways into that powdery/earthy vibe and I'm trying to get you guys to appreciate it too!
I have no idea what April will bring, but I'm excited to see where inspiration will strike!   
3. My Spotify! 
I don't know why I haven't shared this before, but in case you're curious about what I'm listening to in the shop while I'm working, (assuming you aren't in OKC and can't make it by, of course,) you can check out my Spotify profile here. My taste in music is pretty varied, and I'm always looking for something new to listen to, so feel free to send some music my way too. Fair warning, last week was just a whole bunch of french cafe music, because sometimes I like to pretend I'm the spunky yet awkwardly charming heroine in an early '00s Nancy Meyers film while I'm working is that weird lol. 💁🏻‍♀️ 
4. All of the tea... 
OMG, so out of the blue this week I received the most INCREDIBLE new year's gift from my favorite essential oil supplier, full of the most luxurious botanical yumminess. It was such a treat! (Also I might be spending WAY TOO MUCH MONEY ON PERFUME INGREDIENTS?! 😬😅) Anyway, I've been on an herbal-tea kick lately and was blown away by this forest blend they sent by a brand called Leaves and Flowers. Probably re-steeped it way too much by the time I took this picture, and also, what is plain water? I don't remember. I'm just 70% herbs at this point. This, plus zanzibar, sweet almond, and cream caramel is how I intend to survive the rest of winter. 🙃 
5. BUTTAH 
Holy Bejeezus I just have to say this stuff is so, so, good. I've really gone and done it now, haven't I? I feel very sorry for those of you out there who didn't get one. Maybe I'll have time to bring it back next winter? 😅
If you need me, I'll just be at home, slathering myself in Dope Queen butter, drinking some tea from now until Summer.  
Like seriously, don't ask me what I'm doing, alright? I'm OBVIOUSLY BUSY.