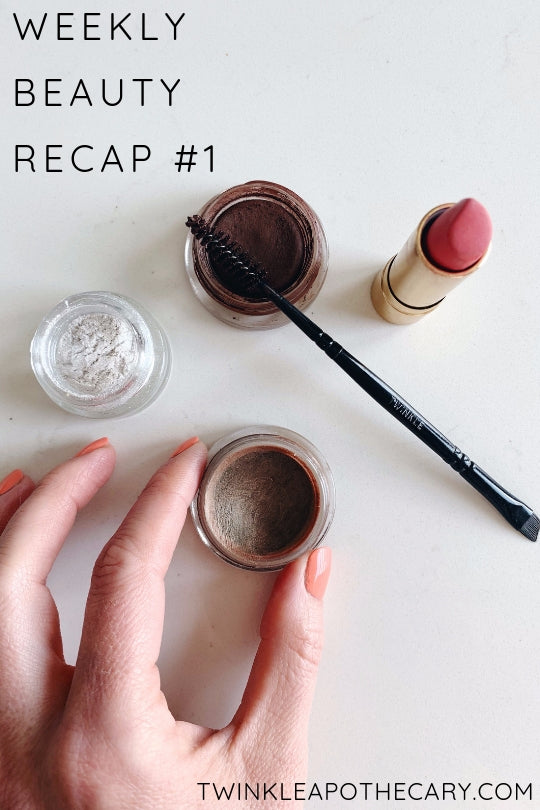 So I've been wanting to write some kind of a blog series or official guide to my Twinkle no-makeup-makeup, but every time I start to type something up, I get carried away with all of the different options and possibilities and the post ends up being really long and convoluted. Seeing as how long and convoluted is the exact opposite of my approach to doing and wearing makeup, I've decided to change it up! 
Instead of giving you a guidebook with rules to follow, (yuck) I'd like to show you how I make up (get it) the rules as I go, and hopefully inspire you to take creative control of your own face in the process. 
Each week, I'll be picking a few of my favorite makeup looks and breaking down what I did for you. I already post a selfie with the details in my instagram stories daily, so this should be fairly easy for me, (gotta be honest, I'm not feeling like a lot of video tutorials are in my future seeing as how I also have to hand make the makeup!) but hopefully still a good way for you to reference and better understand what I did and why! 
I keep it pretty simple, and even though I make makeup, I've never actually been that great at applying it. That's what I love about my makeup - it can be as simple or as complicated as you want it to be! If you're a youtube beauty superstar please feel free to build off of these ideas and use all of the fancy tools and tricks. If you can't be bothered with all that (like me) feel free to keep it simple and use your fingers.  
Some weeks I'll probably have more to share than others. Obviously not every look is going to be unique or share-worthy! I'm a big fan of just repeating what works when I'm busy, but I do enjoy playing around with different colors and layers, so hopefully it'll give you some inspiration for your everyday beauty looks too!
So without further ado, let me go through my Instagram archives and see what I did last week:  
Tuesday... ooh this is a good one! Lots of corals and pinks. My favorites! 
Products used: Translucent Facewhip, Mattifying Powder, Bronzing Balm, Rose Quartz Shimmer Serum, The Stain, Cocoa Eye Tint, Bronze Eye Tint, Rose Quartz Shimmer Powder, Bonafide Lipstick, Toning Mist.
Face/skin: 
After doing my morning skincare routine, (see here,) I applied translucent facewhip and after that soaked in for a minute I patted on translucent mattifying powder with a powder puff. I use a lottttt of powder, and I always apply it to my eyelids too - this helps my eye tint stay in place better! 
Contour: 
I'm not super into a strongly contoured look, but I do find that adding just a little bit of definition with my bronzing balm (or limited edition holiday color, ginger snap) really defines my features and helps me look more pulled together even if I don't do much else to my face.  
Here's how I do it: I use my fingers to blend it around my hair line, under my cheekbones, the tip of my nose, and along my jawline/neck. I use a really light touch, and it's barely perceptible... but I swear it makes a difference! 
Cheeks: 
I rolled rose quartz shimmer serum on my cheeks, from high on the apple, all the way up to my eye/brow bone, blending/tapping it in with my fingers. Then just a dab of the stain on the apples of my cheeks, also blending with my fingers. This is my  f a v o r i t e  blush look. It's sooooo pink! 
Brows: 
I brush in just the tiniest amount of cocoa eye tint using the slanted brush side of my duo brush, then brush them up and out with a stiff brow brush. I don't do this everyday, but I loooove how it defines my face. Brows and a little subtle contouring make such a huge difference!
Eyes: 
I smudged some bronze eye tint on my lower lids with my pinky finger, then used an eye shadow brush to dust some rose quartz shimmer powder on top of it/in the inner corners of my eyes. 
I used the slanted liner side of my duo brush (I have 3 at home - one for each color!) to line my lower lash line. 
Then I curled my eye lashes and applied the bronze eye tint as mascara with the spoolie side of the brush. This is a really subtle lash look, but I think it's so pretty and easy. 
Lips:
I applied some bronzing balm to my lips with my fingers, but then decided that I needed more pink, so I dabbed some Bonafide Axiology lipstick over it. This was my first time to try layering this lipstick shade and I am OBSESSED. 
And that's it! I usually dust a little bit of translucent mattifying powder over everything with a fluffy brush and then set it with toning mist (hold it about 10-12 inches in front of your face) before I go! 
 Wednesday... more pinks! 
Products used: Pacifica Sunscreen, Barely Bronze Facewhip, Translucent Mattifying Powder, Ginger Snap, (limited edition holiday shade!) Highlight Shimmer Serum, Amethyst Shimmer Powder, Cocoa Eye Tint, Ballet Lip + Cheek Tint, Philosophy Lipstick 
Face: 
I cheated yesterday (and a lot over this week!) by not wearing sunscreen but I do try wear it during normal weekdays because I walk my son to and from school (there was no school yesterday!) To balance out the pastiness I typically go for the barely bronze facewhip. I always wear mattifying powder - patting it on with the puff. 
Light contouring with ginger snap really helps blend the sunscreen at the hairline too. Keep an eye out Thanksgiving weekend when this shade will be re-relased!
Highlight: I rolled highlight shimmer serum on my cheeks and up into my eyes/brow bone/inner corners, blending with my finger. Also down the center of my nose.
Over the highlight serum, I used my finger to apply ballet tint to the apples of my cheeks as a blush. 
Eyes: 
I was going to stop there, but I decided that I needed even more color, so I used my finger to apply some amethyst shimmer powder to my lower eye lids as an eyeshadow. (You can't really see it in the picture because my eyelashes cover it when I face the camera straight on, but it was pretty IRL!) 
Brows/Lashes: 
I applied cocoa eye tint, using the same techniques as yesterday. This is my usual go-to. I can't remember if I did one or two coats here. I think it was just one but it looks like two! I'll take better notes next week... 
Lips: 
I usually layer my Philosophy lipstick by Axiology with blush tint for a lighter look, but today I tired ballet tint, and I love how it turned out! It added some matte-ness, depth, and made a light pink lip last a lot longer than had I just worn the ballet tint by itself. 
 Thursday... I remember I was super tired this morning, but felt a lot better after I did my makeup! ✨
Products used: Translucent Facewhip, Translucent Mattifying Powder, Bronzing Balm, Diamond Highlight Balm, Berry and Ballet Lip + Cheek Tint, Cocoa Eye Tint. 
Face:
Repeat of Tuesday. 
Highlight: 
I don't usually go for diamond because it feels like too much, (it's not, I just really love my original highlight shade which is a bit... skin like and peach-ier...) but today I wanted the extra brightness and sparkle to wake up my face!
I used my finger to apply the diamond highlight balm on my cheeks and on my eye lids/in inner corners. Also down the center of my nose.
Cheeks:
A light dab of berry tint just on the apples, using my fingers.
 Lashes/Brows/Liner: 
I used cocoa eye tint for everything. For the liner, I used the slanted tip of my eye tint brush to tight-line the inner rim of my upper and lower eye lids. My eyes felt super sleepy, so I felt like I needed something more than just mascara! 
Lips: 
Ballet tint (applied with fingers.) 
Friday... I was feeling more awake this day but less in the mood to do a whole bunch to my face. This is probably my go-to easy makeup look. It takes about 5 whole minutes! 
Products used: Translucent Facewhip, Translucent Mattifying Powder, Ginger Snap, Highlight Shimmer Serum, Berry Lip + Cheek Tint, Cocoa Eye Tint 
Face: 
Same as previous days 
Highlight: 
Rolled on some highlight shimmer serum (cheeks, eyes) and blended with fingers, 
Lips and Cheeks: 
Applied Berry Lip + Cheek Tint with my fingers! 
Eyes: 
Cocoa eye tint on brows, and as mascara (this is definitely two coats!) 
AND DONE.
I hope this is helpful. This system doesn't allow me to reply to comments made on the blog, but if you have questions leave a note below and I'll incorporate the answers into my next post!
-XO-