Three Ways to Support My Small Business Without Spending Any Money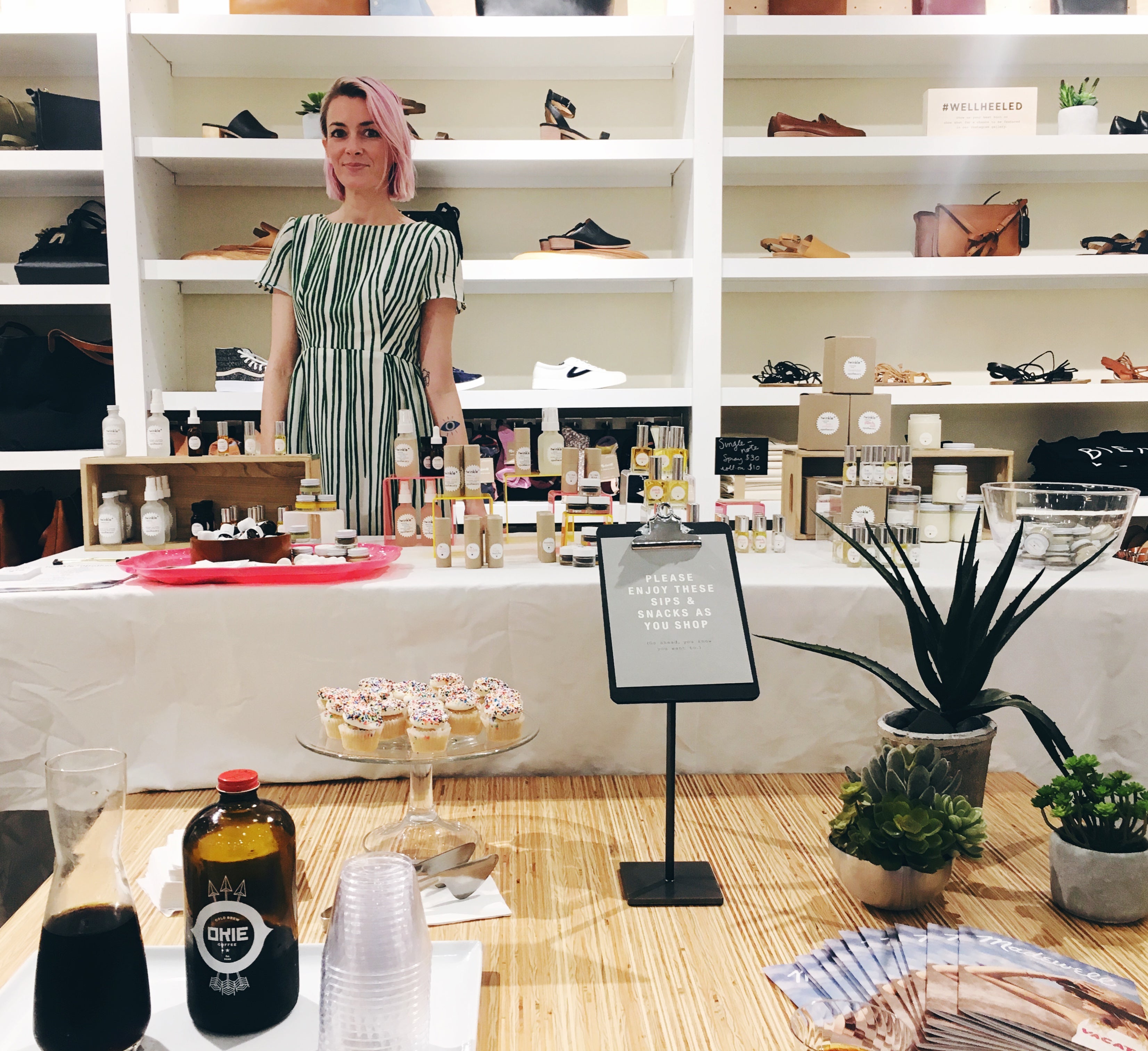 Hi friends! 
First of all, I just want to say thank you for visiting my website and reading my blog. I am so glad that you found me, and I hope you enjoy being in my little world. Whether you're new around here or have been a loyal customer from the start (almost 2 years now, can you believe it?!) I hope you know that you are appreciated. I feel like I finally have my dream job, and none of it would be possible without your support. 
Twinkle Apothecary exists to provide the world with fun, healthy, clean, cute, non-toxic, vegan & cruelty-free beauty products that are effective, affordable and beautiful smelling. So, it basically exists to support you! But in order for me to provide the world with wonderful products and services, I also need support from my customers and fans. It's like a happy little circle. I love making products that make people feel good, and I feel good when I get to keep doing my favorite work. I have so many exciting things planned for Twinkle Apothecary's future, and I simply can't wait to be able to share all of my ideas with the world! 
People always ask me why I started Twinkle Apothecary, which is such a difficult question to answer, because there never was just one reason. There were about 50 million. I needed to find work I could do independently from any location because I'm a single mom who doesn't receive child support and the cost of childcare meant I couldn't pay all of my bills, even though I had a full time job. I needed effective vegan deodorant. I wanted it to smell really good. I wanted cute products in my bathroom that fit my personal style. I wanted quality skincare that I could actually afford. I needed to be creative. I wanted to make some really beautiful fragrances. I wanted a career that combined all of my interests and talents and allowed me to connect more deeply with the natural world. I had so many ideas that I couldn't keep them inside any longer...  
But one of the main reasons I started Twinkle Apothecary (and also why I have always wanted to have my own business) is because I am just crazy enough to think that I can do things better. (I'm an Aries, okay?) I've worked in retail since I was 16, and I have pretty much always wondered if the stores and brands I worked for had everything backwards... 
Take my last job in fashion production: the brand was hurting and they were laying off employees, yet spending millions on glitzy marketing campaigns with top models to get people in the store. Meanwhile, they were expecting their factories and suppliers to work faster, for less money, without sacrificing quality, which is obviously IMPOSSIBLE.
So customers might have been going into the store, but they weren't buying because customers with money to spend are actually smart people (duh) and no one pays full price for low quality clothing, especially when they can just go to forever 21 or target and find something similar for way less money. Right?
And all the while, the expectation to the employees was to tighten up. Work harder. Negotiate better with the factories. Sell sell sell. 
And, it didn't work. They've since closed most (if not all) of their retail stores and had to lay a lot more people off (if not all.) 
There's a lot of talk in the business world lately about the death of retail, and everyone is placing the blame on fast fashion, E-commerce and Amazon, but I think it's really just that brands who aren't putting out quality products with excellent service to match are getting weeded out. Plain and simple. Fast fashion may not be going anywhere, but on the flip side, I think what people really want are quality, unique products and a more personal shopping experience - even if it's online. 
While I think most independent beauty brands are focusing on expanding their wholesale business to get into more retail stores, (as am I - don't get me wrong) what really excites me about having my own business is being about to sell directly to my customers. I'm always thinking, "How can I make things better/more informative/more interactive/more effective/more innovative/more fun?" 
If I had a big budget, I'd be putting it all into ingredients, technology/sustainability, and customer service - NOT glitzy magazine spreads. And you can bet that if I am ever lucky enough to be able to hire a full-time employee, they will be getting a decent living wage with enough to cover the cost of childcare.
So... I don't know... it's possible that I am completely off base here, but I would still like the opportunity to have my ideas proven wrong. Haha. 
And if you are picking up what I'm putting down, (sorry for the rant, btw,) and would like to support my little venture - I have a couple of ideas for ways you can help, and they're totally free! I would love to have your dollars too, obviously, but I also just really want to build a community of like minded beauty lovers who are excited about my products and my mission. I think you can never have too much support and positive vibes coming your way when you're trying to make the world (of commerce) a better place! 
So here's what I've got: 
1. Social Media 
This is first on the list, because it's huge. It seems like such a silly, small thing, but simply liking my
Facebook page
(and posts) and/or following me on
Instagram
helps my business SO MUCH. I don't spend money on advertising. Social media is all I've got.
Because of the Facebook/Instagram algorithms, the more "likes" and "engagement" (comments and shares) my pages/posts get, the more people I can reach, because more people will see my posts. By following (and liking - which is very important) my pages and posts, you're introducing people to my brand, without even saying a word. (You may notice that I go back and "like" all of the Twinkle Apothecary posts on Facebook from my personal account. And I always make sure to double tap on all of my friend's business/blog posts too!) MAJOR bonus points if you actually share one of my posts or tag a friend in the comments. And if you're posting a selfie and you're feeling good about your Twinkle skin or makeup, please feel free to tag me anytime. I love getting to see your beautiful faces!  
Social media engagement is also something that potential retailers look at to see if my brand is popular enough for them to carry. They need to know that if they place an order they'll be carrying products that a lot of people want to buy. Also, magazines and other media outlets are more likely to talk about/endorse my products if they know I've already got a devoted following and loyal customers. 
ALSO, once I get to 10k followers on Instagram, I'll finally be able to provide links to the products I feature in my Instagram stories, so you won't have to waste your time messaging me asking me where to find all this stuff on my website. Win-win! 
Only 8k more to go... oh my. 
2. Post A Review 
So, I get tons of (private) messages every day from people gushing over my products. They tell me all kinds of wonderful things about how effective my
skincare
 is, how my
perfumes
are the only ones they actually like, how much fun they have receiving the
subscription boxes
... and it's awesome. It makes me feel so good, and I love knowing that I'm providing products that people are enjoying. I am definitely NOT complaining. But, I also can't help but wish that you could write that down where other people could see it maybe? You know? Like, I already know that my products are great, and I can go on and on about how awesome they are on this blog, and I can pay influencers to post about it on social media, or buy advertising... but I just don't think that any of that will sell my products better than hearing from a real live person who has actually bought something from me and had a good experience. 
So if you've bought something from me that you're loving, do me a HUGE favor, (you know, if you want I guess...) and post a review on the product page (scroll down to the bottom) or on Facebook. Don't feel like you need to write anything fancy. You don't even have to say anything. Just give it some stars! I mean, don't you always feel better buying something online when the product and brand has good reviews? Pay it forward and help a fellow shopper out! 
If you haven't been able to buy anything from me yet but want to send a little love, you could even say, "This looks amazing, can't wait to try it!" Or, whatever it is that you're thinking. Don't be shy! 
3. Put Twinkle on your Christmas list 
Or, whatever gift-giving occasion it is that you're celebrating. We're going into the holiday season, and I know you've all got to have someone in your life who will be asking you want you want this year. And if you're like me, you probably usually say, "Oh, nothing. I don't really need anything..." Because you're an independent woman and you're trying to be an eco-friendly minimalist and what-not. But, does anyone ever buy you nothing? No. You get crap that you don't really want and SUPER don't need. So this year, just tell them you want Twinkle Apothecary. It's not expensive, so you won't be putting anyone out, and you'll actually get something great that you know you will use and love. AND, you'll be introducing even more people to my brand - maybe they'll want to treat themselves to some Twinkle too! 
To make it easier for you, I've just upgraded my sites wishlist feature, so you can make a list and email it to your friends and family! 
Just look for the little black and white star icon at the bottom right of your screen: 
If you're feeling generous and wanting to help me run this vegan, cruelty-free, eco minded business with integrity and put some good stuff out into the world, I could sure use some support. I've got lots of big plans for this brand in the near future, and I can't do it without you.
Thanks for everything you've done already! 
Thoughts? Ideas? Suggestions? 
You know where to find me! 
-XO-