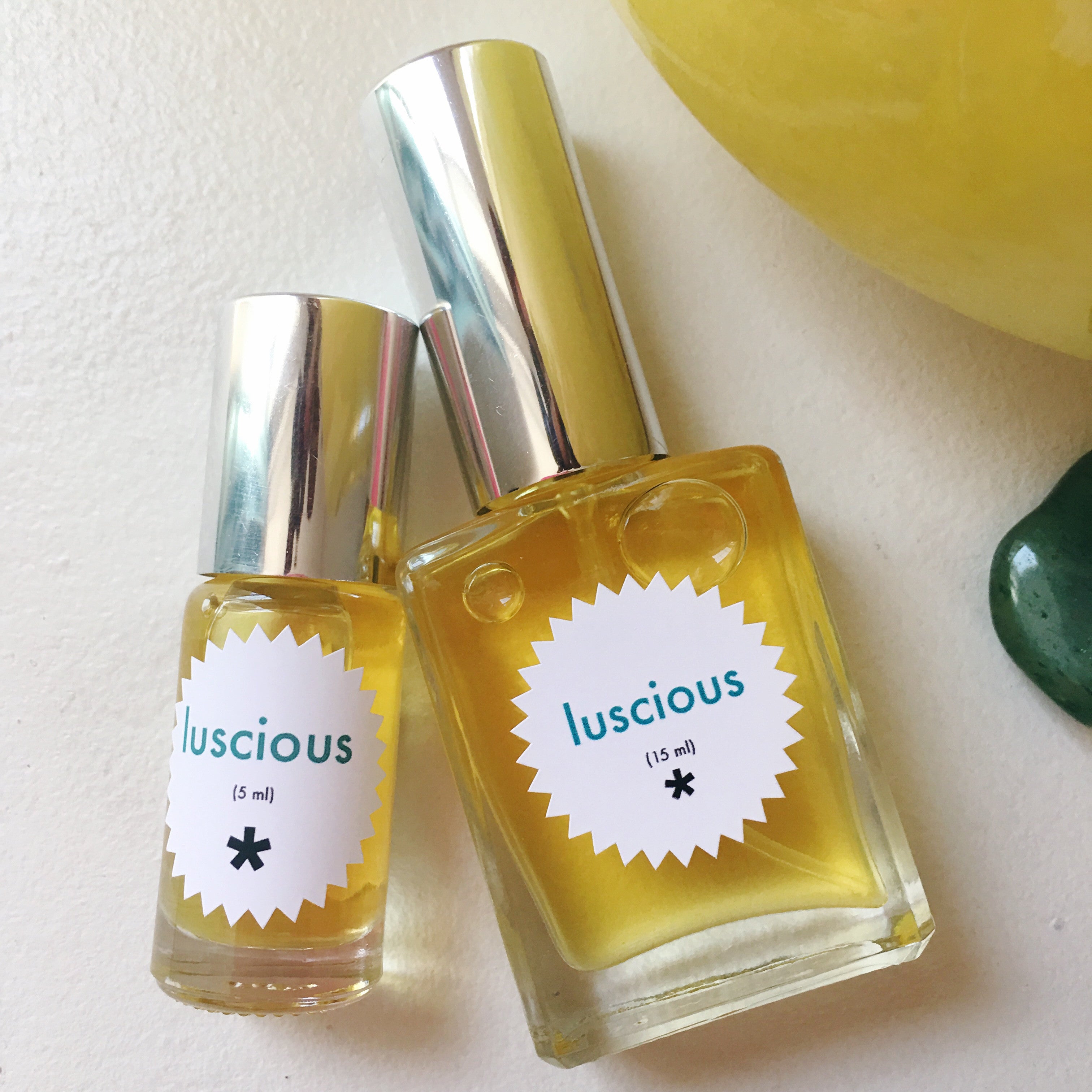 Just moving right along on this last week of
Perfume June
... 
Time to get the low down on Luscious! 
Official description: 
SO LUSH. Sweet, warm jasmine and vanilla are blended with spicy ginger and earthy vetiver to create a rich fragrance that is exotic, yet comforting. Luxurious, yet grounded. This intoxicating scent is the perfect thing to wear when you need to heat things up, regardless of the season! 
How it got it's name: 
I was going for something really scrumptious and exotic and soft and rich and lovely. 
What it's made of: 
jasmine (grandiflorum) absolute, vanilla co2, ginger oil, vetiver oil 
Color: 
Deep yellow. These are all fairly dark colored oils. 
Viscosity: 
Thick. The vanilla loves to settle at the bottom of the roll-on, and there may be a speck or two floating around in the spray. 
Top notes: 
sharp ginger and sweet floral jasmine 
Middle notes: 
warm, rich vanilla 
Base notes: 
earthy, grassy vetiver with lingering sweet vanilla
Aromatherapy benefits:  
This is an energizing, uplifting, sensual fragrance. It's great for going out at night or romantic evenings. 
Pairs well with: 
Beau Spice, Close, Dolce Vita, Goddess 
Give it your own unique twist by adding: 
neroli, lime, grapefruit, ylang ylang, coffee, chamomile, black pepper, cedar wood, patchouli, sandalwood, palmarosa, lavender, frankincense, clary sage 
Staying power: 
Great! I love the combo of vanilla and vetiver that lingers behind!