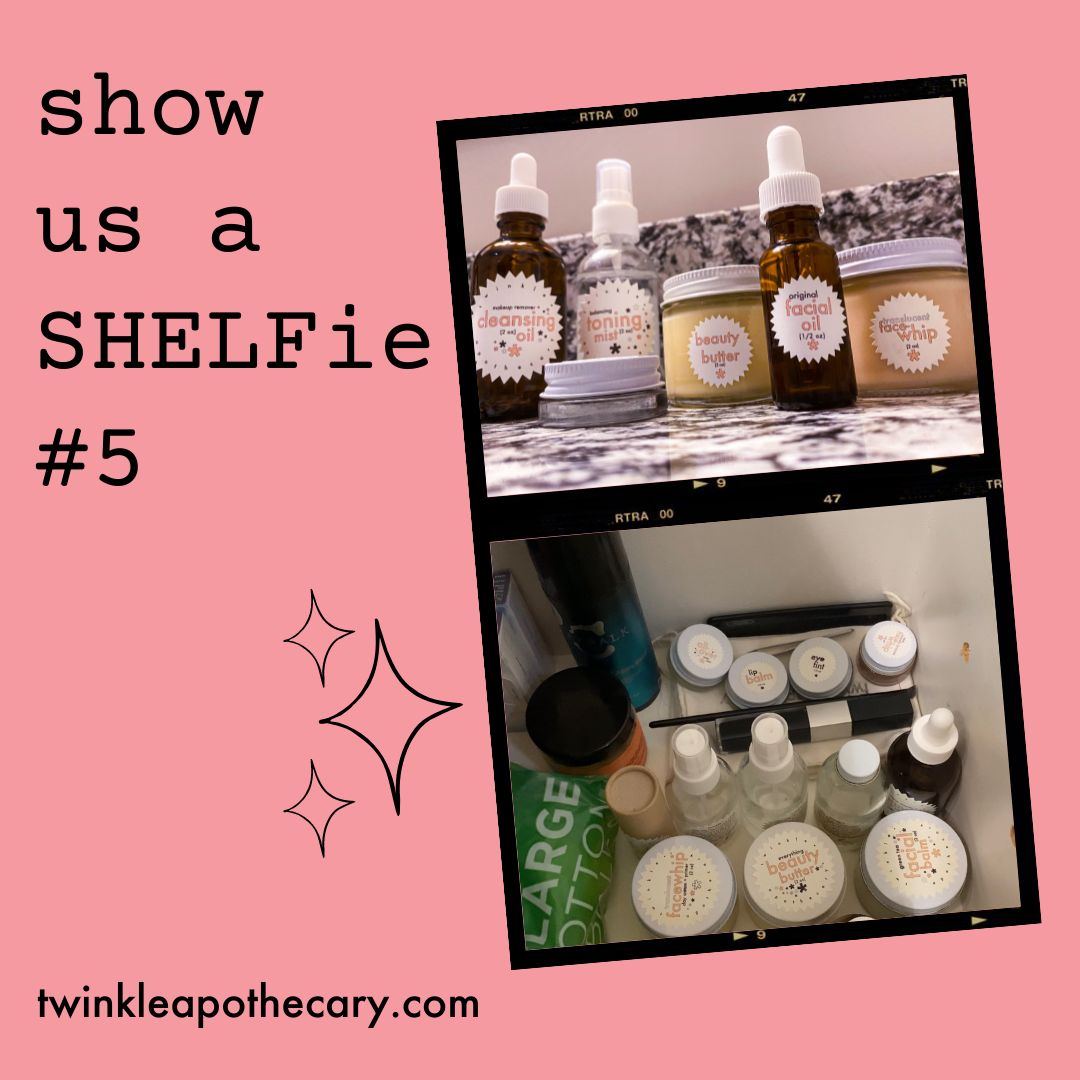 Guess what? It's SHELFie time!
That means it's time to sit back, relax, and hear from... well, someone besides me. Enjoy!
Meet:
Gaby (She/her)
A personal assistant in Oklahoma City
How and when did you discover Twinkle?! 
2016, I believe. It was a pop-up shop type scenario. Stefanie's hair was blue or pink, and I loved her vibe. I know I was on a 2nd date that wasn't going anywhere.....HA! Picked up a small jar of beauty butter. (Lol!)
What is/are your favorite products? And Why?!
Facewhip and All-Over Balm are now in a competition for my favorite. I've been using Facewhip every morning since the end of last year. The way my skin glows was immediately noticed by EVERYONE! Then, you created All-Over Balm. The small jar is always in my purse. The stick is always in my work bag. I never leave home without one or both. I love the way my skin feels when I use it!
How would you describe your personal style?
Lazily put together.
Be honest. How many perfumes do you own?
Three!
What's your favorite way to care for yourself?
Hiking. It gets you out of the house, into nature, works your body and puts you in an amazing mindset.
Why is shopping small/ethically/sustainably important to you?
You get to create a personal connection with a business owner when you shop small/local. I went into Field Study a few weeks ago to grab a few things and just said a small greeting to the person that was working that weekend. Stefanie was in the back, behind a curtain, and said, "Is that Gaby?" You get moments like that when you shop small. I know who is making the products I buy. I know what I'm putting on my skin everyday. I know where my money is going and what it is supporting. You can't beat that!
(YES! Agree 1000%! Also, I feel like it might be important to note that I don't stand behind a curtain to make my products like the Wizard of Oz or anything - I was trying on clothes, per usual!) 😂
If you're a member of our Patreon community, what's your favorite thing about being a patron?
I love reading how everyone implements different Twinkle products into their skin care routine! I'm a creature of habit, but I've branched out a lot since I've joined.
 Thank you so much, Gaby! 
Gah, I just think my customers are so freaking cool!
If you want to share your thoughts, I'd love to have everyone participate by filling out the form at this link and emailing some snaps of your twinkle stash to stefanie@twinkleapothecary.com
Hope you enjoyed this one! 
- Stefanie -