Oil, serum, butter, or balm? A guide to Twinkle Apothecary's moisturizers!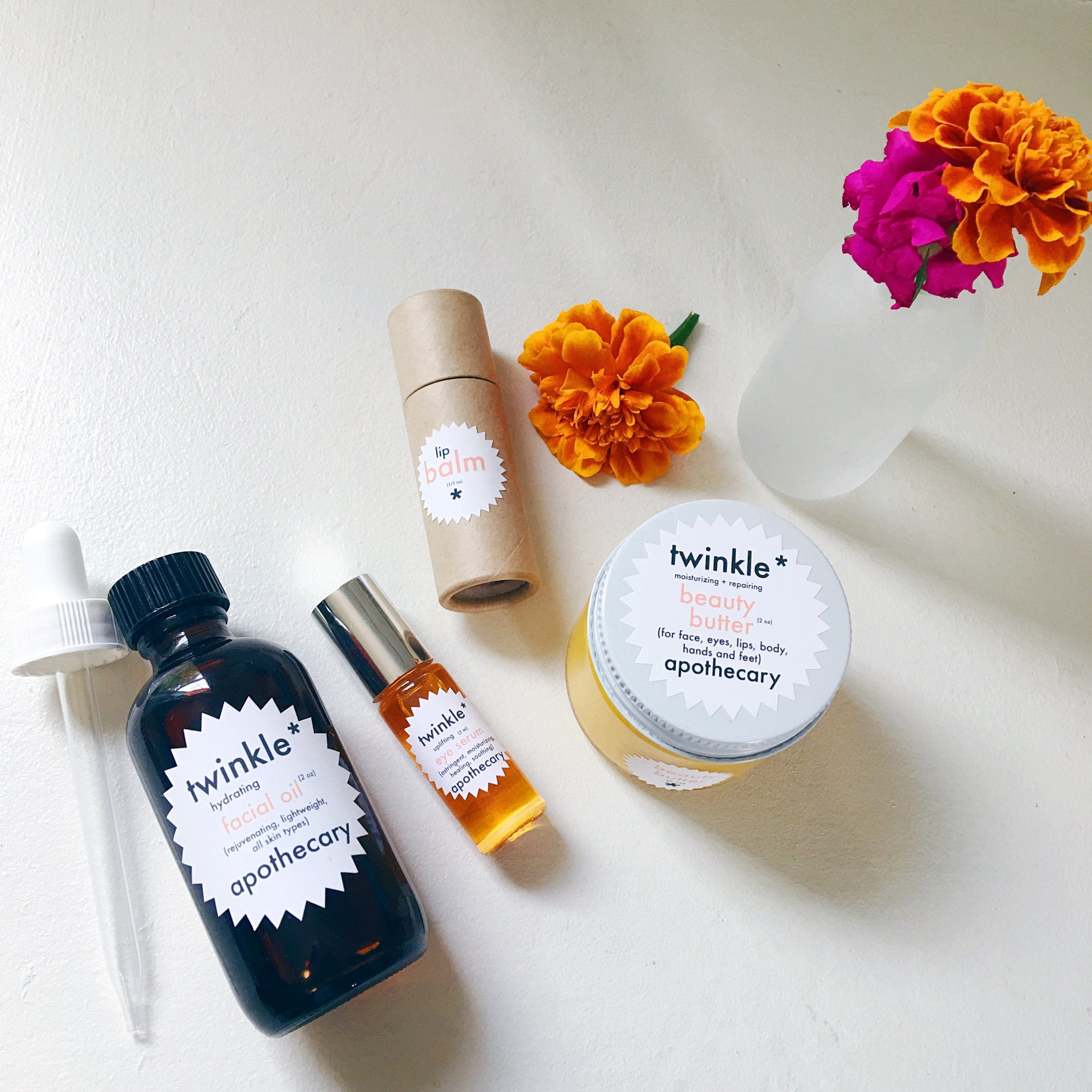 My goal in creating Twinkle Apothecary's skin care line was to make a set of multi-purpose, no-nonsense natural products that would work for all skin types and be adaptable as one's needs change throughout the seasons, and even years. This is mostly because I personally have combination/acne prone/maturing skin and require products that can deal with oiliness, dryness, breakouts, fine lines and wrinkles all at once - but also, because I love offering a practical, minimalistic approach to skincare in a world that is constantly trying to sell people things they don't really need.  
So, at this point, you're probably wondering what these miracle products are, and why you need them, yeah? 
First of all, you may not actually need all of these products, depending on your skin type!
Second of all, I do not believe in miracle products.
I firmly believe that the best thing you can do for your skin is to take care of your whole body. Get plenty of sleep, stay well hydrated, eat whole, plant-based foods, exercise, wear sunscreen, and accept the fact that (despite what you see on TV) gravity is real - so unless you undergo surgical procedures or inject your skin with fillers, wrinkles will happen eventually... and it's really no big deal! 
With that being said, since I do use all of these products on my not-so-perfect self (definitely lacking in the sleep, hydration, and sunscreen areas... oh my...) I thought it might be helpful to give a quick run down of what I use, when, where and why! 
I call this "Facial oil" because that's exactly what it is... it's a blend of oils that are good for your skin! Many people/brands use the term facial oil and facial serum interchangeably, and since "serum" is a term for a lightweight moisturizer that penetrates deeply into your skin, (which is exactly what this does,) we can call it a facial serum also!
I use it... 
1. As a cleanser
- The main ingredient in this product is watermelon seed oil, which increases the skin's elasticity while dissolving sebum (oil) build up. It's seriously great when mixed with my
powder cleanser
, and I also love to massage it into my damp skin using a konjac sponge first thing in the morning. After cleansing, I rinse, spritz on my
toning mist
, pat dry, and use the facial oil again... 
2. As a lightweight serum/moisturizer - I massage about 5-6 drops into my skin and neck after cleansing and toning and my skin soaks it right up! This amazing blend of oils is chock full of repairing essential fatty acids, antioxidants, and vitamins that moisturize, repair, soothe, and balance my skin. I know it seems counterintuitive to put oil on your face if you have oily skin, but adding oil actually keeps your skin from producing too much oil, so it has a balancing effect. On the other hand, if you need more moisture, you can always add more! 
I created this product specifically to nourish the skin around my eyes after cleansing and toning, because I noticed that my eye area needed a little extra love and hydration. It's a potent blend of deeply penetrating carrier + essential oils that uplift, repair, and soothe, and the rolling action really helps to de-puff first thing in the morning! If you're happy with how your skin feels after applying the facial oil, you can always skip it, or, if you prefer using a cream/need a lot more moisture, you can skip ahead to the... 
I call this product beauty butter because it's a super simple, yet rich blend of  non-comodegenic (non-pore clogging) shea butter combined with my favorite moisturizing carrier oils and healing/soothing essential oils. It turns into an oil-like consistency as it warms up to your skin, and soaks right in to make you feel extra soft. Pro tip: do not leave this product out in the heat, because it will melt and make a mess! If it does melt, pop it in the fridge to get it back to a solid consistency.     
I use it... 
1. As an eye cream - before I created my eye serum, this was my only eye product. They contain many of the same ingredients, so the main difference is in the texture and application method. A teeny, tiny bit of the beauty butter gently massaged/pressed into the skin will go a very long way to moisturize, repair, and soothe the eye area. I also love to use it... 
2. All over my face - I don't use this all over my face every single morning and night. I do use it all over when my skin is dry, when the weather is cold and windy, when I've gotten too much sun, when I'm extra tired, or just when I know I've got a long day ahead of me and want to look extra glowy and feel supple! Mostly, I use it...  
3. On dry patches - I haven't had much of an issue with dryness lately (hello summer) but occasionally I'll get a little flaky patch on my face or lips, so I'll rub in a very small amount to those targeted spots, and they heal super quickly! This also applies... 
4. All over my body - I put this on any and all scratches, bruises, scars, bug bites, dry feet, elbows, cuticles, and sunburns. It's basically my all purpose healing cream. The rosehip oil is what gives this butter its funky orange color, but it also helps to even out your skin tone, while the chamomile really helps to calm and soothe itchy dryness. This brings me to my next multi-purpose product...
Now, I call this product "lip balm," because it is a balm that's good for your lips, but it's also good for many other things! (Maybe I should have just called it "balm"? "beauty balm"? "healing balm"??? Nah, "lip balm" is good enough... right?!)
It's a blend of extra moisturizing oils combined with plant based waxes that will act as a protective barrier on top of your skin while leaving a slight glossy sheen, as opposed to soaking right in like the Beauty Butter. At 1/2 oz, it's much larger than most traditional lip balms, but it's still very portable, making it the perfect product to tote around when your skin needs help in a pinch! 
I use it... 
1. On my lips - Obviously! The funny thing is, my lips don't really get chapped much since I started using it... but I still like to apply it before bed and throughout the day to add a little gloss. Also because it just feels (and smells) so darn luxurious! 
2. On my brows - I don't feel like my brows need extra color, but they do tend to have a mind of their own, so I've found that a touch of balm (I rub it on my fingers first) followed by a few strokes with a brow brush helps tame and add a little polish. 
3. In my hair - I rub the balm into my palms and use my hands to smooth flyaways. I also rub it into the ends of my hair to create a little texture. It makes a great moisturizing pomade, but a little goes a long way - too much can make your hair look greasy!  
4. All over my body - Again, just like with my beauty butter, I put this on scratches, bruises, scars, bug bites, dry feet, elbows, and cuticles. My lip balm is waaaay more portable than my beauty butter (especially in the heat) so I often find myself using it as an all purpose moisturizer when I'm on the go. The soothing chamomile and lavender work wonders on mosquito bites too! 
Can you tell that I'm really into this multitasking idea?! 
I think I've covered everything here, but I'm also always coming up with new ways to use my products, which I've been posting on my snapchat as they come into my head... (for instance, right now I have a terrible cold and the beauty butter + lip balm is definitely keeping my nose from getting chapped!) 
Add me @ twinklestef (or snap the pic below) for real time updates, or feel free to
send me emails
with any questions you might have about my products! 
***XO*** 
Stefanie