How To Use A Comedone Extractor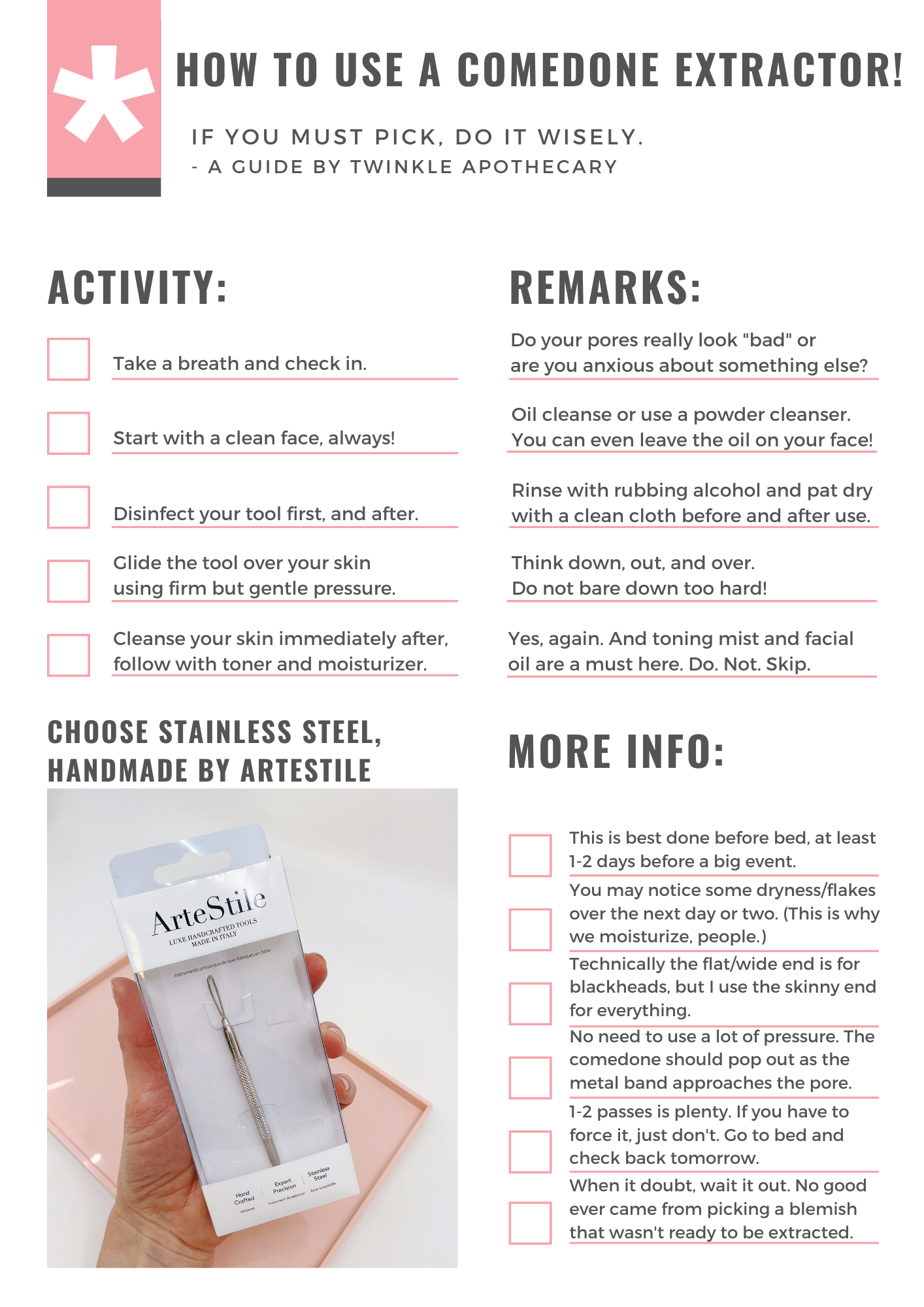 Or, confessions of a recovering skin-picker... 
How many of you are with me? 
You go into the bathroom to do your nightly skincare routine, and maybe you've got something on your mind or are just generally feeling stressed, and the next thing you know you've been in there for ages, taking it out on your skin? 
I've never had bad skin. I am acne prone, my pores are on the larger side, but I've been pretty lucky for the most part. I know this when I look at the truth (and myself) rationally and objectively. 
But I'm also a (recovering) perfectionist, and sometimes it's just so hard to stop the compulsion to pick away at yourself - even when there's really nothing to pick at. Even if you know you shouldn't. 
For me, I first noticed that I was anxiety picking during the 2016 presidential election. I think I've always done it, but this was the first time I realized what was happening. Like somehow my subconscious thought that I could erase the vileness of Donald Trump if only there wasn't any gunk in my pores. (Obviously I know that sounds so silly when you think about it, but that's really what it felt like at times.) As a survivor of domestic abuse, watching the debates stirred up so much trauma, and I just knew we were doomed and felt so helpless. So I picked.
(The cheering, jeering audience from those debates still makes me shudder, tbvh.)
Soon after the election I realized that it was time to make some big changes in my life and started seriously upping my wellness game just to find/keep my peace. I started a meditation practice, and actively avoided checking the news - especially on Facebook, especially at bedtime. Through my mediation practice I became (and still am becoming) so much more aware of my thoughts and actions, and learning to observe them from a more honest, truthful, objective place. I remember there was a moment where I caught myself picking and thought - no. I'm not going to let Donald ***king Trump take this time from me tonight. No more.  
And that was that. I never picked my face again. 
Just kidding - it's always a struggle! 
I've learned that sometimes it's best to just not look. Don't look too closely. Just don't. Your skin looks so much better than you think it does in that moment where you start to pick. I promise you. I meet so many people who tell me they have "terrible skin" and it is SO NOT EVER ACTUALLY TERRIBLE YOU GUYS. 
But, all of this being said, sometimes your pores do get clogged. Sometimes you just can't resist the urge to pick. Sometimes you have a perfect little whitehead (or blackhead) that's just begging to be released from its pore. 
This is when you need a tool to help you extract your comedones (the scientific name for clogged pores,) safely and carefully.
(Seriously, picking with your fingers is so damaging and dirty. Please don't do it you guys!)  
Enter, the comedone extractor. 
Either your best friend, or your worst enemy, depending on how much of my advice you actually heed.
Also, I should probably officially mention here that I'm not a licensed esthetician or a medical professional - these are just tips that I've discovered to work for me after a lot of trial and error. 
Truthfully, I didn't even think that I relied on this tool very often (I really try to leave my pores alone!) until I started writing down every single thing I do to my face every day. But apparently I use it 2-3 times per week - which is still so much better than my old picking habits - and my face is so much happier because of it! 
So because I do use this tool fairly often, I figured it was about time I devoted an entire post to it for you. Here we go. 
The first thing I should probably mention, is that actual pimples are very, very rare for me these days. (Thanks, Twinkle Apothecary skincare! 😜) Actually, most of the pimples I used to get were probably caused from picking at something that wasn't even really there with my fingers before, now that I think about it... 
So what I mostly use this tool for is blackheads, (I have a couple of stubborn recurring ones in the open pores on my cheeks - thanks, pregnancy! 😩) and general pore maintenance - meaning I glide it over the areas where my pores tend to get clogged just to make them sparkle, I guess. LOL. 
But all of the same rules apply with actual pimples and whiteheads - just FYI! 
I've summarized everything in the graphic below, but the most important thing to note is that the comedone extractor works as it glides over the skin - it's not about pressing down. Use a gentle pressure and glide. Down and out. If you bare down too hard in one spot, you will have regrets. This can actually make your skin worse, and cause a blemish where there wasn't one before, so the second most important thing to note, is "when it doubt, wait it out." 
This means, start gently, and if nothing happens, stop. STOP. 
Put on some acne spot treatment and go to bed and I can guarantee it will look better in the morning. If you continue to pick at it, I can almost guarantee that it will make your skin look worse. More regrets. Not good.  
Always start with clean skin. I usually do this after an oil cleanse - sometimes if I'm going for general maintenance I'll leave the oil on my face for more glide - then I always cleanse again afterwards. Meaning, I continue with my usual double-cleansing nighttime skincare routine... wiping off the oil and doing a facemask or using the calming cleansing grains, toning, and moisturizing. 
Speaking of which, toning mist and moisturizer are necessities after the comedone extractor. Even with gentle pressure, it will make your skin a little red and inflamed (which is why I also recommend to only do this at bedtime,) and the witch hazel in the toning mist works like magic to calm it down. 
The comedone extractor is also basically removing the top layer of protective oil on your skin, so you will probably notice some dryness the next day. Always, always, always, follow with toning mist and moisturizer. Oil is actually your friend here. (It always is... trust me!) 
I also like to facial roll after I moisturize - this is part of my usual facial routine, but it's especially important to me after extractions - because the circulation boost helps heal my skin. 
Now, a couple of technical details: 
Supposedly the flat, wide side is for blackheads, while the skinny side is for whiteheads, but I have better results with the skinny side for everything. I was pressing down too hard with the flat side and causing more damage - but I recommend trying it and seeing what works best for you. 
Disinfecting this is a must, before and after. Rinse/wipe it down with rubbing alcohol. You don't want to be rubbing bacteria into your pores, right? I sometimes even mist it with toning mist and wipe it down in between passes, just in case. 
And, yeah, I think that's all I've got to share here!  
Is this helpful? Let me know! 
(Sadly, my website doesn't allow me to respond to blog comments, but you can post questions below and I'll get back to you, or, just email me!) 
-XO- 
Oh also one more thing - Elizabeth Warren 2020 😉