My Skincare Schedule - Week 1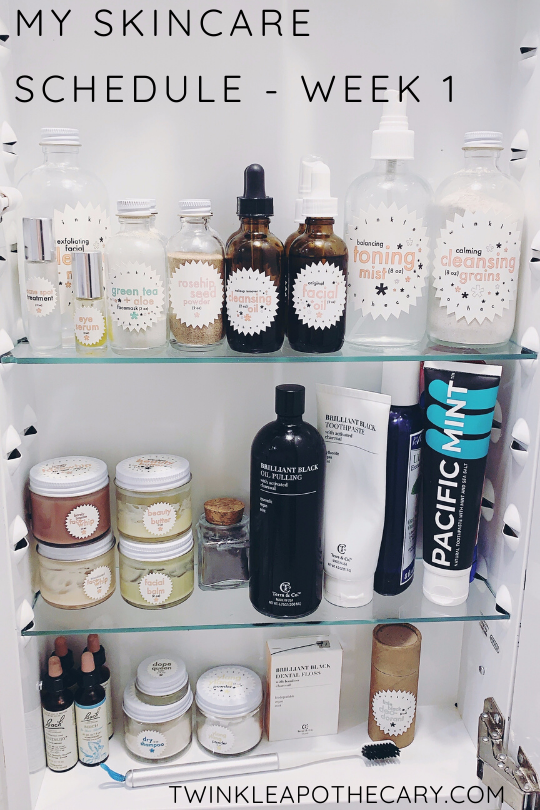 Hello, and Happy New Year! 
I hope you had a wonderful first week of 2020. Mine was alright. I took a couple of blissful days "off work," which of course I spent planning lots of new content for you and trying to figure out how I'm going to make time to share it all! 
I want to get right to it and share my first skincare post of the year, which is my personal skincare schedule for the past week. I hope this will help you both understand how my products work (and why I use what I do/when) a little better, and also provide a little inspiration for you to design your own skincare routine that works for you. I don't know if I'll keep this up every week, but it might be fun/interesting to try! 
Below is everything I did to my face last week, and please check the notes below for more info! 
(Oh and I'm sorry for the small print - my blog likes to condense images and the first one I made didn't work at all - try enlarging your browser window to see it better and I'll try to find a bigger/better graphic next time!) 
- My skin: is balanced-to-combination, meaning that my t-zone (forehead/nose) gets oily but my cheeks/hairline can get dry. I get occasional clogged pores and blackheads, but actual acne breakouts are pretty rare these days. They totally still happen occasionally though, despite my best efforts!  
- Too much? I fear this may look like a lot of you're someone who doesn't really have a skincare routine and/or is intimidated by the thought of adding more steps/more of a time commitment to your current routine, but to me, it feels simple and easy. Minimalistic even! I don't fret over it, (I really don't think much about it at all, which I love) and it doesn't feel like a chore. If I don't feel up to doing everything, I don't. This is why I'm sharing exactly what I did - so you can see where I keep it simple and where I really go for it and do the whole thing. My routine keeps my skin clear, soft, and glowing, which makes me feel confident and saves me from worrying about what I look like or spending time/money covering up with makeup. To me, it's totally worth the effort. And my point is, don't be scared! Once you get a routine that works for you and are consistent with it (🔑) you won't have to think about it very much either. 
- Adjustments: that being said, I adjust my routine and the products I use as I go, just depending on what my skin needs that day. This week I added some winter serum to my routine because I noticed a little dryness on my lower cheeks in the mornings, and I had a couple of blackheads that were easy to nab with my comedone extractor, which I only use occasionally. (I'll make a separate little post about how I use that soon!)  
- Dermaplaning?! So I don't get dermaplaning treatments for real. What I do is shave my face (the white peach-fuzz hairs on my lower cheeks) about once a month to every 6 weeks. I do it with a fresh razor (my regular billie razor) on dry skin after oil cleansing and immediately follow with a facemask and/or toning mist and facial oil. Having hair on your face is totally natural and normal and I'm not here to encourage you to shave yours. I just feel like mine gets a little out of hand sometimes and I like how smooth my skin feels afterwards. 
- Timing: In the mornings, I apply eye serum when I first get out of bed. The rest of my skincare routine is done a bit later (usually after yoga - done at home in my pjs,) then facewhip is even later, when I put on my makeup (usually after I take my son to school.) If your mornings aren't spaced out like mine, (I space them out this way on purpose, because I can, 💁🏻‍♀️) you can do it all at once.
- I usually do my skincare completely separate from my shower (either right before or after I get in,) although most mornings I do rinse off the oil from my oil cleanse in the shower. I don't recommend keeping bottles in the shower because they're not preserved to protect against water, which causes mold. Keep them dry!  
- Cost: I know what you're thinking, "ok, it's easy when you have unlimited access to any product you want!" and that's totally true, however, I think my prices are reasonable. The total cost of allllllllll of the products I use here is $315, not including the 20% off skincare special that I'm offering for my mobile app subscribers this month. (Search Twinkle Apothecary in the iTunes app store or on Google Play to download!) To get started, you could get a skincare set bundle for even more savings! 
- If it's really too much: If you're just getting started with a skincare routine, start with the travel skincare set and just get in the habit of cleansing, toning, and moisturizing twice a day. (Three times a day if you hit the gym in the middle of the day, or any time your face gets wet.) Baby steps. 
- Lifestyle: Because I very firmly believe that skincare isn't just about what products you put on your face, I also have to mention that in addition to my products, I maintain a pretty darn healthy anti-inflammatory vegan diet - I don't eat gluten, soy, or peanuts. I do eat a lot of vegetables. I don't eat a lot of sugar (excluding last weeks Christmas cookies, I'm not a super hero!) or processed foods. I do take a lot of supplements under the guidance of a holistic healthcare professional, who's helping me heal from the various food sensitivities that I developed over the past couple of years. (She's a freaking miracle worker, btw.) I don't drink coffee. I don't do soda. I don't drink beer or liquor. I do drink about 4 glasses of wine or so a week - my last remaining "vice," which I very much savor/enjoy! (I love to share my meals on instagram so follow my stories if you want more info on that!) 
ANYWAY!
Links for more info about how/why I do what I do: 
Difference Between Beauty Butter and Facial Balm
-XO-