Five Tips to Transition Your Natural Beauty Routine into Fall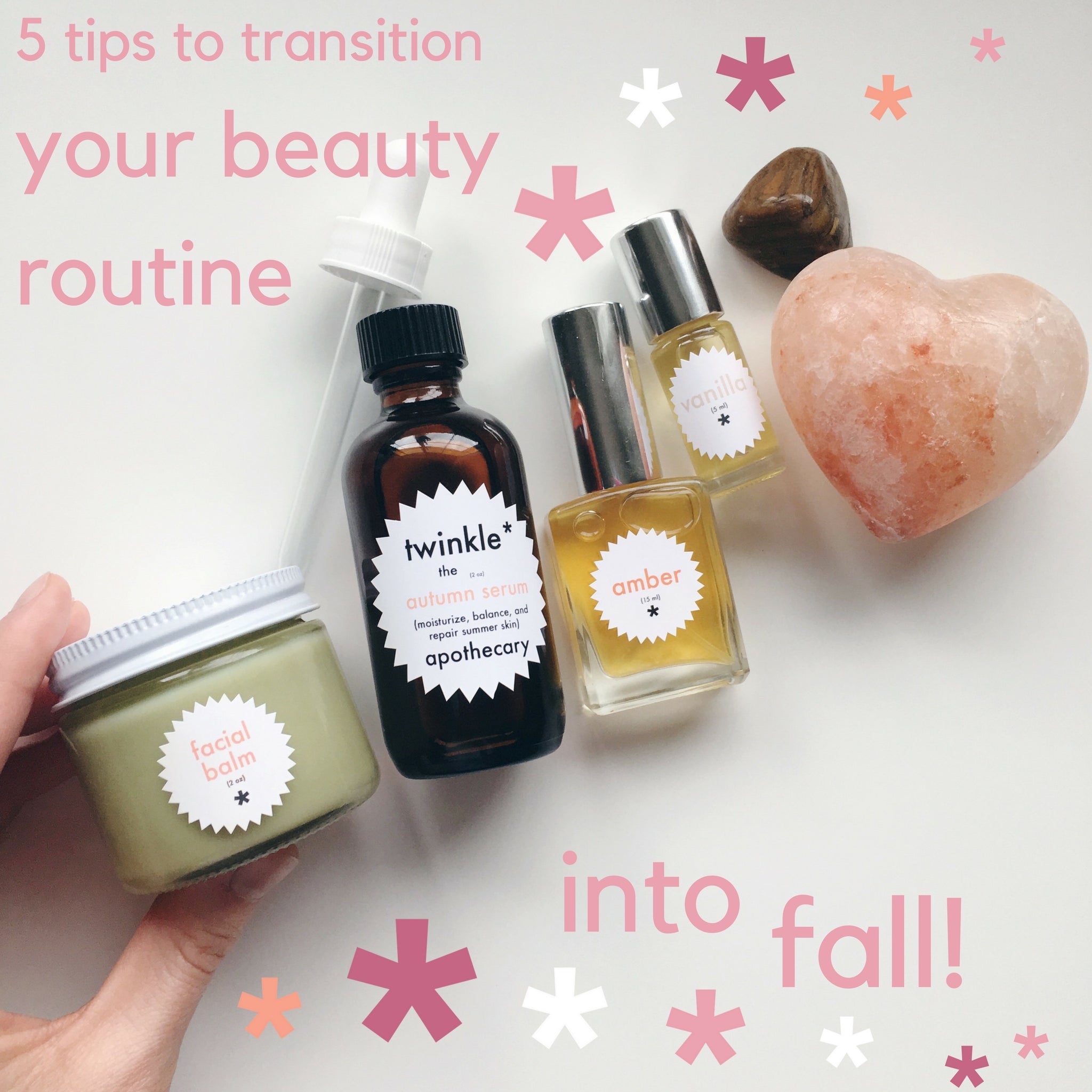 It's finally, officially fall. Yay! 
Also... now what? 
Should you be doing anything different to care for yourself as the seasons change? 
The answer to that is totally up to you (of course!) 
If you have a tried and true routine that never fails, then by all means, keep it up! 
But if you're looking for a change or want to prepare your skin for cooler temps, fall is the perfect time to try something new with your routine! 
Here are my top 5 tips for transitioning your beauty routine into this glorious fall season:   
1. Repair Sun Damage 
First things first, let's assess the damage. If you had a lot of fun at the beach or by the pool this summer (LUCKY) chances are, your skin is needing some recovery time from all of that sun. I recommend feeding your face with lots of antioxidants (like the free-radical busting polyphenols found in my
matcha green tea + aloe mask
,) and moisturizing your skin with healing oils like
evening primrose and rosehip
to soften fine lines and even out your skin tone. Funny thing - I actually
made a serum with both
, specifically designed for your after-summer skin: 
So weird how that works... right?! LOL
2. Bring Back The Moisture 
If you got a little lax with your routine when it was super hot out
(no judgement, I do it too!)
it's now time to start working richer moisturizers back into your rotation. Start with a small amount of
Beauty Butter
and/or
Facial Balm
now, and your skin will be so much better prepared for the cool, dry winter air that's coming in a few months. You may even want to try out a
facial balm cleanse!
 And if you were afraid of looking too dewy with a cream blush this summer, you might just love the nourishing effect it has on your cheeks once the air gets a bit cooler  - multitasking 
lip + cheek tint FTW!
3. Experiment 
Fall is the PERFECT time to experiment with your skincare and beauty routines. You don't have to worry about sweat running down your face every time you leave the house, and you also don't have to deal with harsh and icy cold air irritating your skin. Take advantage of this perfect weather to try a new facial oil, add something different to your nightly mask, finally try
oil cleansing
if you were too scared to give it a chance this summer...
Or, maybe you're curious to try out the baking soda free deodorant, or to see if that
himalayan salt crystal
works for you! I think it's always best to experiment when you know the results won't be skewed due to things outside of your control (like extreme weather.) 
4. Don't Ditch Your Summer Beauty Staples! 
So, maybe you don't want to walk around looking like a full-on-fresh-from-the-beach mermaid all year. (Or maybe you do... in which case you should totally go for it!) But do not even think about ditching that bronzer and wave spray! You can use the
bronzing balm
as a subtle contouring shade, or to warm up your complexion any day of the year. It also makes a great creamy eyeshadow, which I also use as a base to layer on powder shadows for maximum color pop! 
The
wave spray
can be used as a setting spray which helps hold the shape of your hair - I always spray a bit in my hair before using a curling iron - or, you can use it to add volume at the root and refresh your style after taking off those cute fall hats! 
5. Do Switch Up Your Scent 
Summer is my favorite season
(shhh, don't tell anyone)
but I LIVE for fall fragrances. I seriously wait all year to be able to bust out my sultry French Girl, Beau Spice,
Cardigan
, and straight up
Amber
. And so far this year I've been rocking my new 
Asterisk Collection Edition *01
and
Smudge oil
pretty much non-stop!  
If earthy, woodsy scents aren't really thing and you're not ready to give up your fresh & clean summer perfumes, I'd recommend giving them a little depth by rolling on some
vanilla, amber, or sandalwood
- these three scents will pair beautifully with just about any of the Twinkle Apothecary signature fragrances, adding a little warmth and complexity without being overpowering. If you prefer something more crisp - try cedarwood! 
You might end up being pleasantly surprised by how much you enjoy richer fragrances when the air is a bit more cool... (see #3.)  
Are you going to be making some changes, or sticking to what works? Leave a note and let me know - I love hearing about how you guys work my products into your routines! 
Happy fall! 
-XO-