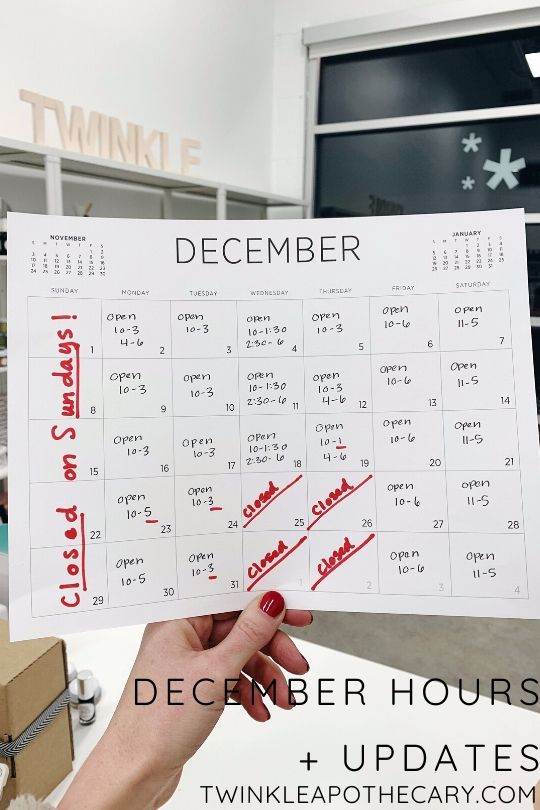 I don't think anyone reads these blogs (actually, I can see how many views each post gets so I know no one does! 😂) but I still like posting my hours for the month here so you can plan your trip! 
Last month (and also today) I did something I've always wanted to do, by skipping out on Black Friday weekend. I'm really glad I did. I needed a break. Retailers need breaks and holidays too! After years of major stress and missing out on normal holiday activities and kind of hating this whole time of the year, I'm ready to reclaim the holiday season and make my own traditions for my family. I think I owe it to my future employees too. I started this business because I wanted to do things differently, and who decided that Thanksgiving weekend was about shopping over gratitude anyway? Khols? Walmart? Best Buy? Target? Screw them.
✨ I do what I want. ✨
There are 15 more days to shop online to guarantee Christmas delivery, and I am expecting to be pretty busy, so even though I've scheduled myself to be off after school on Mondays and Tuesdays, I might be coming back. Stick to this schedule to plan, but stay tuned to Instagram (I always post my daily hours in my stories too) for surprise bonus afternoon shopping opportunities. 
And wish me luck... 
I never really know what you guys are going to buy this time of the year, even though I've posted all of my best suggestions in my gift guide, (please don't just buy sample size things, pretty, pretty please? 😅) so I always have a little bit of anxiety hoping that I'm stocked on all of my packaging and materials. 
But I'm pretty sure I'm as prepared as I'll ever be. I think. LOL. 
Here we go! 
-XO-