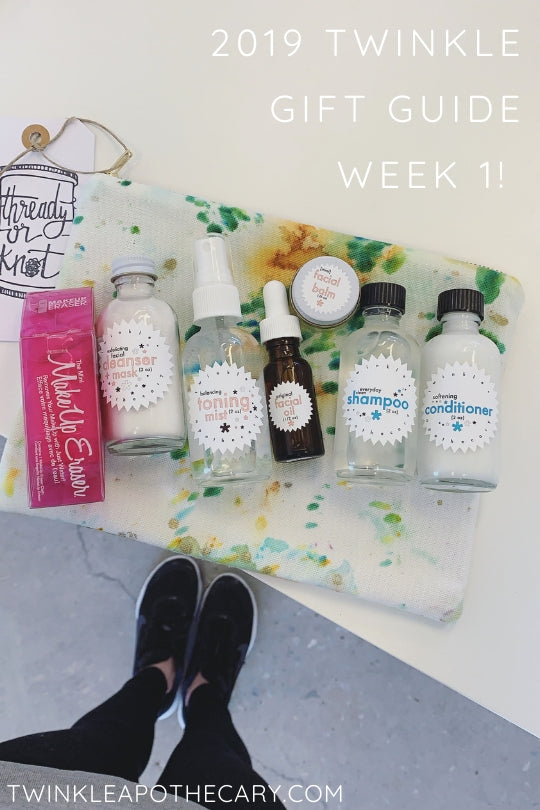 Hello hello! 
No one panic - but my holiday shipping deadline is just 29 days away. 😳
But seriously, don't panic because I have oodles and oodles of gift ideas to share with you! 
I know that my wonderful customers want to share the twinkle love with their friends and families this season, but sometimes it's hard to figure out what to get people - especially when it comes to fragrances and personal care items. I especially think it can be a bit nerve wracking to share something unique and handmade that you happen to really love with someone else. Like, will they get it? Will they see how special it is? Will they be open to trying something different? Will they know how to use it?!
Well, it just so happens that I think about how and why to gift these products all the time, and I also have a few years of experience when it comes to helping people pick things out in the shop. 
So allow me to share my knowledge with you and make gifting my handmade goodies a little easier for you this year! 
I've been posting a gift idea every day on my instagram story, and promised to recap them all weekly here on the blog. Honestly I have so many ideas that I could probably post 2 or 3 a day, (ok sometimes I do,) and they're all customizable so the options are pretty much endless. Feel free to use this to spark your imagination and switch out the products and accessories or add or take things away to suit your budget.
And a quick note regarding gifting fragrances - I know it's difficult. But, it's not impossible! Whenever I post a fragrance in my gift guide I try to pick the scents that are pretty universally well liked, or, have some sort of aromatherapy benefit that makes sense with the theme of the gift. Whenever I post a big bottle of perfume, let's assume that you already have a good idea of what they like. But if it happens that you're wrong, I do exchange gifted bottles!  
A lot of my best customers are learning to appreciate and wear all types of fragrances, and I think it's great to want to share your discoveries with people you think might also appreciate trying new yummy things. So that's the way you approach it - like, "I've been having so much fun experimenting with new fragrances and changing them up depending on my mood or the season, and I thought you might enjoy incorporating something new into your current scent rotation too." It's an uplifting, healthy, and luxurious gift, and if they don't like it, seriously what's their problem? LOL I'm kidding. No pressure if they don't like it. We'll swap it out or I'll give you a store credit for something else. 
So without further ado, I will now post all of my instagram pictures here with links for you to shop! If you don't have my mobile app, download it to get the discount codes. (They'll be shared with everyone else on Thanksgiving!) 
NOTEPAD | EYE SERUM | AROMATHERAPY PERFUME | TEA | STRAINER
GEMSTONE FACIAL ROLLER | FACIAL OIL
DOPE QUEEN OIL | HIMALAYAN SALT CRYSTALS 
RAINBOW POUCH | CUTICLE OIL | LOTION STICK | POLISH | NAIL FILE | POLISH REMOVER 
GEMSTONE COMB | DOPE QUEEN BALM 
MULHOLLAND PERFUME | ENAMEL PINS 
 DRY BRUSHES | ALL OVER OIL | MASSAGE ROLLER | HEART CRYSTAL 
HANDMADE POUCH | MAKEUP ERASER | TRAVEL SKINCARE SET | TRAVEL HAIR CARE SET 
HEADBAND | SCRUNCHIE | DRY SHAMPOO | REFILLABLE BRUSH | HAIR COILS
 I will not say Happy Holidays now because it's way too soon 😝
but I hope that this helps you do a little pre-game planning as you're working out what to get everyone this year on top of planning your Thanksgiving menu (I know my mind isn't the only one in a million places at once right now.) 😅
Check back next week for more! 
-XO-