Changing Fragrances - Summer 2017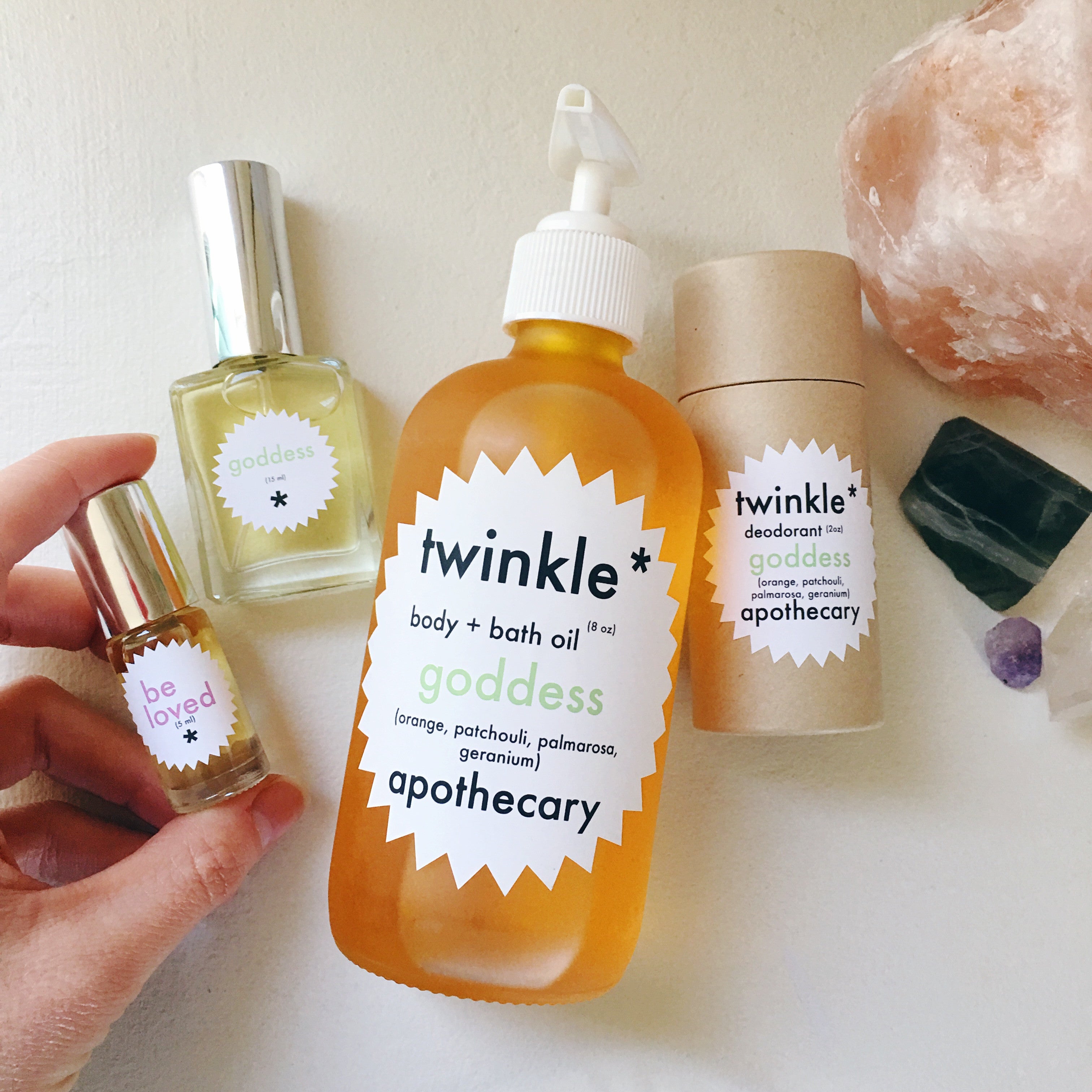 Meet the new me - I'm a Goddess now!  
Haha, JK.
But, I am totally branching out with a new fragrance these days. 
Although I created my products to be worn as match-matchy sets, I hadn't really been using them that way myself until now... I'd use random left over testers, production fails, whatever wasn't selling, i.e., I'm kind of cheap.
But it just so happened that last week I ran out of my Mulholland deodorant at the same time as my Blissed body oil, at the same time that I finally received my bulk alcohol order and was able to start producing my
new perfume sprays.
Empty! 
So I decided to change it up, and actually give myself a little gift.
It also happens that I'm currently going through a little transition in my personal life.
AKA - I am no longer in a relationship.
So what's a girl to do?
I chose
Goddess
for several reasons.
1. It was just calling to me.
Goddess has been one of my most popular scents since I introduced it last Spring. But, I have to confess, it's never really been my favorite. I thought it was lovely, obviously, because I made it, but just not really "me." I typically go for more floral/earthy scents, and Goddess is just so  f r e s h. However, lately, every time I smell it, I'm just loving it. Sometimes my scent preferences ebb and flow with the seasons, or, maybe I just really needed a change. 
2. The weather is right.
Summer is the perfect time for a fresh, clean scent. Although there's a fair amount of patchouli in this blend, the overall effect of Goddess is very light and crisp. It's refreshing, and it makes me feel really clean. Yet, also grounded and earthy. Bonus - patchouli, palmarosa, and geranium are known to be bug repellants, which makes this the perfect scent to wear for any outdoor activities.
3. I had to pick something different.
Although I've been wearing multiple fragrances over the past year, I wore my top 3 go-tos (French Girl, Mulholland, and Blissed) mostly while I was making memories with my ex. So... I just don't want to smell them on me right now. But I know it's not goodbye forever. Hopefully I'll come back to them in a few months and laugh about how broken hearted I was. For now: onward and upward.
So far... it's different. The first couple of days, I kept looking around wondering where that strange smell was coming from. I've never spent an extended amount of time wearing Goddess until now, and it's a bit embarrassing to admit this, but it smells a lot different than I thought it would! I thought I'd be overwhelmed by the patchouli, but I mostly pick up the brightness of the orange, palmarosa, and geranium.
It's SUPER effective as a deodorant.
It's light, and it doesn't linger as long as my typical sandalwood-and-floral based favorites, which is totally fine with me!
I've also been layering it with a bit of my
Be Loved aromatherapy blend
, which ups the earthy, floral element for nighttime. Plus, I'm just loving myself extra hard these days.
I don't know if Goddess will move up the rankings as one of my top go-to fragrances forever, but it's just right for me right now.
If you need help picking your new scent for now, I'd love to help. You know where to reach me! 
-XO-