A Smoky Eye Using Bronze Eye Tint (Video!)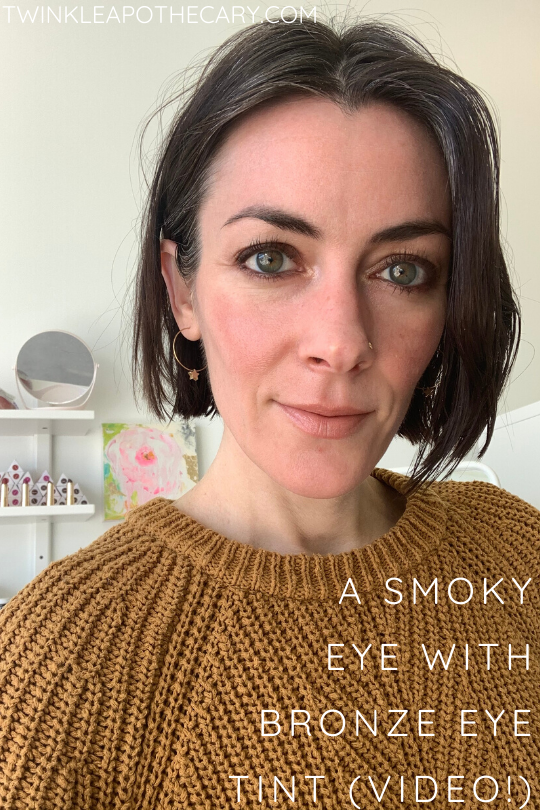 Hello! 
I'm back with a slightly stuffy nose from last week's flu, and another makeup video - this time I'm doing a "smoky" (or "smudgy" or whatever you want to call it 🤪) eye look using Bronze Eye Tint and Bronze Shimmer Powder. 
It took me the full 15 minutes to smudge and smear this on in the video but I don't think it normally takes that long in real life? I mean, I do this look a lot and I don't feel like it takes that long but apparently it takes longer than I think it does. Time flies when you're getting pretty?! 
Even though it's (apparently) not super fast to apply, I still love this look because it's the perfect mix of dramatic and soft and neutral. It's perfectly wearable for day but also pretty for a night out. And, as I mention in the video, the bronze eye tint looks great layered under just about any of the shimmer powder colors. Rose quartz is a go-to, but I've also done citrine, jade, and amethyst and I highly recommend. (Next video maybe?) 
I don't think it'll ever stop feeling crazy awkward for me to put my makeup on on the internet for everyone to see, but I do think that everyone should see how great these products are... so I'll keep plugging along and fumbling through it for you. Maybe my lack of confidence will make you feel more comfortable to try it for yourself? Haha! 
Seriously though, where else can you get vegan, natural, zero waste, inexpensive, handmade makeup that works this well, is this versatile, and is this fun to use? NOWHERE ELSE. Just here with me. GET SOME ALREADY!   
Products used: 
Cocoa and Bronze eye tint ($15 each) 
Bronze shimmer powder ($14) 
Highlight serum ($16) 
Berry lip + cheek tint on cheeks (I ran out of time to do this in the video but I put it on before I snapped the picture ($8) 
Sandstone highlight balm on lips (my favorite neutral shiny lip!) ($8) 
Final effect: 
- Stefanie -