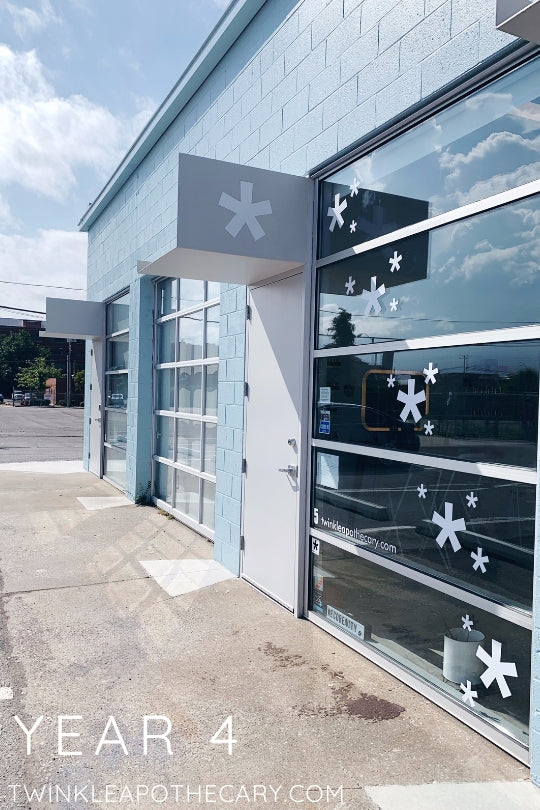 Wow wow wow. Twinkle Apothecary turned 4 years old this week! 
Four years isn't a long time, but it feels like another lifetime ago that I moved home to start over and try my hand at something completely new. I had no idea what to expect back in 2015, but I'm so, so happy with how it's going. I feel like I've come a long way from the spare bedroom at my parents house... don't you think?! 
It's been 4 years of incredibly hard work, but I didn't start this business because I wanted to earn passive income or because I wanted to be a "boss" and have a staff run the day-to-day for me while I lounged on a beach somewhere. I wanted this. I wanted work that I could sink my teeth into everyday. I wanted to earn a living with integrity. To be creative. Do my own thing. Build something good and solid, even if it's small. Maybe I especially love that it's small. I wanted to make things with my own two hands. I wanted my own little corner of the world to share good things, and to feel connected to my community and I wanted to feel like what I was doing was important to someone. Every day I walk into my shop and feel like I have to pinch myself because I'm really doing it. I'm proud of what I've accomplished so far. I honestly have no idea where I want to go from here, (I mean I know that I want to make more perfume, but that's about it 😜) but I still have this feeling that I'm just getting started... 
This time last year I changed my entire product assortment so that I could run my business more efficiently and offer in-store refill options. I'm happy to report that I'm feeling great about those changes, and my business does run more more efficiently now. And the refills are AMAZING, RIGHT??!  
Because I like my little business just the way it is and want to continue along this path of slow and steady growth, I'm always looking for ways to work smarter, not harder. Thus, I have just one small tweak to make for this year... 
Shipping. 
You guys. The tiny orders are killing me. 
A cornerstone of my brand has always, and will always be affordability. Because I want my products to be accessible for anyone who wants them, I work with slim margins to keep my prices low. My prices haven't changed much over the past four years, but the cost of shipping keeps going up and up. 
For those of you who aren't aware, (I realized recently during one of my Founder Friday Instagram Q+As that there are probably more than a few people out there who don't understand this,) even though the shipping is free for you on my website, someone still has to pay the post office to ship your order. That someone is me. I take a portion of the price of each of the products that you buy and use that money to pay my massive shipping bill each month. 
It works in theory, if enough people are buying enough to cover the cost of shipping. The problem is when a lot of people are just buying one $12 item (especially when it's a glass jar that needs a lot of cushioning,) I don't make very much money after paying for the box, eco cushioning, postal fees, and not to mention my labor to pack up your order. Like, I hardly make anything when that happens, and unfortunately it's happening often. And a lot of these orders are going to local addresses, which feels more than a little wasteful, seeing as how my store is open 6 days a week. 💸😭
So, no big deal, but if you're buying something that costs less than $20 you've got to pay for shipping now. I didn't want to have to change it and I've been struggling with this decision, (even more so than last year's body care product massacre 😆) but something's gotta give.
Other than that, it's business as usual this year. Everything is going so well! 
Because I wouldn't be here without your support, I always like to do a little something on my anniversary to thank you all for being with me on this journey. 
This weekend, take 25% off of your order with the code HBD4 
That's right, everything is on sale and there's no minimum purchase required. (Although you'll probably want to spend over $20 lol) 
If you're just joining me, discounts this big do not happen often around here. Only once per year, actually! 
This offer can't be combined with other coupons/discounts and is only good for one use per customer (because last year everyone placed multiple orders and trying to organize them all to ship together almost broke me) so fill up that cart one time and don't look back. 
Oh and subscription products are not included, so don't be emailing me like why doesn't the code work?? 🙃 but DO mark your calendars for Cyber Monday because that's the one day of the year that my subscription boxes are discounted!
I hope you can use this to stock up on your necessities as the seasons change, or maybe even start crossing off your holiday shopping list. Or maybe just treat yourself to something pretty and feel great about supporting a small, handmade business at the same time. 💁‍♀️
If you're local, the discount will be automatically applied at the register when you come in the shop. If you order online and select store pickup, be sure to wait for my email/text before you come in - I may need to make another batch of something for you real quick! 
But I can't wait to see you and share what I've made with you! 
Thank you so, so much for supporting my little business. I can't wait to find out what's next. 
-XO-