Vendor Spotlight: Bestowed Essentials + Hippie Haven Shop!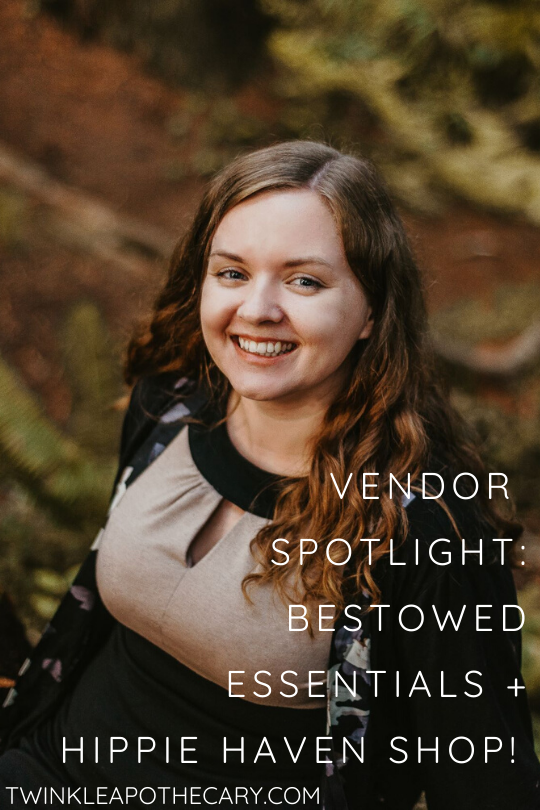 Hi guys! 
Boy, have I missed blogging! I want to bring the party back here now that things have slowed down a bit after the great quarantine beauty rush of 2020, and I thought I'd start by sharing about one of the amazing vendors that I carry in my shop, who you should definitely know about if you're interested in the zero-waste movement. 
Bestowed Essentials! 
I first met the owner, Callee, when she was driving through Oklahoma City a few years ago, and I placed a wholesale order for her soap on the spot - turns out that was her very first wholesale order! (What can I say, I have an eye for talent!) 
Since then, her business has grown by leaps and bounds. She has a podcast (which I was also on!) called Hippie Haven AND a zero waste brick and mortar shop in South Dakota called Hippie Haven Shop. 
Click to check out the Hippie Haven Podcast! 
I still carry (and love) her soap, as well as tooth powder, shampoo bars, and several other zero-waste accessories. 
Here's a little more about her shop: 
Hippie Haven Shop is the first and only zero waste store in South Dakota. When you walk in, you are immediately greeted by Chesca, the store manager. The store is a calm welcoming place to be. There are plants all around the store, and you can smell the clean scent of soap. 
Callee Ackland is the owner of Hippie Haven Shop. She is a U.S. Navy veteran and the owner of Bestowed Essentials, a line of vegan zero waste products. 
Hippie Haven Shop opened in December 2019. The store is in a 100-year-old historic building in downtown Rapid City, South Dakota. 
"This area is pretty rural and is known as cattle country," Callee said. "Sometimes I wonder why I felt called here, but I think it is better. I think it is better to be in an area with naysayers where we can help change people's minds and mindsets."
Callee believes the Hippie Haven Team can make a bigger difference in South Dakota than if they had opened a store in a liberal place where people already know about these social and environmental issues. 
"All of our products are vegan, cruelty-free, nontoxic, and plastic-free," Callee says. "We also have a large selection of bulk items that you can bring your own container to fill."
More than 70% of the products in Hippie Haven Shop are made by female owned small businesses in the United States.
"We try to support small businesses, especially female and minority owned businesses," Callee says. "Our mission is to provide products and resources to reduce our environmental impact, empower women, and cultivate a circular community."
The furniture and décor in the shop was purchased second hand, and they buy wind energy offsets for 100% of their production. 
"I wanted to create more than a store," Callee says. "I really want this to be a community space. We have a reading nook, a free library, recycling drop-off, and we host community events here. Previously, we have had vegan potlucks, workshop Wednesdays, small business popups, book swaps, seed swaps, and more."
Callee leads a team of four women at Hippie Haven: Chesca is the Store Manager, Alexzandria is the Expansion Coordinator, Hannah is the Production Manager, and Raylyn is the Communications Coordinator. 
"All of the decisions I make as a business owner and that we make as a team are all based around our three primary core values which are environmental conservation, female empowerment, and community organizing," Callee said. "We want every decision to ideally fit all three of these."
Doesn't this sound awesome? 
I really admire Callie and her team's passion and commitment to making the world a better place, and I love having their products in my shop. 
They carry some of my products also, so that's super fun! If you're into saving the environment (and I KNOW all of you are, because you wouldn't be here otherwise!) you should definitely check out all of the zero waste products they have available online. 
Have fun exploring Hippie Haven! 
-XO- 
Stefanie