Summer Saturdays and A Summer Vacation!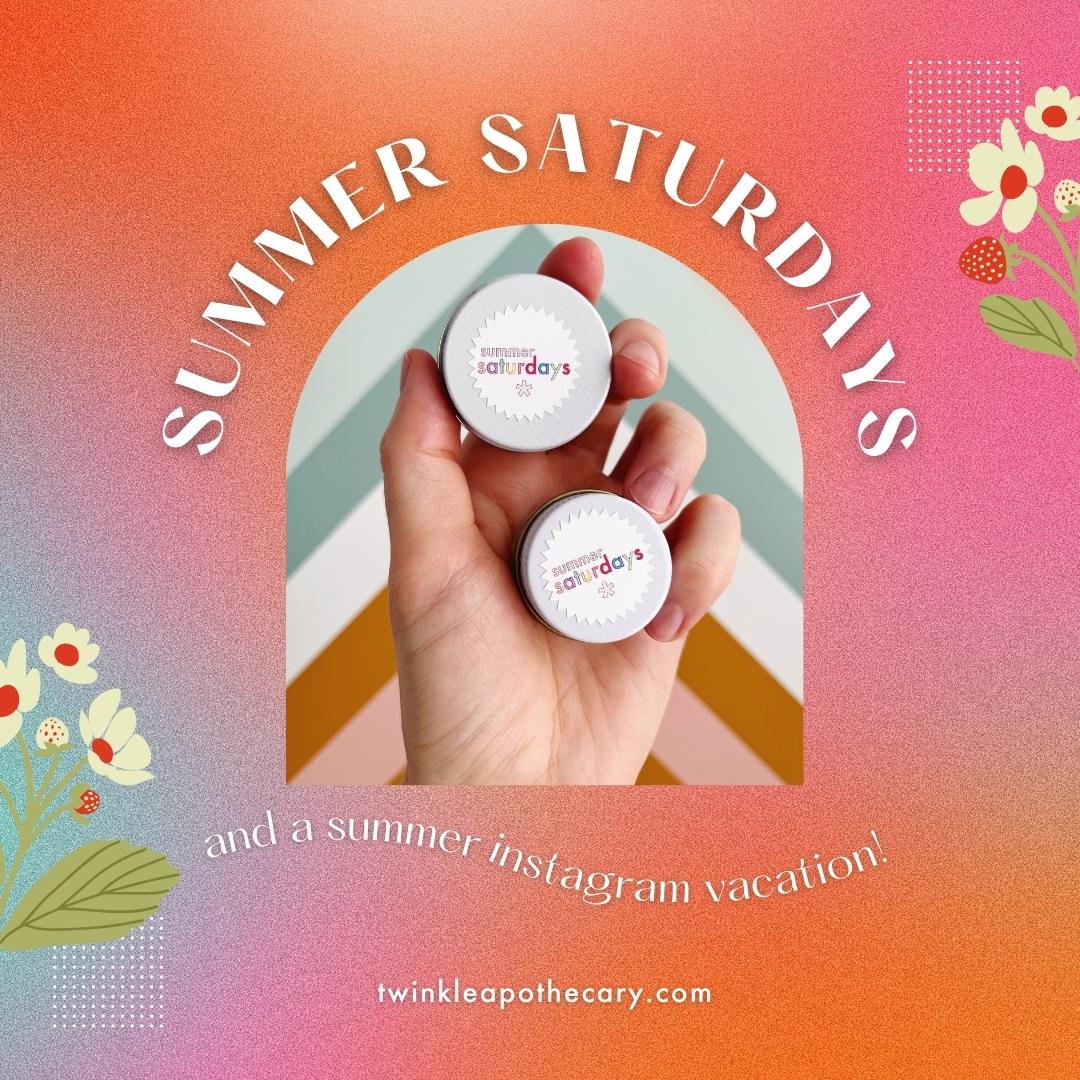 (From Instagram! Just from Instagram...) 
Greetings, Twinkle lovers!

I wanted to share about the new limited edition summer items that I just released here on the blog so no one misses out.
Summer Saturdays 
Summer Saturdays is two products with the same name. (Kind of kooky, I know, but… does it kind of make sense?)
One is a solid perfume with shimmer, because why not?
And the other is a matching shimmer powder, because, well, I wanted this color for myself so I thought you might too!


Because you've taken the time to read my blog post, I'll let you in on a little secret - this is the same color as the limited edition shimmer serum (called The Gloss) that I made last year! I think it's such a fun color for summer to wear alone, or as a highlight, and I wanted more for this summer. A vivid iridescent purplish pink that somehow still looks natural and flatters everyone? Can't go wrong!

This color layers so well with just about all of my other makeup colors - amethyst, mother of pearl, pink tourmaline, bronze, sandstone, obsidian… you can dab a little on your cheeks, brow bone, use it as an eye shadow, or even mix it with a drop of facial oil for an all-over other-worldly glow!


I was going to make a video for you, but I suddenly realized that I actually HATE making videos and I don't want to do them anymore, so there's that. I'm a one-person business, OK? I don't want to waste my time demonstrating things or trying to look pretty for the camera. I'd so much rather just wear the pretty things and look pretty IRL while making the pretty things that people actually use and feel good wearing in their lives, and no one needs to post about any of it. Stop scrolling and just buy it, wear it, be pretty IRL, and take a picture if you want or don't. That's the new Twinkle Apothecary motto. LOL.

(FYI - If you do want to see pictures of me wearing the things, I routinely post makeup selfies on my Patreon. I have a lot of fun with it too! I just don't want to be obligated to do it as part of my business practice, and certainly not just to have something to post on Instagram. Scroll down for more on that!)

Now, the solid perfume. If you've read this far, you get another little secret. I whipped this up as a little palate cleanser because I had been struggling through a very complex idea for Notes by SGC for months. I was getting frustrated and just needed to take a break and make something easy and pretty.


So I made a sweet and ethereal summery floral accord with rhododendron, mimosa, plumeria, and neroli, used my zest blend for the top notes, and made a very simple vanilla base with a touch of atlas cedarwood as a fixative. Combined that with jasmine floral wax and organic virgin coconut oil (to make it more spreadable and up the poolside vibes!) and swirled in a healthy dose of shimmer, just because it's fun. It's light and pretty. The scent probably lasts about 3-4 hours on the skin.

I made a small batch of 8 of these and that will probably be it for the season unless they sell very quickly! So don't wait if you want one. The shimmer in the perfume is subtle but buildable. If you just want it for the smell, don't worry about looking glittery. On the other hand, if you want a body shimmer, you can simply apply more! Just a fun little ditty because I can do things like this now that I've minimized my collection!
Summer Vacation

Now, speaking of other things I can do if I want… I've decided to take a summer vacation. But only from social media! I've been feeling very burned out lately, and I just realized that it's not my job or my work that's the problem. I LOVE my work. I love making these products and sharing them with you. It's simply the social media components that I don't enjoy. So, I'm not going to do them. I'm taking a break! A mental health break.

Do I fear I might be committing business suicide? A bit.

But I've actually done this before. I took a break from Instagram for the first three months of 2020, and it didn't affect my business whatsoever. I probably would have stayed off forever if it hadn't been for the pandemic lockdown. And who decided that we have to do business over social media anyway? Who makes these rules? I'll tell you who! Meta, Inc.! Well, I didn't start my own business to be told what to do by another corporation and I'm not here to play anyone else's game.

So I'm looking forward to a summer of more creative headspace and freedom to make and share whatever I want, and I hope you'll check your inbox, Patreon, and this blog occasionally to see what I'm up to! (Oh! PS! I also made two new shimmer powder colors this week - mother of pearl and pink tourmaline. Sheesh! So much good stuff it's hard to put it all in one post!)


I hope you have an amazing summer with creative and mental freedom during these crazy times too. Thank you for supporting my little indie biz! Hope you enjoy these goodies!

Stefanie