Summer Beauty Release 2017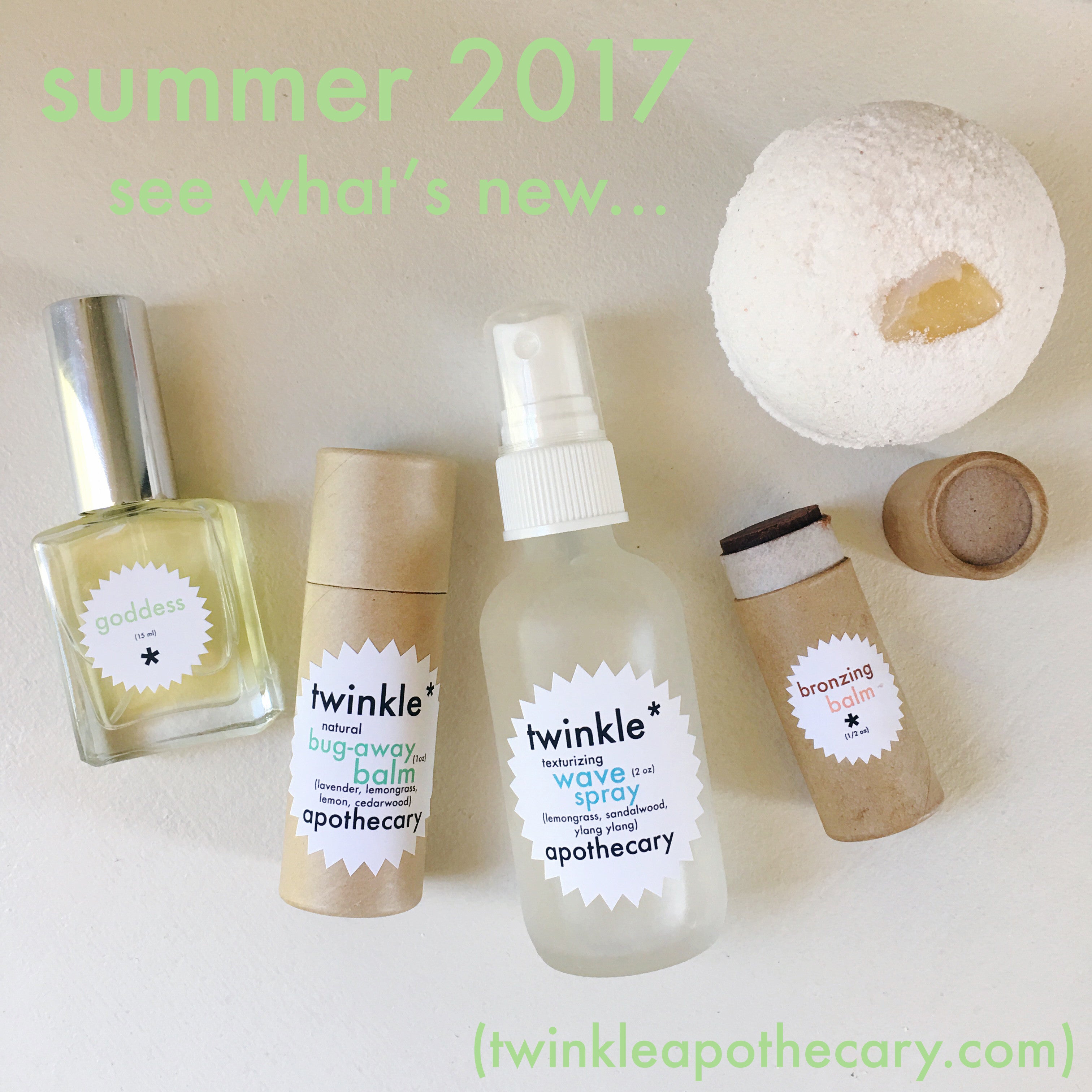 So... I've been busy! 
Summer is my FAVORITE season, so of course I had to make some new products to celebrate. Allow me to introduce everything! 
You guys. I've been working on these for about a year now, and I'm so excited to finally be able to share them with everyone! If you love the roll-on fragrances, you're going to go crazy for the spray perfumes. They're a little more concentrated than the roll ons, they last forever, and I just love being able to spritz them on everything! My personal current scent, Goddess, is so refreshing and perfect for Summer. You seriously NEED to order your favorite scent ASAP - they do not disappoint! 
I've been making my own bug spray since last summer, and while I haven't had it clinically tested, it works great for me and my family. Personally, I'm a mosquito magnet, and I'm allergic, so I tend to swell up majorly when I get bit. I basically never go outside with out spraying this on (have I mentioned that I live in the country?) so I had to make something that I actually wanted to smell all the time! This smells fresh and clean, and I love that it doesn't smell like bug spray, but is still effective! 
Because one of my goals in life is to have the kind of hair that doesn't require any heat styling. I have fine, stick-straight hair, and I have no idea what inspired me to try a wave spray because I've never had any luck with them before, but I am so glad that I did! Since I've been testing this, I haven't blow-dried my hair once. It gives me just the right amount of texture and shape without feeling like I have "product" on my hair. GOAL ACCOMPLISHED! Also, the sandalwood, ylang ylang, and lemongrass scent is sooooo delicious. It makes me feel like I'm at the beach. Even though I'm really just sitting here at my desk, writing this blog. ;) 
I wanted a good, subtle, creamy bronzer with just the right amount of shimmer, so I made one! I actually love this shea based formula so much that I've decided to re-formulate my lip + cheek tint to match the texture. So, be on the lookout for that in the coming weeks! This bronzer is kind of light, but buildable. On darker skin-tones it may just be a whisper of shimmer/highlight, and on fair skin tones (like mine) it adds more color. And, you can apply it anywhere you want a little color/shimmer - like your legs, or décolletage! 
To be honest, I never had any intention of making bath bombs. I'm crazy about my big bottles of bath salts, and I didn't like the idea of selling something that you can only use once. But I kept getting requests for them, so one of my friends gave me the idea to add a crystal - bingo! Suddenly they seemed a lot more exciting! And, they're super fun to make! And now my office is filled with beautiful crystals - rose quartz, citrine, lapis lazuli, rainbow fluorite, amethyst... so much good energy coming out of Twinkle HQ! 
I am a bit nervous about shipping them because they can be a bit delicate and you know I am anti-plastic wrap, but I'm hopeful that my logo-bag-gift-box solution is the ticket. And, even if they run-into some bumps on their way to you, they will still fizz up and fill your tub with a wonderful fragrance. Plus, you get to collect the crystal. Worth it! 
PHEW! So much new stuff! 
I know it probably seems like I'm making new things and changing my business around all the time, but I am actually about to slow it down. I have 2-3 more things up my sleeve, and possibly a new limited edition in the works for Fall, and THAT'S IT. No more new stuff, Stefanie! It's time for me to focus on selling all of the wonderful things that I've got! 
Also, in order to streamline my workflow, I've made the difficult decision to discontinue my custom/DIY serum and perfume products for now. I love making new scents, but being a one woman operation with as many products as I currently offer, ya gotta cut back somewhere. 
Also... this is pretty major and I still can't really believe I'm doing it, but I'm working on a second website! 
(I KNOW!!!)
It may take me a couple of weeks to get everything set up, but eventually I will have a vintage shop/personal style/ethical shopping blog called 
Get it? Spark - Twinkle?! ;)
Basically, I've always wanted to have a vintage shop, so I'm doing it, and I LOVE/miss blogging about ethical/vegan fashion!  
(And yes, I know I'm crazy for taking on another project...) 
Everything from my vintage collection here (and more) will be moved over to my new site in the coming weeks. I'll make an announcement when it's all ready to go so you can follow along! I'm SUPER EXCITED about it! 
What do you think? What are you exited to try the most?! I can't wait to hear your thoughts on everything! 
Thanks for keeping up to date on all things Twinkle - I hope you're ready for an amazing summer! 
-XO-