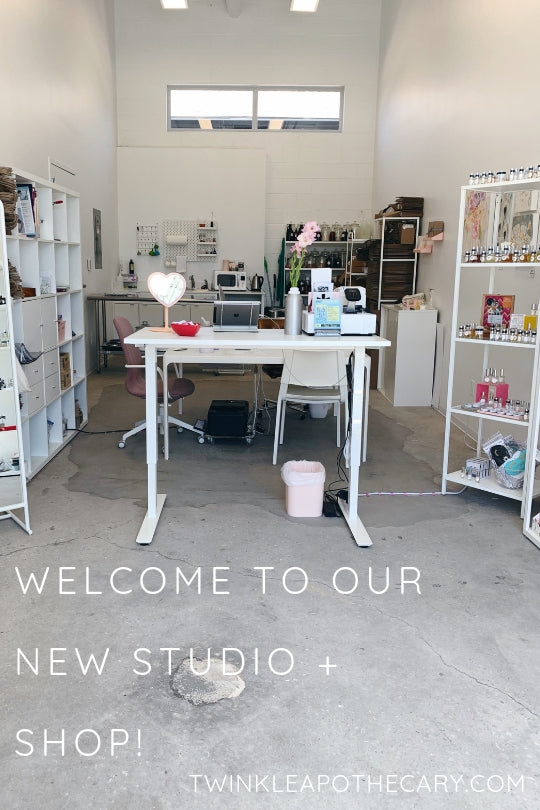 Hello! 
It's been a whirlwind of a few weeks, but now that I'm all settled in, I want to give you a little peek at my new location. 
 (Someday I might turn my phone horizontal and make a real video that's not for instagram... maybe. LOL) 
But can I be honest with you?
😇 I feel like I've died and gone to heaven. 😇 
This tiny little shop turned out so much better than I could have imagined, and I can't believe that this is where I get to work from every day. Is this real life?! 
When I started Twinkle Apothecary in 2015 out of a spare bedroom at my parent's house, I did imagine that I would have my own little light filled studio someday where I could work and also share my products with people, but I didn't know that it would feel so wonderful for that dream to come true. This is everything I wanted.  
💖 My heart is BURSTING! 💖
So, like I said, it's small. But everything fits perfectly. 
When you first open the door, you'll see the shop! 
There's the makeup section on this side... 
 Complete with a light up vanity for you to try on and test out all of my makeup products. You're also welcome to stop by and touch up your face for a night out or if you need to freshen up midday. 
(Find me here about 3:30 pm. I mist with lavender hydrosol, use the translucent powder in the refillable brush that I keep at my desk, then add a little more color with the testers. I know... it's a tough life!)
Of course I had to get a full length mirror to keep my tradition of daily outfit selfies alive and well. It's totally turned into a superstitious thing where I feel like customers don't know to come in if I don't post a picture of myself in the shop saying that I'm here on my instagram story! (Seriously though, I think my daily selfie really does help bring you in... also what if no one comes in and sees how cute I look that day? Now I have the receipts!) 🤣
Hi! 
ANYWAY, in the middle of the store, you'll find my checkout stand. (Ikea, I love you for making adjustable sit/stand desks... you never realize how short most tables are until you're trying to put together a retail shop!) 
My first customer in the door (at 11:05 am!) on the first day that I opened brought me flowers from the farmer's market and I've honestly never felt so seen or cared for. 🥰 I had been mentally preparing myself to be sitting alone all day with it being a holiday weekend, but you all showed up and put me right to work refilling bottles and giving you skincare advice, etc.
Did I mention that this is my career dream come true?! 🙏🏼💕
PS - all of the artwork in the shop is by Tawnya Corrente and it is all for sale. They are beautiful pieces at incredibly reasonable prices - if you're not local please email me for details!
Also at the checkout: my freebie bowl is also alive and well... basically whenever I make things and have a little bit left over I bottle it up and toss it in. Stop by and try something new, or if you're shopping online you can get a surprise sample here. 

On the other side of the shop is, well... everything else! Perfume is front and center because I don't want you to overlook it while you're getting all of your practical skin and body care things, but it's surrounded by hair care, skincare, body care, and of course all of my accessories and tea! 
I lugged these TWINKLE letters around to every pop-up and farmer's market outing in my first year of business. I thought it was only fair to gave them a coat of match-y peachy pink paint and a permanent home.  
Just behind the shop you'll find me at my desk. (Actually a conference table since I do the work of multiple people...) This is where I blend, bottle, and filter perfumes, label bottles, update my website, and pack my web orders.
Someday when I hire someone, they can sit here with me, but for now you'll probably see my son sitting there on his iPad, with me trying to convince him to do anything else. (He's actually quite good at stamping all of my bags and boxes with the twinkle*apothecary logo stamp. I pay him in Pokemon Cards.) 
Of course no e-commerce HQ would be complete without a mountain of eco-friendly shipping supplies. The white cabinet is where I store all of my essential oils... 
Here's the kitchen, where I make everything! (Plus tea.) 
And last but not least, the back corner is where I stash all of my ingredients and bulk jars and bottles for refills! 
It may look a bit messy, but I'm so happy with how it all fits, and I feel like I'm working so much more efficiently having everything in reach and being able to interact with my local customers at the same time. 
And for good measure, here are some before pics:  
(Honestly didn't take a lot of pictures when it was just an empty room and then a sea of boxes because I was terrified that it wasn't all going to fit, or that I ordered the wrong size furniture or something, and boy wouldn't that be embarrassing?!) 
But I think it turned out PERFECTLY. 
😍
 So come by and see me in action sometime soon if you're in OKC!  
You can find my hours on my VISIT page - keep in mind that I will update them in August when school starts.
Shopping online is always a good idea too, whether you're in OKC or anywhere else in the world. I'm always happy to ship my goodies to you for free on orders over $10. 
SEE YOU SOON!! 
-XO-