Smells like fall... single note scents to celebrate the coziest season!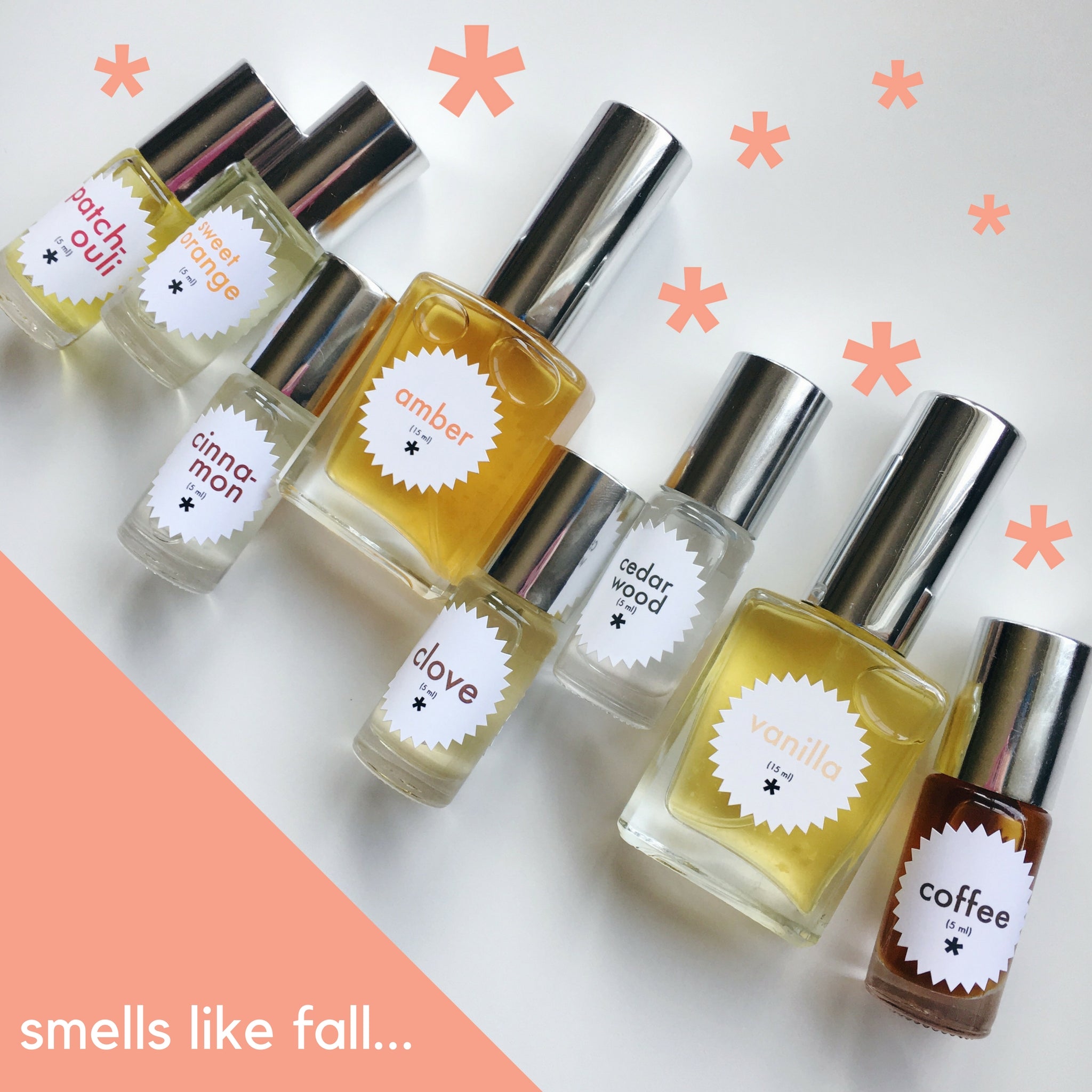 No matter your favorite season, I think we all can agree that fall is one of the best smelling times of the year. 
All of the pumpkin spice, 
Baked goods, 
Cozy fires, 
Warm beverages in big mugs... 
Everything is just sooooo yummy, am I right? 
Even if you're not ready or willing to trade in your favorite fragrance for something more seasonal, it might be fun to add one (or more) of these fall-ish scents to your natural perfume wardrobe, just because!
Here are my favorite single note scent combinations for fall to get you started: 
Amber + Anything 
Amber just screams fall to me. It's not everyone's favorite scent, but it might just be mine... it's creamy, smoky, earthy, yet sweet. It's so warm, yet also totally mysterious and mystical, so I can't help but associate it with the Halloween season! You can pair it with cedarwood and/or patchouli if you want to straight up smell like a candle (and why not?!) but it will add a rich, earthy depth and sweetness to pretty much anything. Hello instant fall upgrade!  
Vanilla + Sweet Orange + Clove 
This is just such a classic fall combo. You could even add some cedarwood (FYI - that would be the closest way to replicate the "Gryffindor" perfume I made for last year's Harry Potter festival) and/or patchouli to make it even more sophisticated! 
Patchouli + Vanilla 
Even if you don't love patchouli, there's just something about this combo that feels so fall-ish. Patchouli kind of smells like damp leaves on the ground to me, but if you're not into super earthy scents, the vanilla makes it so much more feminine and sweet. It's a really lovely and comforting combination. 
Coffee + Cinnamon + Cedarwood 
This is basically a paired down, less sweet version of my most popular fall fragrance, Cardigan. All that's missing is the amber, which you could still totally add - bonus points if you add a little sweet orange or vanilla action to brighten everything up a bit!  
Feeling cozier already, aren't we now?! 
;) 
What are your favorite scents for fall? 
Leave a note and LMK! 
-XO-