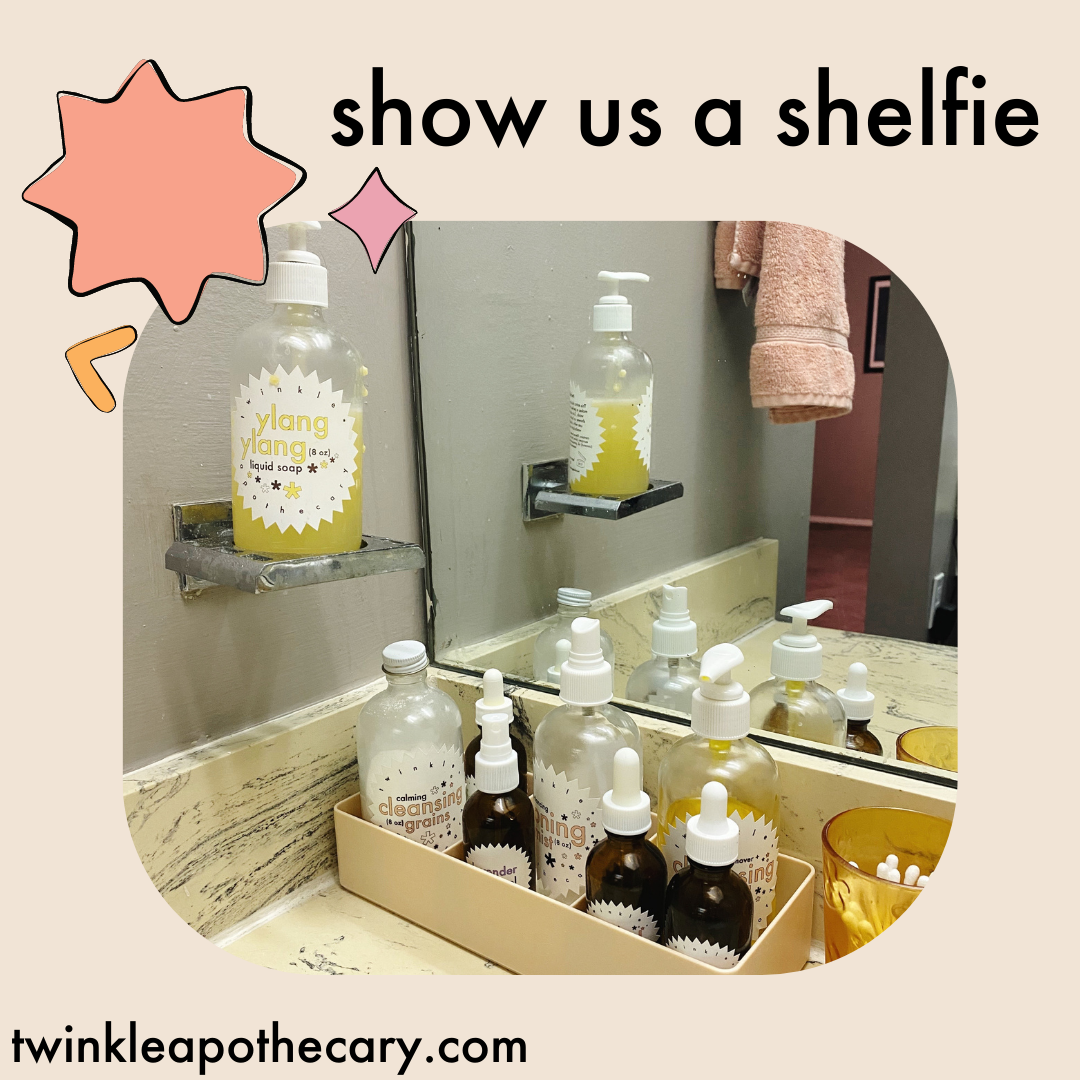 Welcome to the first post of a new blog series that I hope you'll enjoy! 
Now that I have Patreon for blogging about skincare and DIY recipes, I thought it'd be fun to use the Twinkle Apothecary blog to showcase more from my community.
I'm calling this "Show Us A Shelfie!" 
I know, it's impossible to say out loud, but that's ok, because all you have to do is sit back, scroll, and get a peek into your fellow Twinkle lovers' stashes! 
What is it about seeing how people organize their personal belongings that's so satisfying? I don't know exactly, but it is, right? Here's something I do know - everyone who uses my products has something in common - we all know how AMAZING they make us feel. So let's take an opportunity to share some good vibes all around, shall we? 
Anyone who wants to participate in the fun is more than welcome - 
I'll link to a google form with a handy questionnaire for you to fill out at the bottom of this post, and you can email me any pictures of your Twinkle collection that you'd like to share!
I thought I'd kick this off by starting with myself, and I even filled out the questionnaire that I made... so here goes! 
Stefanie (she/her) 
Age: 38 
Location: Oklahoma City 
Occupation: Perfumer, maker, business owner
Pictured here: liquid soap (it's actually grapefruit rn because I keep refilling the bottle,) calming cleansing grains, facial oil for acne prone skin, rose hydrosol (in a lavender hydrosol bottle,) toning mist, original facial oil, winter serum, and makeup remover + cleansing oil. Bamboo cotton swabs. 
How and when did you first discover Twinkle? Do you remember your first purchase? 
I "discovered" Twinkle in August 2015 after struggling to find a vegan deodorant that could handle the stress sweat from my horrible fashion production job. After trying a million different things that made me smell even worse, I went into my kitchen and stirred a bunch of tapioca powder (leftover from a failed vegan mozzarella experiment,) into some coconut oil (the only moisturizer I used at the time because I could buy it with my SNAP benefits at the grocery store,) and added a few drops of sweet orange and tea tree oil. As I was stirring (and stirring, because it takes a LOT of tapioca to thicken up melted coconut oil!) I remember this crazy, (yet somehow totally steady and profound,) feeling came over me, and I somehow instantly knew that this was THE THING I WAS MEANT TO DO. Lo and behold, it worked better than anything else, and I quit my job a couple of weeks later to move home to Oklahoma City and make deodorant. Not crazy at all... right? Don't answer that. 
Pictured here: Vitamin C powder (might make this for my patrons, we'll see if they're into it,) Josh Rosebrook Nutrient Day Cream with SPF 30 (the only thing I put on my face that isn't made by me,) acne spot treatment, eye serum, gua sha, facial roller, face mask applicator, tweezers, comedone extractor, bach flower essences, menstrual cup cleansing spray, sensitive facial butter, green tea facial balm, goodwell co toothbrush and toothpaste, exfoliating facial cleanser, makeup erasers and facial scrubbies
What are your favorite products and why? 
Damn, I really hate this question! I seriously can't imagine life without any of these products. Whenever I think that this small business life is getting too tough and I should just throw in the towel already (which is almost daily lately to be honest,) the thought of not being able to use my skincare, all over oil, perfume, lip balm... shampoo and conditioner, highlight serum, eye tint, freaking all of it, ok?! is what motivates me to keep going. Keep trying. Keep praying that I can keep doing this for as long as possible. Because there's nothing else I ever want to use on my face. I can't even imagine. It hurts to even think about it. This stuff is too good to quit. (Please buy things so I don't have to?!) 
Pictured: makeup brushes, base coat polish and remover, cuticle oil, the stain, manicure tools
How would you describe your personal style? 
I feel like I have two distinctly different modes: 1. Parisian mom, and 2. Retired art teacher. 
Be honest: how many perfumes do you own? 
Well, all of them. Obviously. I'll tell you what I've been wearing the most lately: Ginger Snap, Pétiller, Blissed, Rose from Notes By SGC, No. 3 by Notes by SGC, Date Night, Madam VP, Smudge (every morning.) 
 What's your favorite way to care for yourself? 
Taking time to read the paper on Sunday mornings, my daily yoga practice, getting into bed early with a book (rare, but it happens occasionally,) burning good natural incense while meditating, playing jazz while cooking, (I like a good atmosphere I guess?) and pretty much anything that gets me out of my head and changes my perspective - good films, art, new experiences with interesting friends... oh, and hot baths with patchouli salt soak and all over oil, obviously. 
Why is shopping small/sustainably/ethically important to you? 
Things that are handmade are so much more special than store bought - they have a different energy and elevate your space and everything else you own too. I value creativity and I like supporting my friends and people in my community. I want to know that I'm spending my money on things that are aligned with my own sense of integrity. Paying attention to where I put my money feels like the easiest thing I can do to make a positive impact on the world around me. I guess in this topsy turvy world, it's something I can actually control - to make sure I'm causing as little harm as possible. 
Body care I keep on the back of the toilet so I can apply right after I get out of the shower/bath: After shave mist, all over oil (patchouli with a little rose added ;) currently,) bikini balm, pink salt heart, ylang ylang original deodorant, candida calming serum, patchouli salt soak, some secret concoctions I made just for myself ;), pantyliners, lavender essential oil, dope queen butter, eucalyptus butter. Not pictured: body brush and bikini brush hanging just above.  
 My minimalist shower: A bar of soap, shampoo, conditioner, and done.
Want to play and share your shelfie too?
I would ABSOLUTELY LOVE to hear from you! 
Here's the link to the questionnaire. Answer the questions as thoroughly or as simply as seems fit. Then, email stefanie@twinkleapothecary.com with a/some picture(s) of your stuff! The pictures can be as plain or as creative as you like - you can be in them or not - whatever you're comfortable with!
I can't wait to see what you have to share.
Until next time!
- Stefanie -