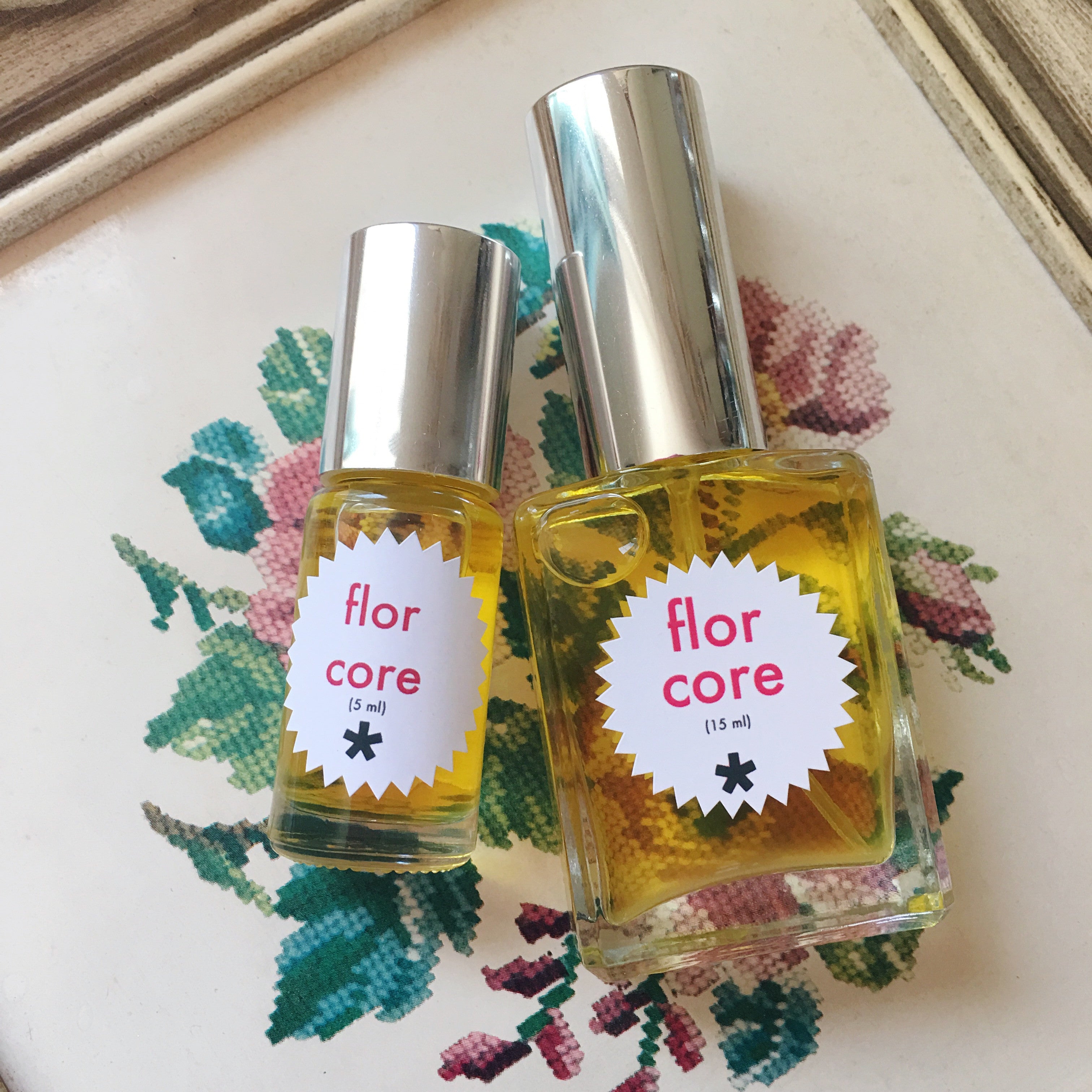 Um... oops! It's the last week of Perfume June but I still have a ton more fragrances to tell you about! 
Let's get on with it, shall we? 
Say hello to Florcore. 
Official description: 
Because fresh flowers are always a good idea! 
Twinkle Apothecary's Florcore fragrance is a sophisticated bouquet of pure floral loveliness! Rose, jasmine, ylang-ylang, and geranium combine to form a classically beautiful scent that's modern and fresh,
not
overly sweet or stuffy.
How it got it's name: 
Florcore is a funny little fashion trope circa 2014 that's basically the opposite of "Normcore." All about wearing big, bold colors and floral prints. This scent is all flowers, and it just kind of made me laugh. Usually people think of really floral scents as "grandma" perfumes, but I like to think of this as granny-chic!
What it's made of: 
Rose absolute (rosa centifolia,) jasmine absolute (grandiflorum,) rose geranium, and ylang ylang (I) essential oils 
Color: 
Light to bright yellow, depending on how orange my current lot of rose absolute is looking.
Viscosity:
Light. No sediment in this one!  
Top notes: 
sweet jasmine and fresh geranium 
Middle notes: 
classically floral rose and warm ylang ylang 
Base notes: 
fresh floral geranium and ylang ylang 
Aromatherapy benefits: 
This is an uplifting, stress relieving scent. These oils are known as aphrodisiacs, so it's a good date night scent. I often wear this one when meditating, because I feel like the floral fragrances elevate my consciousness as well as my sprit.  
Pairs well with: 
Adore, Basic, Blissed, Close, Dolce Vita, Mulholland, French Girl, Goddess, Pink Mafia
(I personally think that this one goes with pretty much anything. It's a nice, clean floral accord that will lighten up any of my fragrances.) 
Give it your own unique twist by adding: 
grapefruit, orange, neroli, bergamot, lemon, vanilla, cinnamon, ginger, sandalwood, vetiver, patchouli, amber, lavender, frankincense, peppermint, chamomile, clary sage 
Staying power: 
Light to medium. This one goes on quite strong, with lots of rose and jasmine, but it doesn't have a super strong base note to hold it down. However, it is such a strong fragrance that you shouldn't feel the need to re-apply too often!