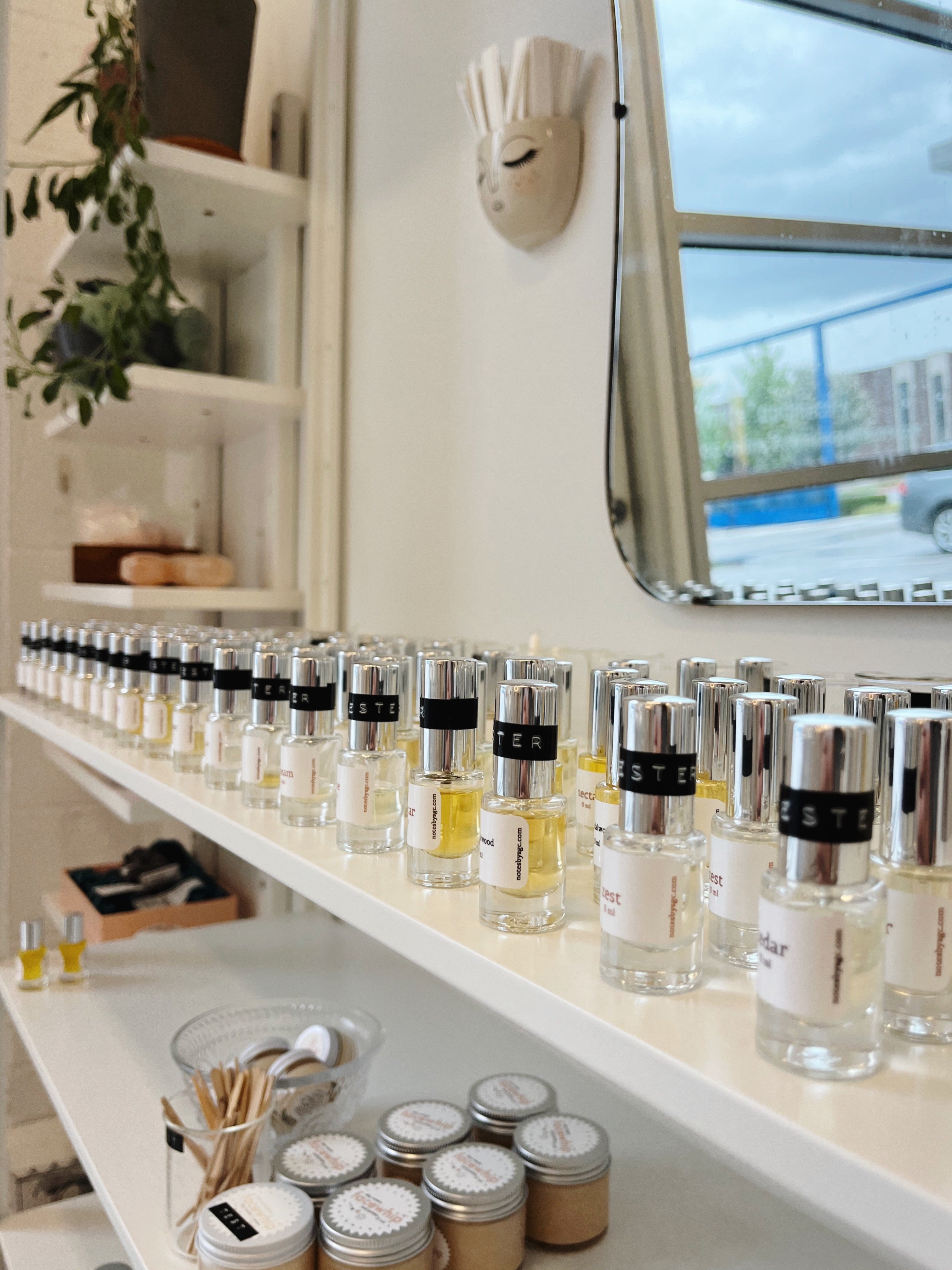 Have you tried the new Twinkle Apothecary single-note perfumes? 
They're so pure, 
but far from simple. 
They are not, as one might guess, just a single ingredient bottled up to be worn as perfume. They're accords - blends of several different botanical ingredients to achieve the effect of the note listed on the bottle. 
Think multifaceted but minimal.
Perfect for when you only want to smell like your favorite thing. 
Or, when you want to add your favorite thing to another fragrance to put a new twist on an old favorite! 
Or, you can combine several different single-note perfumes to create your own signature scent. Which you can deconstruct and rebuild over and over, in so many different ways. 
Basically, you can be as creative as you want to be with these sheer, buildable fragrances. 
There are a lot of ways to go about layering your perfume.
You can spray one on top of another, spray different scents on different parts of your body, or spray one scent on your right wrist, and one on your left, then gently dab them together. 
There's no right or wrong way, the point is to have fun trying different things!  
To get you started, I've come up with a few "recipes" based on some old Twinkle favorites:
 If you loved...
Basic: combine zest, lavender, and cream.
Mulholland: zest, nectar, and sandalwood
Pétiller: rose, amber, sandalwood
Nasty Woman: lavender, cedar
Adore: rose, cream, cedar 
Blissed: zest, rose, sandalwood
Florcore: rose, nectar 
There are so many possibilities and more single-note scents on the way! I hope you'll consider giving them a try.
And if you just want to buy Basic, Mulholland, Pétiller, Nasty Woman, Adore, Blissed, and Florcore? Great! Everyone is welcome to join the Twinkle Apothecary Patreon community and gain access to my (very extensive) perfume archives. I custom-make any of my archived perfumes for tier 2 patrons.
The membership fee is the price of my custom services.
Don't want to (or can't) join? I completely understand. Keep an eye out for limited edition and seasonal runs of these scents throughout the year. Right now, I have Nasty Woman, and several solid perfumes featuring the classic twinkle signature scents in stock. 
In the meantime, I highly recommend getting creative with these lovely single-note perfumes! Fragrance layering always keeps things interesting. Personally, I layer single notes more often than I wear regular perfume, because they're so light and easy, and I change my mind a lot, ok?? 
Have a favorite combination to share that I didn't list here? Post it in your perfume review so everyone can enjoy! 
Thanks for checking in today. Scroll down to shop! 
- Stefanie -