Pandemic Preparedness + New Products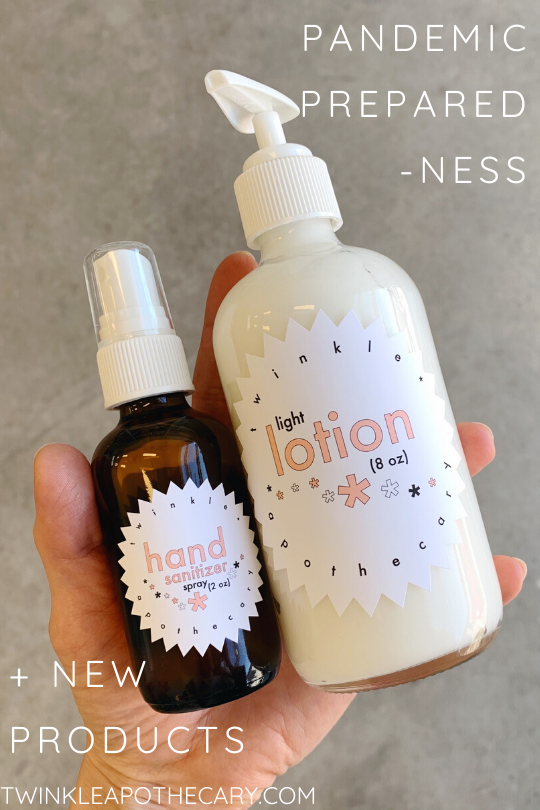 Well, here we are. Three months into 2020. Can you believe it? I can't believe I just had to type out the words "pandemic preparedness" on my apothecary shop blog, but, as I said... here we are, in the greatness that is Donald Trump's America in 2020. Sigh. 
Anyway... how are you? I hope you are well, and safe. I hope your family and friends are safe. I hope you're finding healthy ways to manage your anxiety and I hope you have your pantry stocked and enough toilet paper on hand but not so much that someone else has to go without.   
I'm doing alright.
Ok, honestly, I'm a little worried.
My business took a big hit last month when I had to close for a week after I got the flu from someone who used their sick day to come in for a refill, and I just want to make sure I'm doing everything I can to a) keep myself and my family healthy, b) protect my customers, and c) still make enough money to pay my bills somehow. 
For now, I'm moving forward with business as usual.
I have a responsibility to fulfill the orders my customers have already paid for, and I know that many of you rely on me to supply the good skincare and deodorant and healthy things for your face and body, and I want to continue to serve my community (whether you're here in OKC or anywhere else!) to the best of my ability. Also, I done spent a solid week trapped inside my apartment on my couch last month so I'm not quite ready to go back to the slug life yet... 
The good news is that safety and stopping the spread of harmful pathogens is already a big focus of my business and part of my everyday routine. I wash my hands, I wear gloves, I disinfect my workspace and all of my equipment daily.
But there's always more to be done:
I'm stepping up my cleaning in the retail shop area as well, making sure that high-touch/high traffic areas are wiped down several times per day and providing hand sanitizer or the option to wash your hands before you try any testers. I've just replaced the makeup testers and will wipe them down more frequently also. Single use applicators will continue to be available for testers, as always. There's one more thing I'm going to add - I'm going to start wiping your bottles down with alcohol when you hand them over for a refill - other than that, I'm not sure what more there is to do. 
I also think that now might be a good time to reiterate my new shop policy - 
Do not come in if you are sick.
If you are exhibiting signs of an illness, you will be asked to leave. (I hate confrontation so please don't make me do this.) But I absolutely will! (Please do not make me!)
And if there is any chance you could be sick, if there's a chance you've been exposed to anything contagious, please stay home. Do not spread your germs to small businesses and underpaid service industry workers who may not have health insurance all over town. Do I really need to explain how much that sucks? Please be considerate.
In fact, the internet might be best!
As much as I love to see you in my shop, I won't be bothered at all if you choose to shop online. I'm more than happy to keep everyone well and ship your order. By all means, if you are self-quarantining or working from home, I hope that browsing my website is entertaining and I hope that you find something lovely to make you feel better! 
Speaking of which... 
I made a couple of new things (mostly for myself) recently that I've decided to go ahead and share with you, because they might just make your hands happy too!  
Because of my recent increased, increased hand washing, my hands have been dying. Even though I have my healing lotion stick and beauty butter on me at all times, I'm not always great about using them while I'm working, because it feels kind of wasteful to keep washing all of that glorious butter (and my hard, handmade work!) down the drain, you know? I realized that I needed something less rich, that was easier to apply, that I wouldn't care about washing away, and that would be easier to get my gloves on and off over... and then I realized that I was standing right next to a 5 gallon tub of my hair conditioner, which is basically the same formula as a fancy lightweight lotion. Bingo!
That's right, it's conditioner. Exact same formula, only with a different (extremely light) scent. And it works great. I use it throughout the day right after washing my hands, saving my beauty butter for a more intensive bedtime moisturizing treatment. The healing lotion stick stays in my purse for when I'm on the go. Speaking of being on the go... 
I've always kept a hand sanitizer spray in my car for when I'm out and about, and I usually get an unscented or lavender option because I'm so sensitive to artificial fragrances, but the only option they had the last time I went to Target was "grapefruit grove." And sadly it does not smell anything like a grove of grapefruit trees. It smells like some kind of awful teenage peach body spray and my nose just can't take it. So, I mixed up the 190-proof organic grape alcohol that I use for my perfumes with a little distilled water, infused it with aloe vera leaf powder, added the same essential oil blend that I used in the light lotion (and healing lotion stick) and voila - now I make the world's most luxurious and expensive hand sanitizer. LOL. I debated listing this for sale because it feels a bit ridiculous but I've already sold quite a few so I guess we're going with it, people.
Stay safe (and cautious) out there friends - I'll update you here, on my email list, and on social media if there are any changes to my shop hours or policies. Thanks for following along! 
- Stefanie -