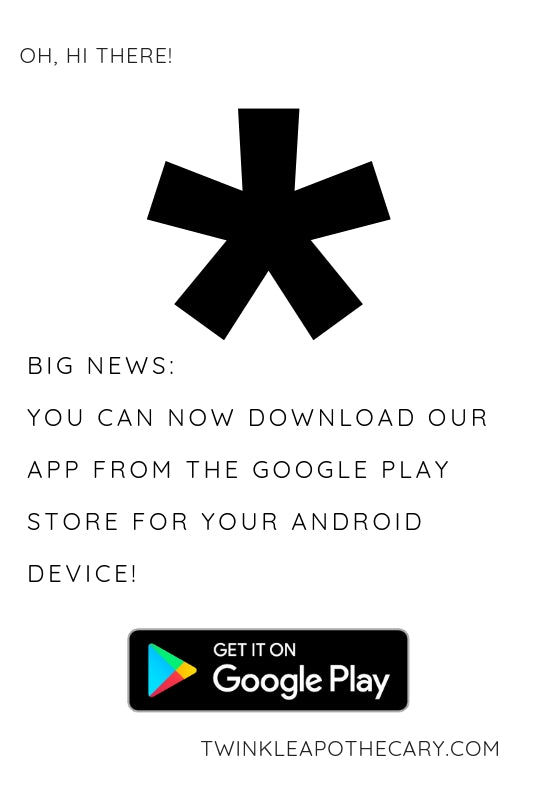 Greetings, friends! 
I just wanted to post the link to download our mobile shopping app from the Google Play store here on the blog. I'm so excited that everyone can now join in on my snazzy push notifications 😜 and have access to each month's app-exclusive discount without having to wait. 
Click this link to download it for your Android device. 
And click here to download it from Apple if you're on an iPhone. 
Head's up: I won't be sharing the app-exclusive discount with everyone going forward, so you need to download our app to see what's on special each month. 
Friendly reminder, subscription products aren't compatible with the mobile app, so if you're trying to purchase a recurring order, a monthly beauty box subscription, or join the perfume junkie club, you'll need to head to your browser/computer. If you're on a mobile device you may need to temporarily delete the app so that it doesn't automatically open. Just remember to re-download after you're done! 
Also, you do earn rewards points for every purchase made in the app and can spend your coupons there as well, but you need to visit our actual website to view your points balance. (Just click on the pink banner/shopping icon in the bottom right corner of your screen where it says "check your twinkle star balance!") 
I hope you enjoy shopping in the app and stay tuned for the June app exclusive discount announced 6/1! 
-XO- 
Stefanie