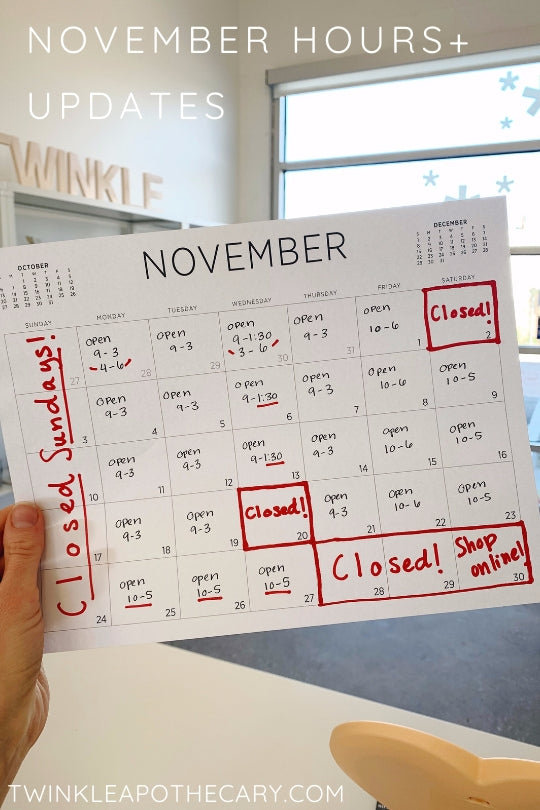 Hello there! 
How is your November going so far? I'm a bit late posting my hours here on the blog, but - 
October was pretty much a blur for me - I made A LOT of Cardigan, had a terrible cold, which I powered through of course, and then you guys went insane during my anniversary sale. The end! 😂
Well, I'm finally recovered, (so happy to share so many of my products with you, btw!) and just have a few quick updates to share with you for the month. Nothing major, mostly just some scheduling notes. 
Heads up: 
The OKC shop will be CLOSED Thanksgiving weekend. 
I honestly just don't want to work that weekend. I've never wanted to work that weekend, but I've always had to, and now I don't, so I won't. 🚫
I just want to relax and eat some pie like everyone else, you know? 🥧
But the online shop is still open, of course! 
And... GINGER SNAP SHIMMER TINT IS COMING BACK ON THANKSGIVING! 
(In a balm, shimmer powder, and serum!) 
I'm just not going to show up here on a holiday weekend and do some crazy sale. 🙅‍♀️ 
I think it's great to get out there and support small businesses on small business Saturday, but after you've gone out to your *other* favorite local shops, you can go home, have a cup of hot cocoa and check off your list from my website or app. I have a feeling that that's what you prefer to do anyway, just judging by how many local web orders I shipped during my anniversary sale... 
 I think my shop is too small to have a ton of people in at once, and when it's full I can't give everyone the attention they need, and to be honest, I've just always absolutely hated the whole idea of Black Friday. Sorry-I'm-not-sorry. 
Shop with me any/every other day of the year. I'm open 6 days a week. No need to make a fuss!  
Mark your calendars though: 
Because, all of that being said, I am bringing back the "build your own bundle" discounts from last year where the more you spend the more you save - if you have the twinkle app you already have access to the coupon codes! 🤑 If for some reason you won't download the app, you'll get the codes on Thanksgiving, so I guess mark your calendar? 🙃 
There's no useage limit on those coupons either, so you can get what you need for yourself now, place another order for gifts later, get the gifts you forgot after that, and then come back and get what you really wanted after Christmas because they're good through December 31st! 
Also: 
Subscription boxes and pre-paid plans are discounted on Cyber Monday (December 2nd this year) ONLY. So definitely mark your calendar for those because A year's worth of beauty boxes or perfume is a pretty amazing gift. 
🎁🎁🎁
And if you need some more inspiration for gifts this year, I'll be posting a gift idea each day in my Instagram stories starting tomorrow and recapping it for you weekly here on the blog! 
I hope it's not too early, and that it's helpful instead of anxiety inducing. I did this last year and got lots of good feedback on it so I'm bringing it back because I know lots of people want to give my products but it's not always easy to pick things out - well don't you worry because I've got ideas out the wazoo. 💨🎅🏽 
And even though it's still just the beginning of November, I want to give you a heads up that my holiday shipping deadline is Monday, December 16th this year. That's the absolute last day that I'll guarantee online orders to arrive in time for Christmas. After that, it's possible that I'll be able to get something there in time but if you order something I don't have in stock, I can't guarantee that I'll get it made and shipped before the post office deadline. 
Don't panic - this is why we have gift cards, people! 
And there's just one more thing, speaking of holiday craziness:  
I've got to ask that you guys don't ask to order anything custom from me for the rest of the year. 
I've always been flexible about making different sizes/bases of perfume for people upon request, and it's usually not a problem, but when my order volume increases during the holidays (or during a sale) those extra special requests are very difficult to keep up with. I can't risk slowing down the rest of my production and orders to make you something I don't normally have on hand. If you make an appointment and come into my shop to pick it up, I might be able to do it for you, otherwise I need you to order off the menu. Get back to me in January and I'll let you know if I can swing it by that point. 
Capisce? 🤪
And now you know where my mind is at right now, on this 6th day of November... I've got my game face on and I'm ready to survive the holidays! (I hope?!) 
Until then, I'll be using these first few weeks of November where no one buys anything in preparation for the end of the month to restock all of the things (and also research the ultimate vegan, gluten free, nightshade free, soy free pie recipes!) 👩‍🍳💖
-XO-