Nasty Woman is Not Going Anywhere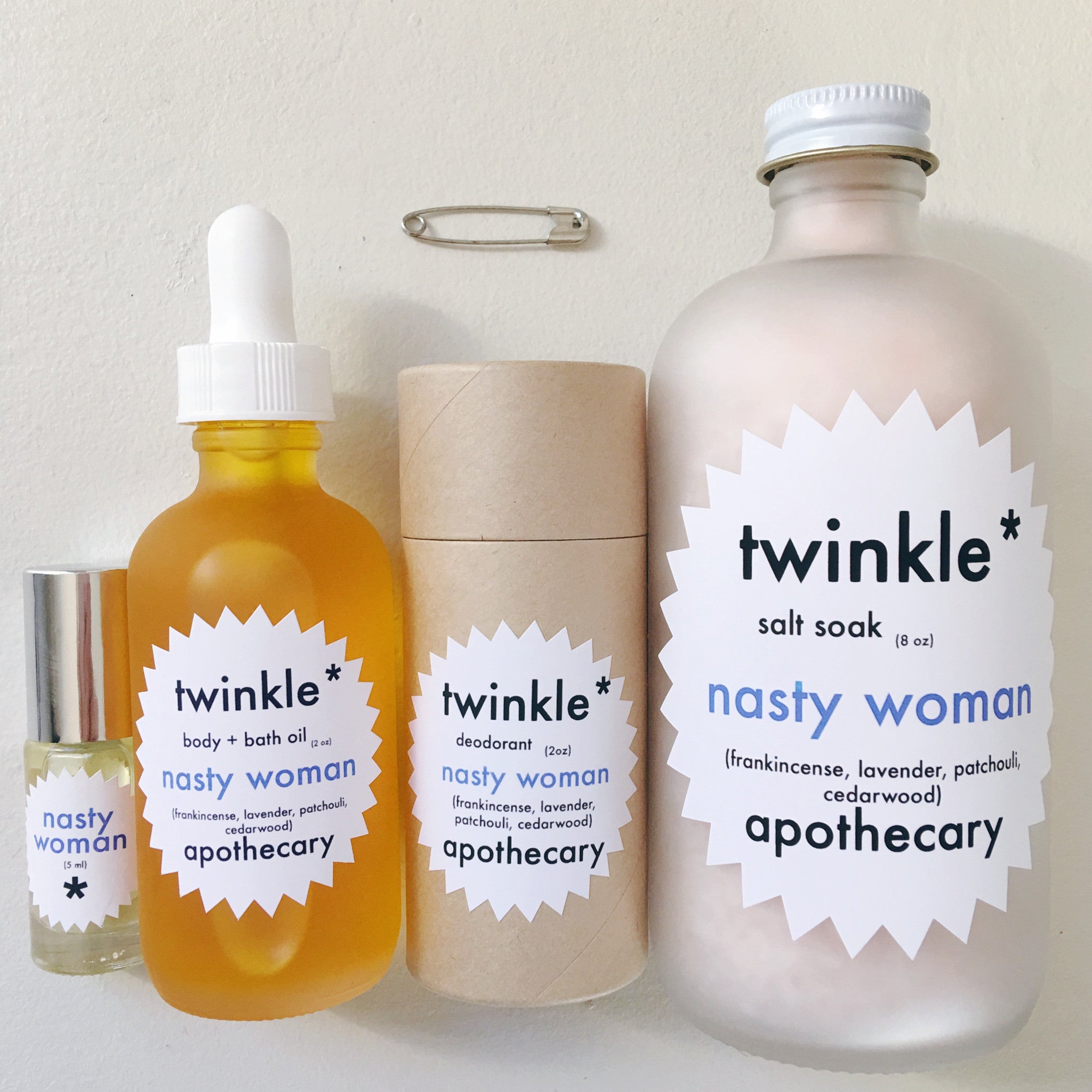 In case you couldn't tell from the
Nasty Woman perfume
, and PUSSYPOWER
Pink Mafia
promotion during the 2016 presidential election, this business is run by a certified bad bitch feminist who is prepared to fight the misogyny, racism, ableism, bigotry, and fear mongering that our current president-elect Donald Trump has drug out from the shadows of our society during his campaign.
That's why Nasty Woman is now a part of Twinkle Apothecary's permanent fragrance collection.
Not only does it smell delicious, but just seeing the positive response to this collection from my customers makes me feel better. Like I'm not alone. 
We are not alone.
We may be struggling to find our voices and learning how to best fight back against a society that doesn't seem to have much respect for us, but we're in this together, and we're not going to give up so easily. 
When I started Twinkle Apothecary last year, I just wanted to make something fun that I could feel good about. I never intended to make my business political or to become an activist, but the more I thought about it, the more I felt like a big part of running a business that I could feel good about meant not staying silent. I decided that I could either go about my business like nothing was happening, or I could take a small step and stand up for myself. For my customers. For women who may not even agree with me or who might be offended by my choice to fight against a man that I feel (especially as a survivor of domestic abuse) is a very real threat to my personal freedom. 
What difference does it make? Probably a very small one...
I'd love to be able to do more. I'm working on doing more. 
(More details on that to come, hopefully SOON!)  
As a vegan and a wannabe eco-warrior, I still firmly believe in voting with our pocketbooks. When you shop from Twinkle Apothecary, not only are you are taking money away from big corporations that use potentially unsafe ingredients and test on animals, but you are also
directly
supporting this
single mom
and her son. And while the top dogs at larger companies like the ones on
this list
are donating money to Donald Trump, please know that I'm working like crazy to be able to donate that kind of money to organizations that empower women, fight racism, support the LGBTQ community, and make the world a safer place for our children. I'll keep you posted on the details as I make progress in that area, but in the meantime, I hope you'll join me in being a Nasty Woman and fighting in your own small way. 
That's all for now, friends. 
-XO-