My Skincare Schedule - Week 4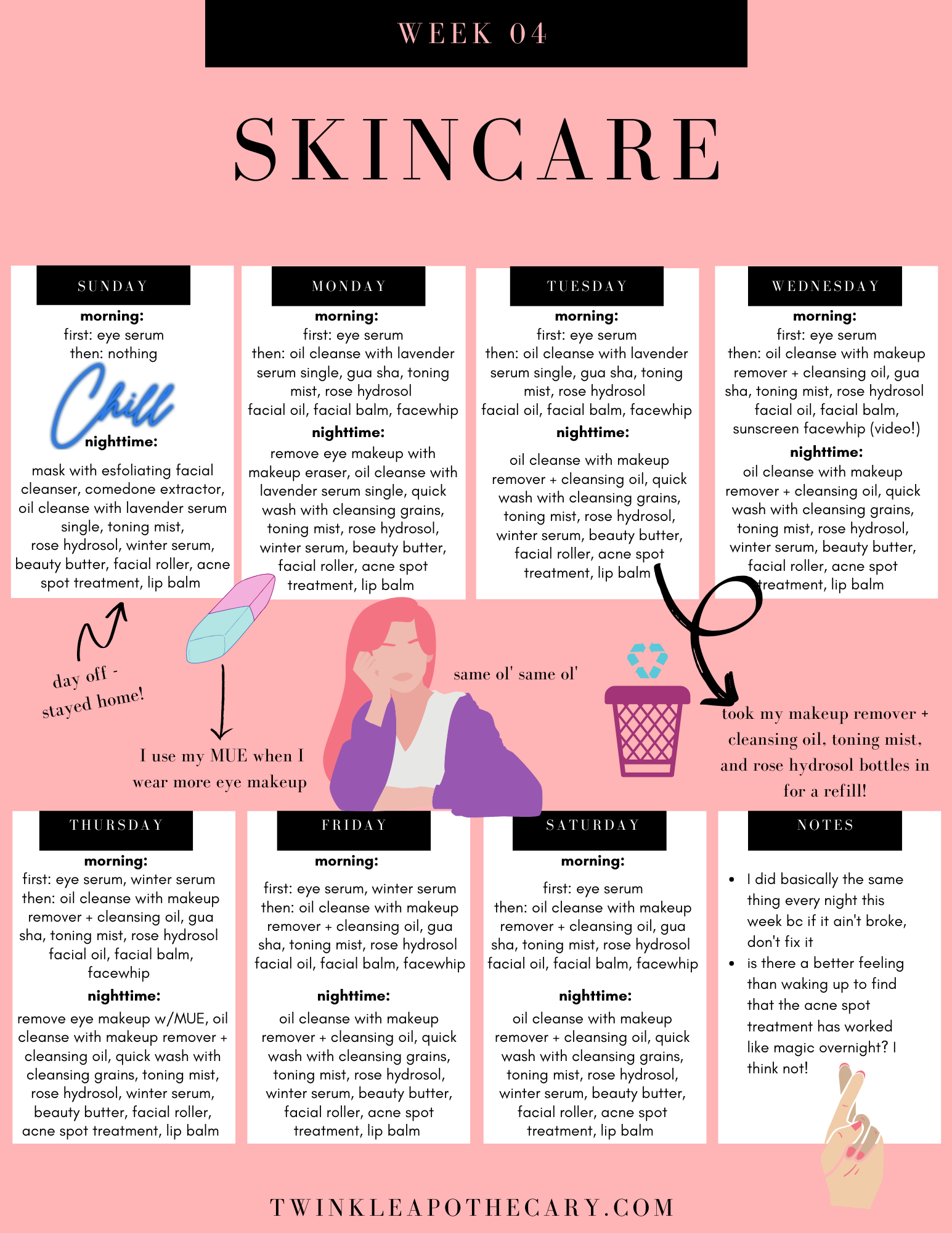 Okay, here's everything I did to my face last week! 
Is it mundane enough for you? Guess what, that's the point! 
People are always asking me what the inspiration is behind my products... well, when it comes to skincare, all I ever wanted was a simple, sustainable routine that made me feel confident in my skin. 
I didn't want to shop for products endlessly. I didn't want to keep throwing money away on things that didn't do what they said they were going to do. I didn't want to always be chasing perfection or on the lookout for some miracle product or ingredient that was going to magically make me pretty once and for all. I wanted off of the skincare consumer train, basically. 
The irony, of course, is that all anyone wants to talk to me about nowadays is skincare products. What they should use for their type, what do I think of this ingredient or that... can I make a natural chemical peel... blah blah blah. 
I'll be very honest with you. I find it all SO BORING. 
(Yikes, please don't hate me!) 😬
I usually feel like I'm disappointing everyone with my answers when they ask me about what products they should use... almost as if they're hoping I'll just recommend one single product that promises to create a miracle. 
A simple, sustainable routine just isn't a sexy sell I guess... 
Lifestyle factors (which btw make a HUGE difference in my own skin) like getting more sleep, staying hydrated, eating vegetables... also very hard to sell! Like, impossible! 🤪
But you know what, I'm happy with this routine, and I know you will be too, if you give it a chance. 
And stick to it. 
Stay focused, friends. 
I promise I will work on some comedone extractor instructions/tips for you this week... check back soon for that! 
-XO-