Introducing Perfume Junkie Club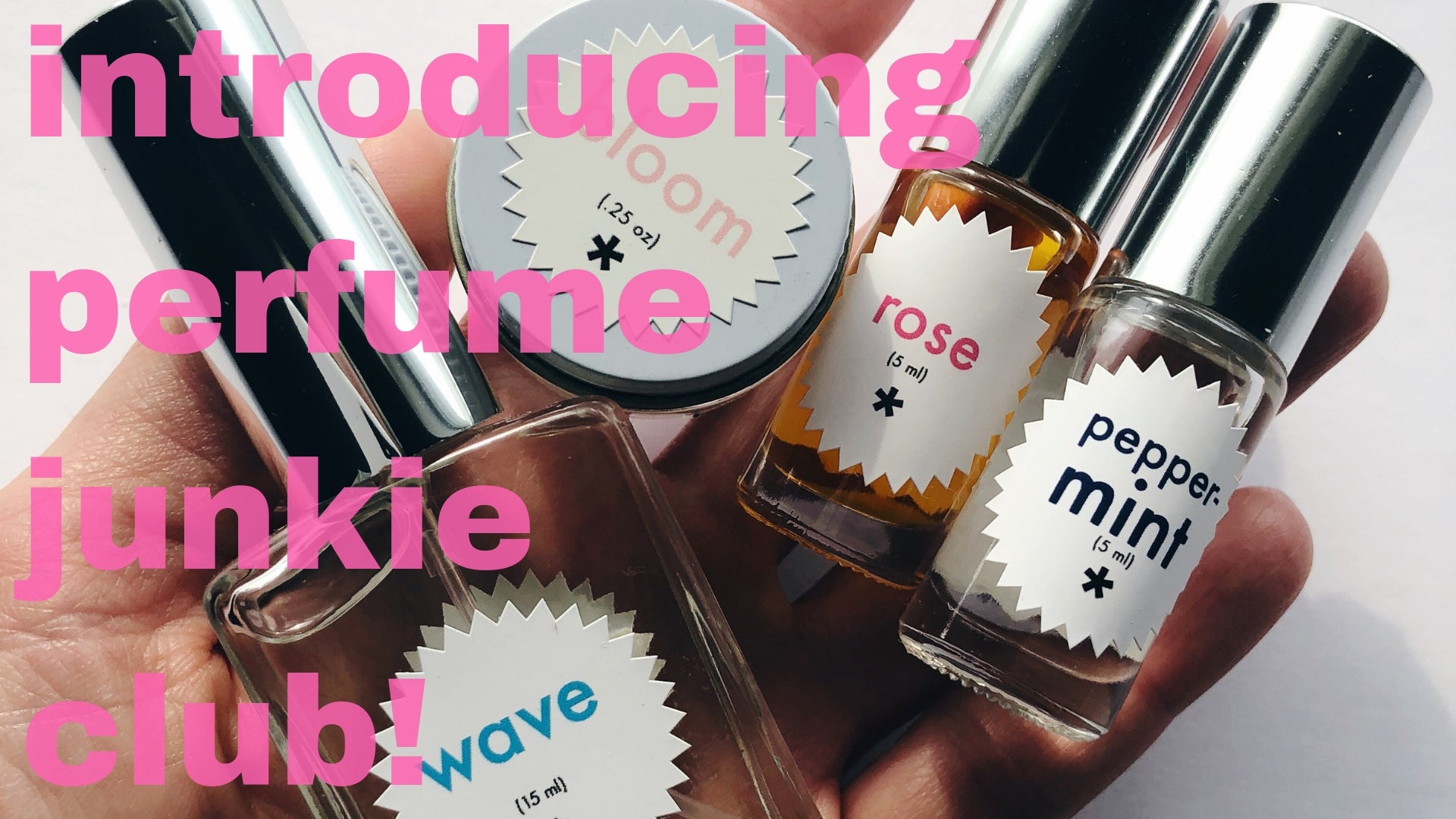 SURPRISE! 🎉 
We have a new perfume-only subscription product for our hard-core natural perfume lovers ONLY! 
I'm so excited about this - I've had the idea to make a perfume subscription for several years and finally figured out how to make it happen. (Yay me!) 
As you know, I love talking about and making new fragrances, but having a perfume hobby and running a perfume business are two very different things. I could create new perfumes forever and ever, but keeping them stocked on my shelves forever could quickly turn into a financial nightmare for my itty bitty business. Every time I make a new scent (or new anything) I have to consider the long term investment - and whether or not there's enough demand (and people buying it) for me to afford to keep it in stock. The ingredients that I use are rare and precious and prices can unexpectedly go up or materials could become unavailable altogether... and I have so many different products that I already have too much inventory (both of my finished products and ingredients) to manage as it is. 
All of this is my long-winded way of saying that I'm not going to be making any more new fragrances for retail release, outside of the Asterisk Collection scents. 
Don't be sad!
It's because... 
I'm going to be making a special new scent every single month just for my (new) perfume junkie club subscribers! 
(Yes, I know you probably have questions so I'm going to do my best to answer them. Keep scrolling!) 
So, hang on, what is the perfume junkie club?  
It's a monthly subscription, like the monthly beauty box, but will feature only fragrances. 
Each month I'll be creating a brand new scent and sending it out to subscribers - but there is kind of a big catch - the scent will be a complete surprise! 
Wait, why make it a surprise though?!  
For one thing, it's fun. If you love exploring natural fragrances, this is a unique (and inexpensive) way to treat yourself every month and potentially fall in love with something new and unexpected! 
Secondly, this is my opportunity to be creative (and get paid for it which I totally deserve) - and I can't do my best work when I'm trying to please a million different people at the same time. I understand that people have sensitivities and dislikes, but I also find that a lot of people have pre-conceived notions about what they think they like and don't like and are often pleasantly surprised when they step out of their box - so if you have an open mind, this is your chance to try as many new things as possible. If you don't have an open mind and are very firm in your dislikes, the perfume junkie club probably isn't for you. No hard feelings. I've got plenty of other options for you to sample and explore! 
Now. Before you come at me with your suggestions: 
I've done a lot of thinking about the way to make this work best, (honestly it's been on my mind for years) and I think this is the simplest way for me to continue to make new fragrances and share them with the world. I just wouldn't be able to keep track of every subscribers' scent preferences on my own, although I could see making a personalized fragrance subscription product in the future when I have a whole team dedicated to improving my tech. For now, this is what I've got and I think it's going to be AMAZING.  
Here's how it works: 
Just like my og beauty box, you can buy it one time, or subscribe and save. A single box is $25, but if you subscribe to receive it every month, it's just $20! As always, you can cancel, pause, or choose to skip months at any time. Just log into your account (with the email address you used to place your subscription order) to manage your shipments! 
You can also buy a pre-paid 3 month subscription for $58, (that's $19.33 per box) 6 months for $114, ($19 per box) or a full year of unique perfumes that basically no one else will have for $220 ($18.33 per box.) 
You'll be charged at the time you place your order, and your perfume junkie box will ship on the 1st (or 1st business day) of the month! 
Wow. That's a lot of perfume. 
Yes. Yes it is. Hence the name "perfume junkie." 
They'll be totally different every time though. They could be solids, sprays, oil or alcohol based roll ons... or even special packaging options/sizes that I don't offer in my signature collection. I've already got well over a year's worth of fragrances planned out for my junkies and I promise I will keep it interesting and worth your while! (For reference, the perfume junkie scents will probably usually be somewhere in-between my 4-note signature fragrances and my million-ingredient Asterisk Collection scents - although they could really be anything!) 
Okay, but what if I fall in love with one of them and want to re-order?! 
YES! THAT IS ALLOWED! Here's what you do. Order a single month box for $25 and write in the notes of the order the name of the scent that you'd like. I'll make it just for you and send it ASAP! 
BUT WHAT IF I MISS A BOX AND ONE OF THE SCENTS SOUNDS RIGHT UP MY ALLEY?! 
You can also order a single month box and write in the notes the name of the scent that you'd like, but please note that I won't be offering sample sizes in these scents. Order the full size made to order perfume at your own risk because (like everything else in my shop)  there are no take-backs. 
I'd also suggest connecting with other perfume junkie subscribers in the community forum and perhaps you could work out some tradesies?! The great thing about perfume is that someone's yuck is always another person's yum...
Speaking of made to order scents - this seems like a good time to announce that I'll be retiring some of my 2017-2018 special edition fragrances at the end of the summer.  However, you'll still be able to order all of my retired fragrances online as a special order - I'll be posting that listing at the end of the summer when I stop producing Wave. 
Before you panic: 
Smudge is gong to be a part of my permanent collection, because I personally use it daily. Cardigan will come back every fall, because it's a top seller (and fantabulous.) 
I just won't be keeping Flutter, Bloom, Wave, or Mamacita in stock going forward. But I'll keep you posted when the listing to order retired scents is live!
Starting in October, the Perfume Junkie Club is the place to go for all of my newest creations, and it's going to be sooooo incredibly difficult for me to keep them secrets so I'm going to give you a hint for this one:
*If you love vanilla and lavender I think you're going to want to sign up for the very first perfume junkie box!*
(And if they're not you're favorite I think you're still going to find this one to be utterly delightful.) 
So what do you think?! 
(Unfortunately this system won't allow me to respond to comments on my blog posts so I'm going to invite you all over to the perfume junkie section of the forum to continue this discussion.)
I can't wait to hear your thoughts! 
-XO-