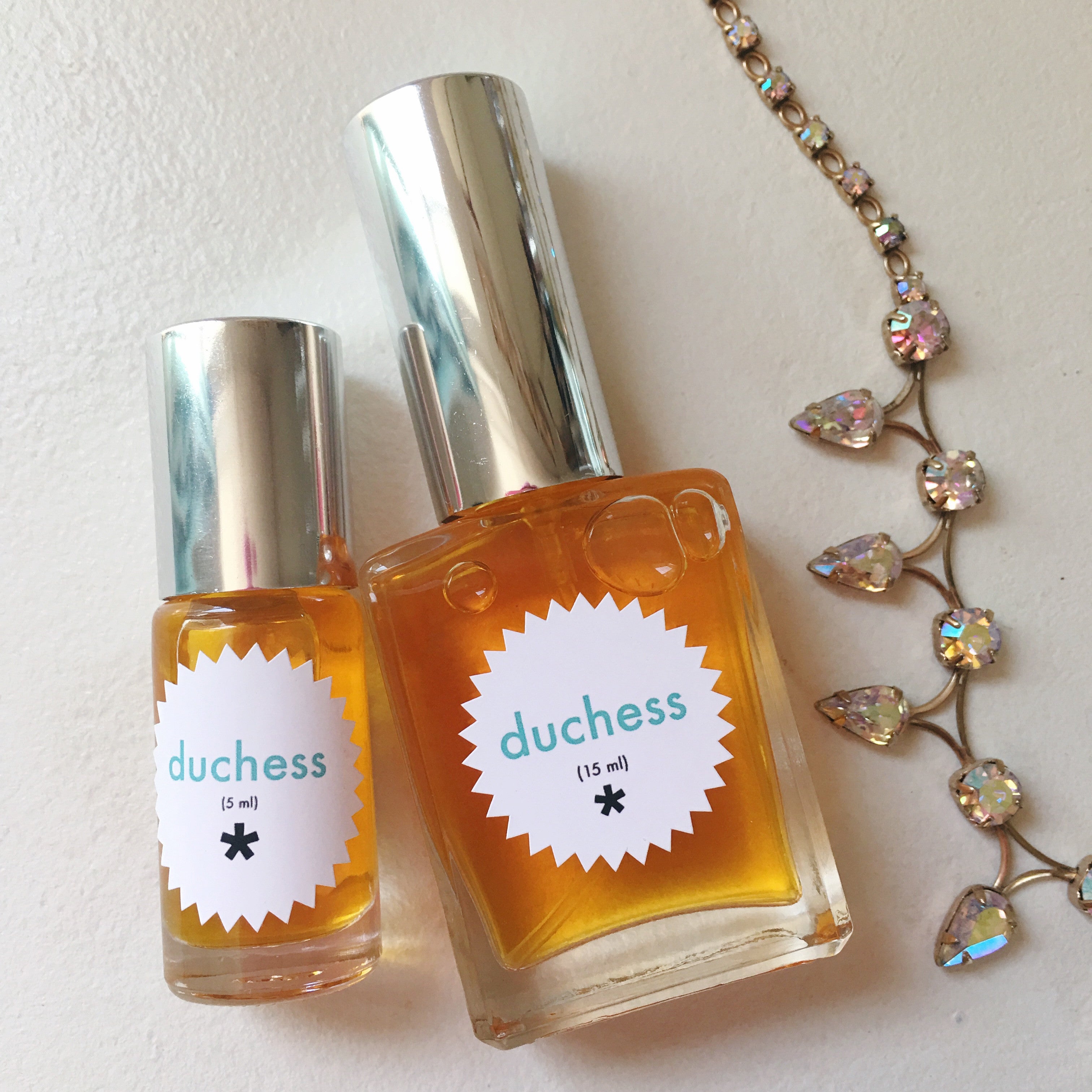 Let's keep making our way through the Twinkle Apothecary fragrance catalog before this Perfume June celebration comes to an end and get down with our newest scent, Duchess! 
Official description:  
Ladylike to the max. This sweet-yet-refreshing blend of rose, lavender, chamomile, and peppermint is THE most lovely scent you could ever possibly put on your body. It's simply the perfect chord of herbal and floral notes with a hint of fresh mint.
Now... who's ready for high tea?! 
How it got it's name:
This fresh scent needed a classy name, and when I thought of the type of person who would wear such a clean and sweet perfume, my mind immediately went to Kate Middleton. I mean, she's probably more of a French Girl IRL, but I feel like Duchess smells like what we think of when we think of her refined, ladylike appearance. This is the kind of scent you could totally pair with a skirt-suit and a tiny hat, ya know? 
What it's made of: 
rose absolute, lavender, chamomile, and peppermint essential oils 
Color: 
Bright orange! Thanks to all of the lovely Moroccan rosa damascena absolute. 
Viscosity: 
Light. There shouldn't be any sediment at the bottom of the spray or roll on. 
Top notes: 
Herbal, sweet apple-y chamomile and a tingle of peppermint.
Middle notes: 
Fresh lavender. 
Base notes: 
Rich, sweet floral rose. 
Aromatherapy Benefits: 
This is a very calming, yet uplifting scent. It's great for when you need a little mind refresh! 
Pairs well with: 
Adore, Basic, Blissed, Close, Florcore, Nasty Woman 
Give it your own unique twist by adding: 
vanilla, lemon, orange, neroli, bergamot, amber, sandalwood, frankincense, ginger 
Staying power: 
Light. This is one of the few fragrances I make that doesn't have a strong base note or fixative tying everything together. If you love it, you'll have to re-apply!