End of Year Shop Updates - 2020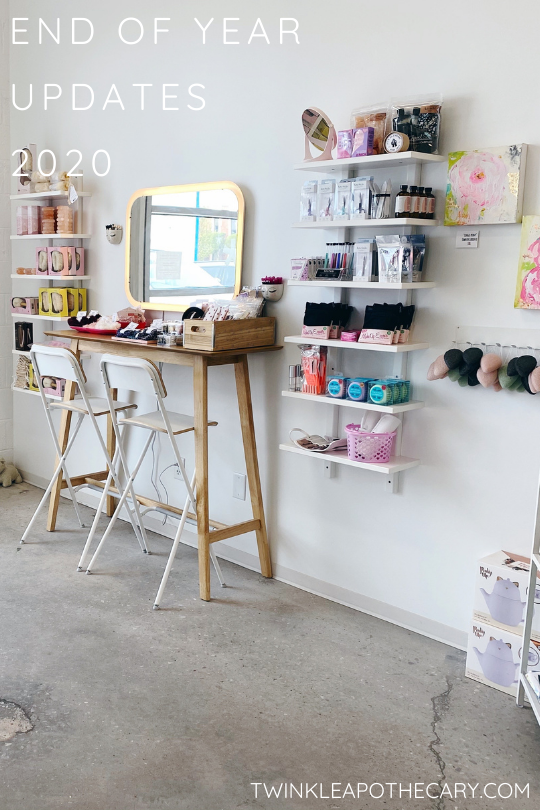 Congratulations!
We're down to the final days of 2020. We did it, you guys. Way to go. 
This year was one heck of a roller coaster. Also, when I think back on last January, it feels like that was really more like 5 years ago. Anyone else? 
I hate it when people make end-of-the-year posts where they brag about all of their accomplishments, so I would never do that to you, and especially not this year. Let's be honest, it was bad. Screw anyone out there bragging about everything they did this year. Seriously, those people suck, and you're doing fine. I mean... I'm totally happy for you if you feel like this year was a big win. Congrats I guess. 
I'm doing fine too, thanks for asking! Feeling tired but hopeful. Lucky to be here, in business, doing what I love. I have my health. My family is healthy. I know for many of you, this isn't the case, and I'm sorry. My heart breaks for you, and for everyone we've lost.
I want to thank all of you for being here with me this year, online, in the shop, on social media... all of it. I think the connection that we have (from my heart and hands to your faces and noses!) is so special, and I hope that my products have added a little joy and peace to your life amid the chaos. I really do love what I do, even when it's hard and I'm feeling isolated and tired. It's an honor to be in your life, and to make things that you wear and use every day. Thank you for keeping me going this year. 
Looking forward: 
🎊 I have so many things I want to accomplish in 2021. 🎊
First, I'll be launching my new brand, Notes by SGC, in the next few weeks, (hopefully more like in one week?!) so keep an eye out for that!
The next big (major, HUGE!) thing on my list is to start writing my first book. (Wow, something I never, ever thought I would ever do, or even say out loud!) It'll be like a cookbook but with straightforward natural beauty recipes that you can make sustainably at home, maybe with a little bit of "Founder Friday" style life/skincare advice sprinkled in here and there and I'm SO EXCITED ABOUT IT.
I also have a few new products in the works that I plan to release ASAP. Some will be permanent additions to my collection, and some will be seasonal limited edition products to fill the monthly beauty box void. I can't wait to share them with you!
But in order to get all of this done, I've realized that I have to make a few changes to my business. Please read on and take note.   
👋🏼 😢 1. I'm closing down my OKC shop from 12/25 through the end of January 😢👋🏼 
Mostly because COVID cases are way too high, but also, I just don't feel like pandemic shopping is working for me right now. I'm sorry. It's not that I don't love having you all in my shop. I truly enjoy the face-to-face interactions I have with people over perfume strips and makeup swatches. I think it's so special to be able to share my products with my community in this way, but it just doesn't feel safe with cases climbing higher and higher, which I fear will only get worse in the weeks following Christmas. Personally, I haven't been going out shopping (I think I've made maybe two in-person shopping trips over the past two months,) so it feels kind of strange to encourage people to come into my shop. Especially in a situation where we can't be six feet apart and you're going to want to pull down your mask to smell things at some point. (Most of the time I have the door open and people stand in the open doorway to sniff so it's no big deal, but some days it's too cold, and sometimes people either don't care (?) or just forget, and end up leaving their mask down for much longer than I'm comfortable with having bare noses and mouths mere feet from my face.) 
My shop gets crowded with more than 2-3 people at a time, and usually people are cool with waiting outside but there have been a few times where I've had more people in than is comfortable. Then y'all act weird when I ask you to step out. (Why would you want to be in a small crowded space with strangers right now though?) People keep trying to give me cash when I've said I'm cards only. I'm not saying any of this to call anyone out or admonish them - the overwhelming majority of interactions I have in my shop are so positive and lovely.
Bottom line - it's starting to feel like I'm playing with fire.
I don't get sick days and I can't lose my sense of smell for the second time in a year. (I lost my sense of smell for about a month when I had the flu(?) in February.)
If I get sick there will be nothing to shop for anyway.
So I'm extending my winter break and laying low for the next month. Please understand that this was not an easy decision for me to make. My business suffered over the summer when everyone was over staying home and ready to get out and shop and I wasn't open yet. I know it'll be an extra slow month for me because many of my local customers don't want to shop online. (PS - if you're one of those, "I can't shop online" people - why? I have customers all over the country/world and I promise you my website works just fine!) 
It's not that I'm not tired of pandemic life or that I'm not ready to get back out there. I am so tired of it! I want to go out. I'm dying to go to the museum. To a movie. On dates. To bars. I want to meet new people and actually get to see the bottom halves of their faces. I want to send my kid back to school. (Oh boy do I!) I have this crazy urge to go out dancing, and I don't even dance! Ideally I want to have a bustling brick and mortar retail business! But it's just not where we're at right now. We are not in an ideal, or even a good place. Things are not ok. Someone has to act responsibly around here, and I think we just have to hold out a little bit longer, so please be cool. Be the opposite of whatever got us to having one of the highest case rates per capita in the nation so that we actually can get back to "normal" someday soon. Please wait until it's more safe.
So like I said, I'm tired. Being a responsible adult gets old sometimes, doesn't it? Well, high fives to everyone who's right there with me. I see you.   
🛍 Anyway, I'm sure inquiring minds want to know about local pickup orders. 🛍 
Here's how it will work: 
Local pickup will no longer be an option at checkout beginning at 3 PM on December 23rd. (That's like, today, and orders placed before 3 will still have that option and be ready for pickup on Christmas Eve.) 
Instead, there will be a prompt in your order confirmation email to reply to me and let me know if you would like to pickup your order instead of having it shipped. You'll need to let me know right away, because you know I ship fast! 
There will be no option to pickup after 6 pm or on Sundays, FYI. You'll have to choose a time when I'm already going to be at work. (Usually noonish - 6ish on weekdays and Saturday afternoons.) 
If your order is less than the amount to qualify for free shipping (more on that in #2,) you will be refunded for the shipping cost AFTER YOU'VE ACTUALLY PICKED UP YOUR ORDER. 
If your order isn't picked up in one week, I will automatically ship it. I've been having such a hard time chasing down people who've accidentally selected local pickup at checkout so I feel like this is the best way to save me from the madness. If you want your shipping cost refunded, you best come get your order.  
PS PLEASE COME PICK UP YOUR ORDERS BEFORE I CLOSE ON CHRISTMAS EVE?!?! 
December 24th will be my last day open to the public through January and until further notice. Fingers crossed things turn around for the better soon!
Oh, and I know someone will ask about refills...
LOL no. Maybe after I get a COVID vaccine. 
Moving on!
📦 2. Free shipping minimum will be $50 beginning 12/25 📦
 I believe I've already casually mentioned this on social media, but it's officially happening now. I'll be very honest with you. In 2020 I've sold a little bit less than I did in 2019, and I've spent about 4 times as much on shipping fees. Lower profit margin = no bueno. You can pay for shipping on orders under $50 or come pick up your order if you're local and get a refund. We've had a good run with free shipping over $20, but it no longer works in this COVID-era world with ever higher postal fees. (Can you believe I used to ship $10 orders for free? And before that I shipped everything for free! Haha good times. SORRY!) 
🚫 3. No more subscriptions beginning January 1, 2021 🚫  
This was a really tough decision. I know I have a lot of customers who rely on the convenience of having the things they use regularly shipped to them automatically. But the thing is, I also have a lot of technical issues that make subscriptions a big pain for me. 
I started offering the subscribe and save option during a time when I wasn't offering any other sales or promotions, so it was meant to be a way to reward repeat customers and offer a discount on the things you buy most often. Now, I have a different coupon code with no limits that you can use every month, so I don't feel like the discount for subscribing is really necessary. In addition to that, there's always been a ton of confusion over the fact that you can't apply coupons to subscription orders (or use gift cards, by the way!) and I'm just kind of tired of dealing with it. There are only so many hours in a day, and I'd rather spend my customer service hours on product questions rather than technical difficulties related to subscriptions. I'd also like to have a few hours left over to write my book. 
Feel free to move up any subscriptions you have scheduled for 2021 into December, before the option disappears, but please don't ask me to do it for you? 
Also, if you're like, "Wait, what coupons?!" Download my app and follow me on social media!  (PS this month's code is DECEMBER20 for 20% off orders $150+)
And those are the major things I needed to update you on today, but I'd also like to take this opportunity to remind you about the seasonal and limited edition products that will be disappearing on January 1st.  
- Cardigan 
and don't forget to pre-order Madam VP ASAP - I'll give you a fair warning when pre-orders are coming to an end, which will be SOON!  
And I'll leave you on that high note to have a Merry Christmas and Happy New Year!
THANK YOU! 
- Stefanie -