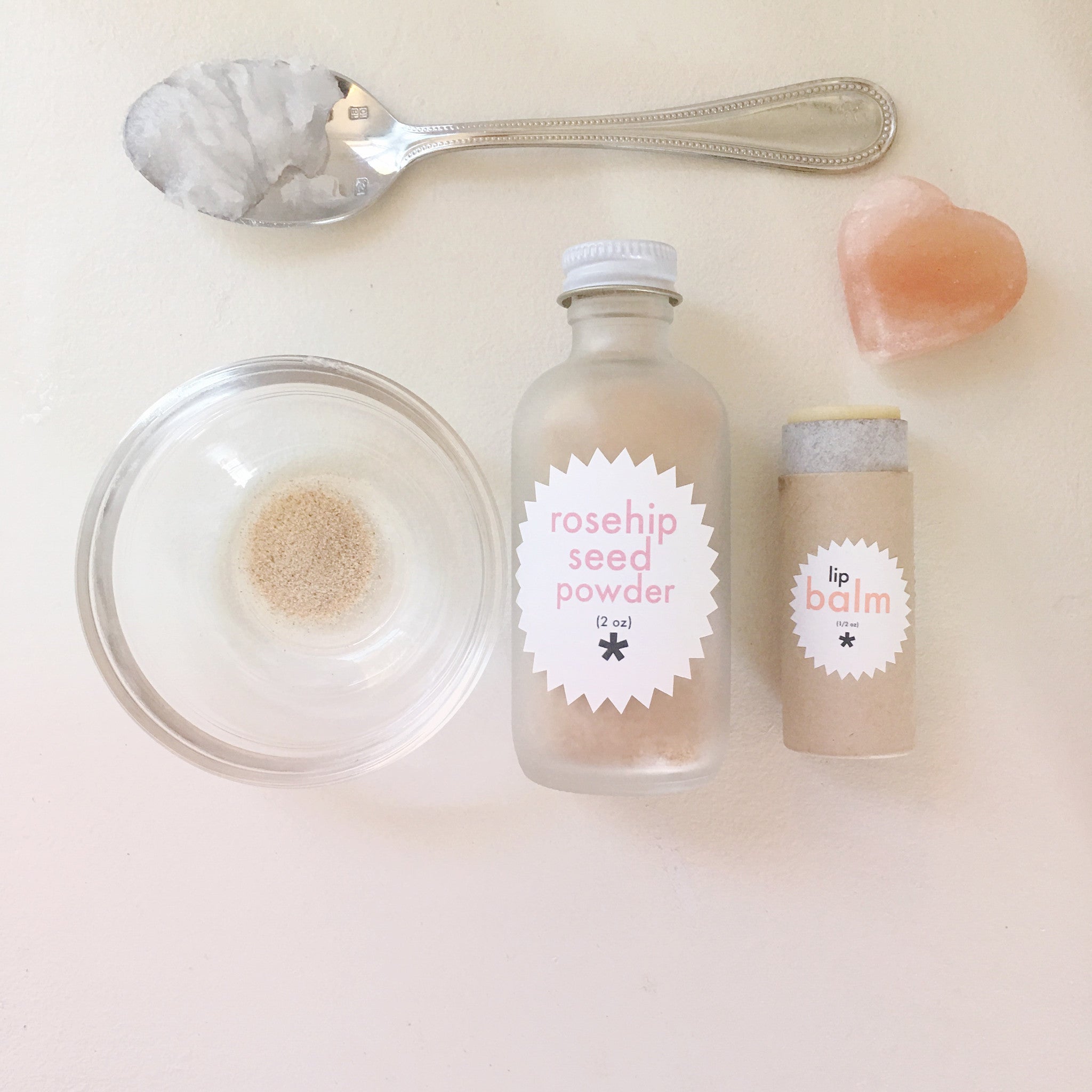 One of the things that I LOVE about DIY beauty is that you don't have to buy a lot of useless products. Whenever someone asks me if I make a lip scrub, my answer is, A) You need to buy my
lip balm
cause it actually works, then B) Just make a scrub yourself!
It's so easy! 
Seriously.
Pick any exfoliant, mix it with oil, and rub it on your lips.
Boom. 
Done.
Lately I've been loving
rosehip seed powder
as my go to scrub. In the event that my lips get chapped, (pretty rare because I apply lip balm diligently but occasionally it does happen) I sprinkle about 1/2 a capfull into my palm, mix it with a couple of drops of facial oil or a smidge of coconut oil, rub it on my lips, rinse it off, (if it gets in your mouth just spit it out) and apply lip balm right away to condition and lock in the moisture. 
The key is to apply the lip balm immediately, even if you're about to wash your face. 
The plant based waxes in the balm will create a waterproof barrier that will keep your lips hydrated as you wash your face and finish up your skincare routine. 
Then re-apply the lip balm again when you're finished with your face. And keep reapplying it as often as necessary until your lips aren't chapped anymore! 
See?
So ridiculously easy, and no extra beauty products required! 
You could even do this with things you have on hand in the kitchen. Any oil will do - olive, grapeseed, almond...
And sugar makes an excellent lip scrub too, although I think it's a little too harsh to use on your whole face. I prefer the rosehip powder because it's more gentle and you get all of the therapeutic benefits of rosehip. (That's vitamins A and C and essential fatty acids in case you were wondering...) 
So are you ready to DIY your lips to greatness before V-Day? 
Don't forget to apply that lip balm!
-XO-