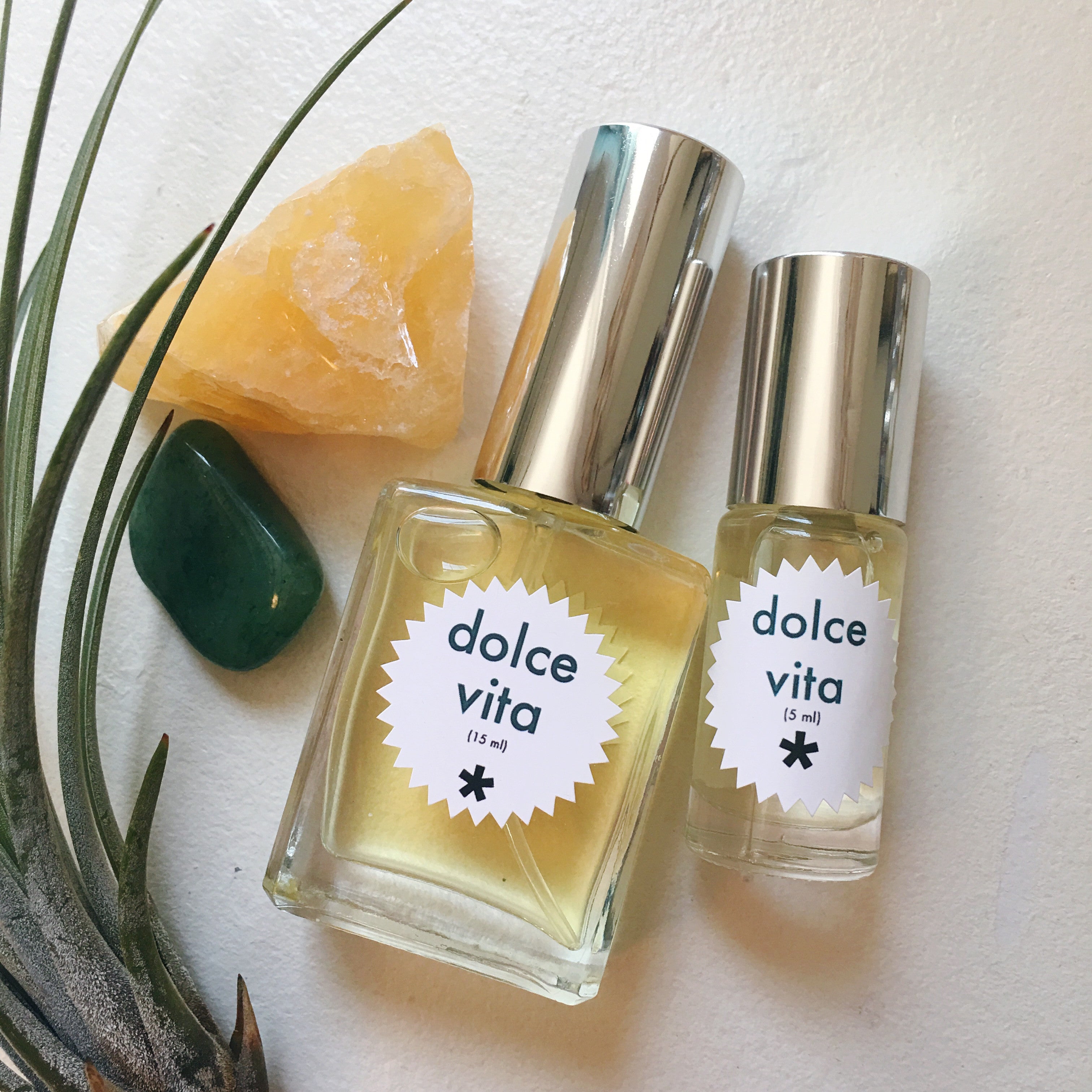 Next up on my Perfume-June blog list: Dolce Vita! 
This is another one of my not-so-popular perfumes, but it's actually one of my very favorites! In fact, I'm wearing it right now - it is a perfect warm weather scent - like a little vacation in a bottle! 
Here's all the details: 
Official description: 
Enjoy the good life!
Twinkle Apothecary's Dolce Vita fragrance
blends citrusy lime with bright neroli, and the two are grounded in a base of woody, earthy vetiver and patchouli. Imagine: zipping through the streets of Rome on the back of a handsome and charming young Italian's Vespa. Roman Holiday, anyone?! 
How it got its name: 
Dolce Vita is Italian for "sweet life" and I just think it's the perfect fit for this bight, citrusy floral fragrance! Italy is known for its citrus fruit, and this has lime and neroli (which comes from the bitter orange tree.) There's also a masculine, cologne-like quality to this one, and I imagine it being worn my a dapper suit-wearing Italian man in the summertime. 
What it's made of: 
Lime, neroli, vetiver, and patchouli essential oils. 
Color: 
Light yellow
Viscosity: 
Light. There shouldn't be much sediment (if any) in either the roll-on or spray. Vetiver and patchouli are thicker oils, but they're used very sparingly here. (PS - this is a great way to dip your toe into the patchouli waters without going full on hippie chick.) 
Top notes: 
Bright, almost sharp citrusy lime. 
Middle notes: 
Sweet lime and warm floral neroli. 
Base notes: 
Earthy, grassy, sensual vetiver and patchouli.
Aromatherapy benefits: 
This is an uplifting, energizing blend that's also very grounding and calming. I think it's the best of everything - lime to stimulate and purify your mind, neroli to open your heart, with vetiver and patchouli to ground you and connect your body to the earth. 
Pairs well with: 
Beau Spice, Close, Luscious (MY PERSONAL FAVORITE COMBO,) Basic, Florcore, Mulholland, Goddess, Nasty Woman, Blissed
Give it your own unique twist by adding: 
grapefruit, orange, bergamot, ylang ylang, chamomile, jasmine, vanilla, rosemary, amber, sandalwood, black pepper, frankincense, violet leaf, lavender
Staying power: 
Great! This goes on very bright and sweet, but settles in nicely. The vetiver and patchouli mixed with lingering lime and neroli stays on the skin for quite some time.