A quick guide to choosing your Twinkle Apothecary perfume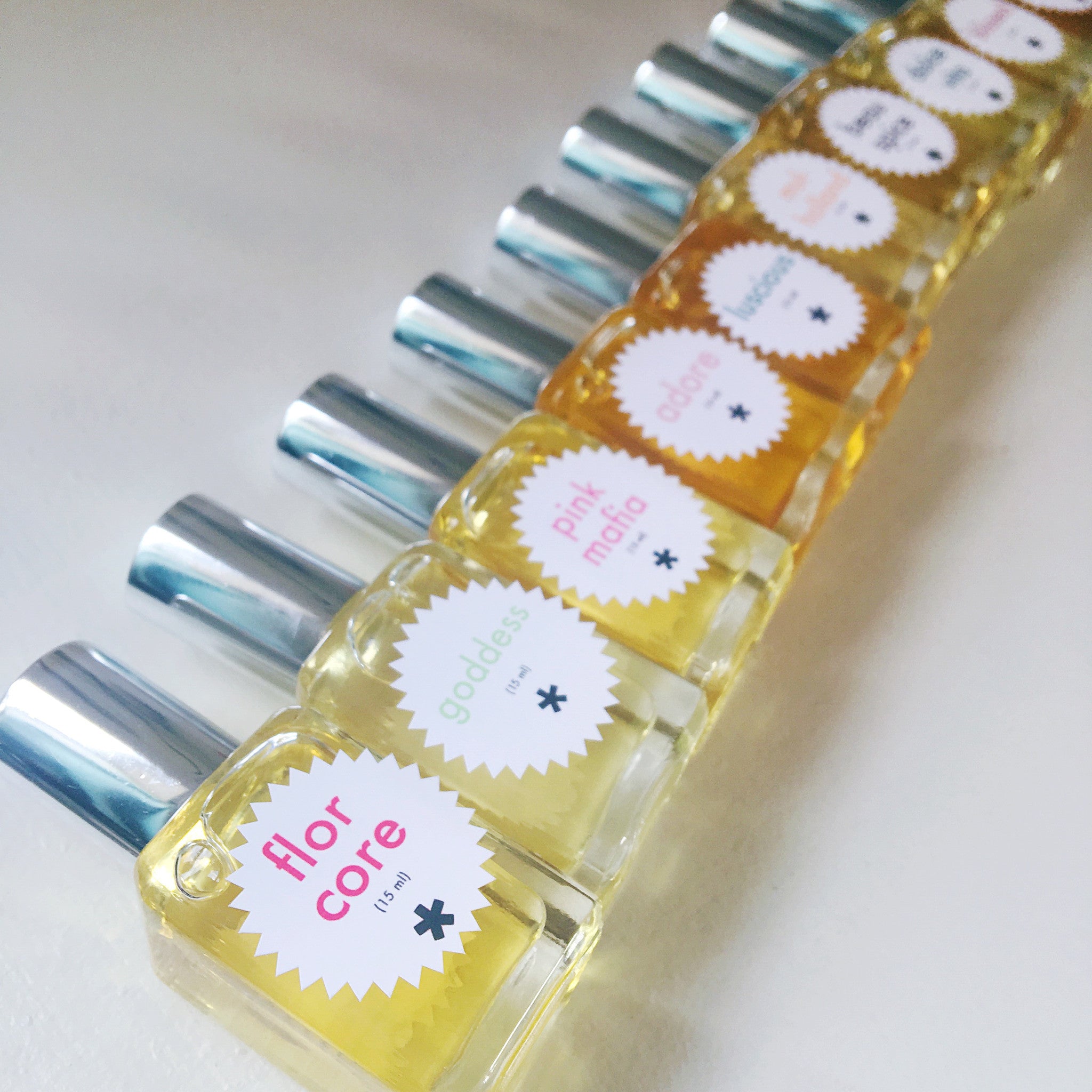 So... I get it, guys.
Shopping for fragrances online can be tricky. 
Whether you're a perfume junkie trying to make the switch to something more natural and cruelty free, or someone who typically only thinks to wear perfume on special occasions (but might possibly consider upgrading your daily routine if the right scent came along...) the thought of buying something without trying it on first can be a little overwhelming!  
Sure, we offer
inexpensive samples
, but with 13 different fragrances to chose from, where do you even start?!
Here, I've broken down all of our options into four different scent profiles to help you narrow it down:
sweet, floral, earthy, and herbal 
Of course, there's some overlap here - a fragrance can be both floral and earthy, and pretty much every flower on the planet can be described as "sweet smelling," but this should be a good starting point to finding the scent that's right for you.
Let's start with sweet: 
Simply put, these are all of our scents containing vanilla.
Basic
is a clean vanilla citrus lavender scent.
Adore
is citrusy, rosy and tad bit earthy.
Luscious
is exotic, floral and a little spicy. But they're all sweet. In their own special (vanilla-y) way.
If you're looking for something sweet but a little more refreshing, you might want to try one of our floral fragrances: 
Many people (myself included) typically avoid trying out floral fragrances for fear of smelling like a granny. But if you give these a try you might be surprised - I love putting a fresh spin on the classic scents of rose, jasmine, and neroli (think orange blossom.) 
Blissed
is earthy, crisp, and a little spicy.
Florcore
is sweet and fresh.
Mulholland
is warm and exotic.
Pink Mafia
is citrusy and green. 
Okay, if you're thinking "geez, enough with the sweet stuff" right now, let me introduce you to our earthy scents: 
Beau Spice
is warm and spicy,
Dolce Vita
is citrusy and fresh, and
French Girl
is sweet, floral, and complex. Now, I realize that "earthy" can be kind of a vague description. When I use the term earthy, I'm generally referring to scents that are more warm and spicy than sweet. Or, literally earthy... because there's a bit of a dirt-like quality to
patchouli
that I used to hate, but now absolutely love. If you think you're a patchouli hater, you may still want to give dolce vita or beau spice a shot - the patchouli is very subtle and only comes into play as the fragrance dries on your skin. If you are a patchouli lover, go for the French Girl, definitely. ;)  
Or, you might be even more interested in something from the herbal category:    
Close
is sweet, yet fresh.
Goddess
is earthy and warm,
Nasty Woman
is clean and woodsy. Close is one of my personal favorites because I love the contrast of sweet, smoky amber with refreshing lavender, citrusy bergamot, and grassy, masculine vetiver. These are my most "essential oil-y" smelling fragrances. Only, I like to think that they're a bit more sophisticated than dabbing on a blend from the health and beauty section of your natural grocery store. Not that there's anything wrong with that... 
Now, hopefully this helps you narrow it down a bit! 
Remember to keep calm - it's only perfume.  
And since our perfumes start at $15 a pop, are handcrafted in the US from ethically harvested essential oils, and are vegan & cruelty free - 
it's basically guilt free shopping! 
I hope you have fun exploring all of our different options! 
-XO-