Introducing: Our New Skincare Line!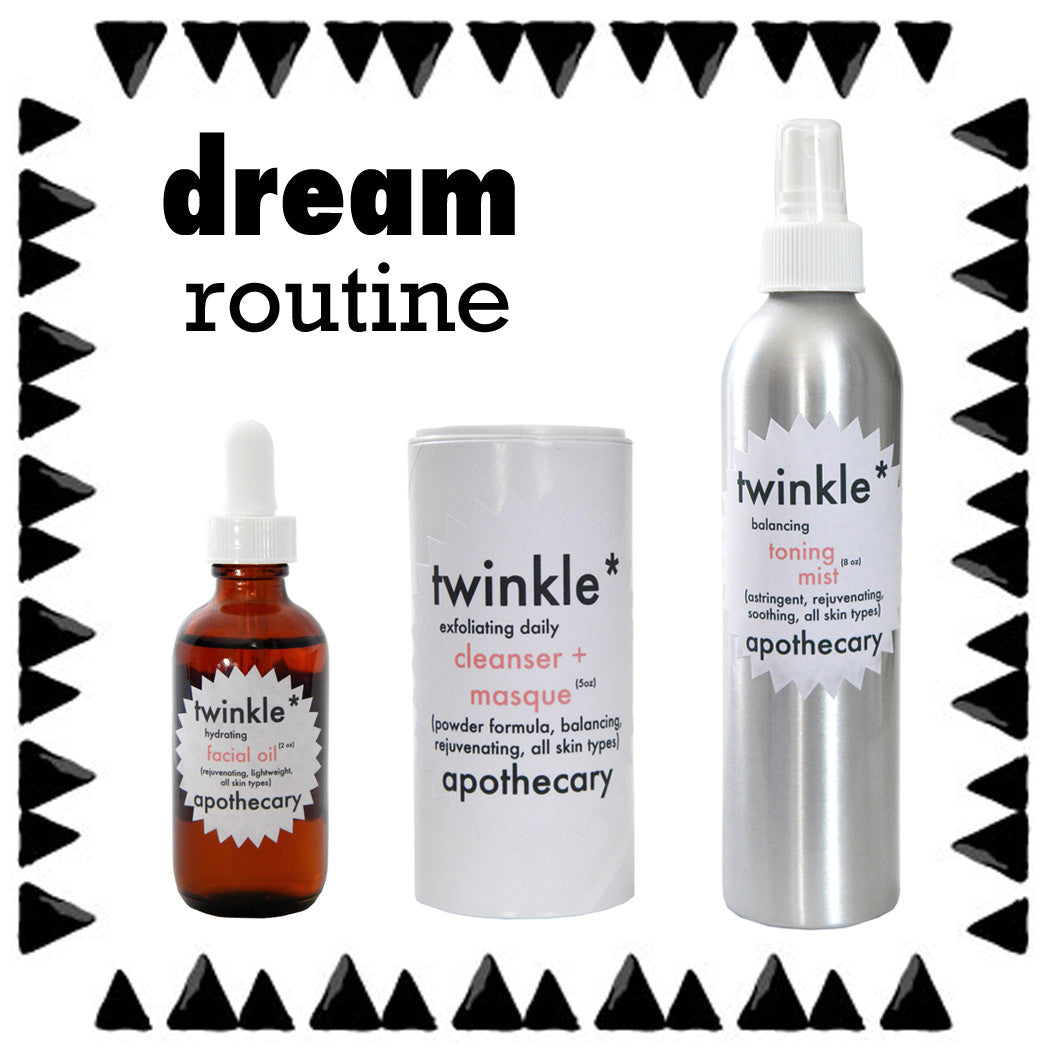 NEWNESS ALERT!! 
I am so THRILLED to introduce to you our new skincare products!
I HAVE MY OWN SKINCARE LINE!
I CAN'T EVEN BELIEVE THIS IS HAPPENING!
To be completely honest, I never really saw myself getting into skincare professionally. When I started Twinkle Apothecary I was pretty content with just making fragrances and deodorant. Of course, I've always been interested in natural skincare, (obviously) and have relied on many homemade kitchen remedies for years, (natural byproduct of being a broke single mom) but the idea of telling other people what to put on their faces was a bit intimidating to me... It was one of those things I was interested in doing "someday" but had no idea if it would ever actually happen. 
Then, I tried it.
While researching deodorant ingredients I came across an old remedy for acne using tapioca starch, and the idea for a
powdered cleanser + masque
just popped right into my head. I mixed something up using what I had on hand, having no idea how it would work because I had never used anything like it before, and I ended up being blown away by how immediately softer, smoother, and brighter my skin seemed! After a few weeks I was confident that my skin had less redness, less clogged pores, and that the sun spots and discoloration on my lower cheeks were fading, so I gave it to my family members to try. When my ultra-sensitive sister who gets a rash from
literally
everything
gave it a green light, I knew I was onto something! 
I consider 
toner
a necessity to deeply cleanse my combination skin and easily clogged pores, and I am extremely happy with how well this simple-yet-powerful mix of witch hazel and essential oils works to balance and brighten my skin. I packaged it in a big 8 oz bottle because I use A LOT of toner, and not just on my face! I spray it on my back to keep body acne at bay, use it to freshen up my feet and shoes, and spritz it on my face followed by a few drops of facial oil any time I want to freshen up throughout the day.
The
facial oil
... oh boy! My favorite thing
EVER!
I developed this for my maturing, combination, acne-prone skin so I am confident that it will be perfect for you, no matter your "type." For dry, maturing skin - it deeply moisturizes and restores elasticity. For oily, acne prone skin - it dissolves sebum buildup and tightens pores; and all skin types can enjoy the skin repairing, balancing, and soothing benefits of carrot seed, neroli, ylang-ylang, and lavender essential oils. I use it to cleanse
and
moisturize, and I love how my skin just soaks it right up! My combination skin is much more balanced - the dry parts are soft and supple, and the oily-prone parts are less slick, more "dewy." I FINALLY feel confident going without foundation, CC cream, BB cream, etc... 
Basically, I feel like a genius. 
I love that my products are multi-purpose, customizable, and no-nonsense, with luxurious, powerful ingredients at an affordable price point.
(Seriously, shop around for other 100% natural skincare products with the same ingredients and you'll find that most of them are nearly 2-3 times more expensive - and I believe that my ingredients are even more effective than most!)
Call me crazy, but I'd rather make something awesome that you can actually use and feel like you're getting your money's worth, as opposed to some ultra-fancy thing that's going to collect dust on your countertop because you're afraid to use it up - even if it means earning a lower profit-margin than my competitors. 
Life is short - you should use the good stuff and have beautiful, glowing, happy skin right now!   
I can't wait for you to try my new dream routine. 
I think your face is going to love it!  
-XO- Stefanie