Top 5 Reasons To Use Body Powder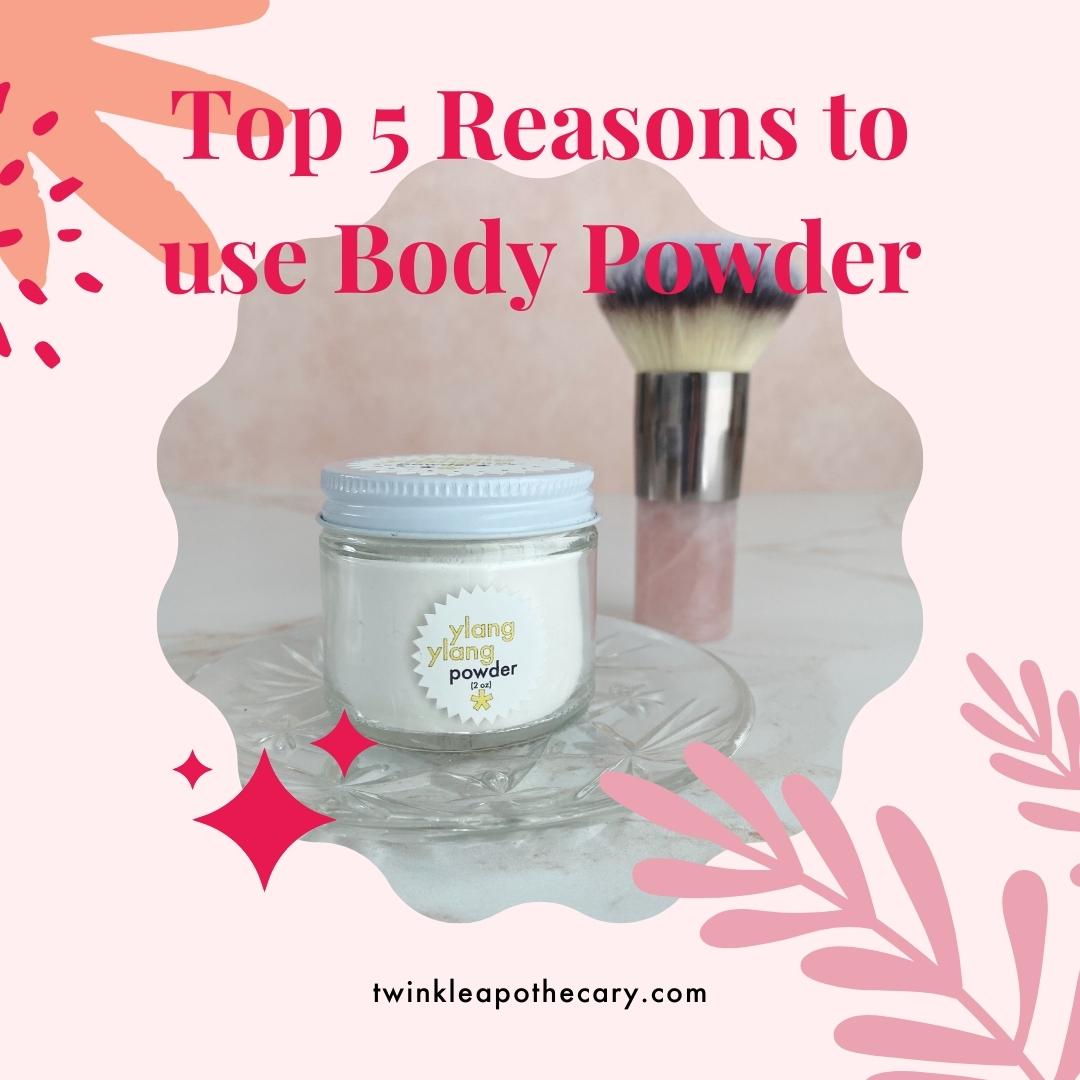 Update 2022: Body + Foot Powder is back in stock. 
The concept of using a "dusting powder" daily might seem a bit… old-school.
(Truthfully, I got the idea to make my body + foot powders from my grandma!) 
But bear with me (and granny) because you're about to have your personal care routine upgraded by 1000%
I started using body powder a few months ago, and I am absolutely addicted.
Where has this luxurious, luscious goodness been all my life?!
It's high time we bring this vintage grooming habit back - with 100% natural, plant-based (talc-free) ingredients.
Read on for my top five favorite things about body powder:
1. It absorbs moisture from sweat and humidity. 
Well, this one is pretty obvious, but if you haven't tried it, you have no idea what you're missing! It's basically a powdered deodorant that you can apply anywhere on your body. (And yes, I do mean a n y w h e r e !) You know when you take a nice warm, steamy shower, and then you're too sticky to get dressed? (Or, ugh, blow-dry your hair?!) That's when this stuff really comes in handy. Or, when you're on a tropical vacation, and you wanted to look cute but you just feel like you're fully dressed in a sauna? LIFESAVER! It keeps you from melting into a puddle on the floor while making your skin feel incredibly soft to the touch. So refreshing. Seriously, where has it been all my life?! 
2. It keeps body acne at bay. 
Think about it: breakouts happen when your body produces excess amounts of oil, and it mixes (or gets stuck in a pore with) the bacteria on your skin. Acne-causing bacteria like to multiply in moist environments. Body powder stops the excess moisture from collecting on your skin and fights acne-causing bacteria using the antiseptic properties of essential oils, with the gently detoxifying properties of kaolin clay and baking soda.
3. It protects your feet (and shoes!)  
This is my absolute favorite use for my body + foot powder. Sprinkling just a little bit of this on my feet before I put on my socks and shoes not only keeps them smelling sweet, but it also makes me feel so much more comfortable and prevents blisters! I sometimes tend to apply too much moisturizer to my feet before I put on my sandals, so I end up slipping and sliding around in my heels all summer, which is super annoying, but a dusting of powder helps keep everything in place. In the winter, I love it because it keeps my feet from getting cold and clammy in my boots. Keeping your feet dry also helps extend the life of your beautiful shoes! Something to think about while we're speaking of upgrades, no?! 
4. It gives your signature scent even better staying power! 
Oh yeah… it also smells really, really good. Have I mentioned that about my products yet?! ;) Body powder may be a vintage-inspired product, but the simple, essential oil-based single-note scents are light, modern, and fresh. They're also perfect for layering with any of our natural perfumes for an extra fragrance boost! 
5. Actually, it makes your whole life (gym bag, suitcase, laundry basket, sheets, car...) smell better.
It may be called body powder, but it doesn't just absorb moisture and control bacteria on your skin. Sprinkle it pretty much anywhere you want to keep bad odor in check. I highly recommend dusting some in your sneakers and gym gear, and I looooove dusting down my sheets when I make my bed in the morning during the summer months. (Side note - I do not recommend using this as a carpet deodorizer when vacuuming. The flour particles can build up static electricity and shock you!) 
Honorable mention: It works as a dry shampoo too!
Yes, Twinkle Apothecary makes a
dry shampoo
that's crafted to absorb oil and moisture while adding volume to your hair. But I'll let you in on a little secret: the all-over powder works great as a dry shampoo too! This is a perfect multitasking product for anyone looking to minimize their collection!
So, are you starting to see why I'm obsessed with this stuff now? 
Have you ever tried using body powder? 
Have any cool uses for it that I haven't listed here?! DO TELL!! 
-XO-