Are you a French Girl… Oui ou Non?!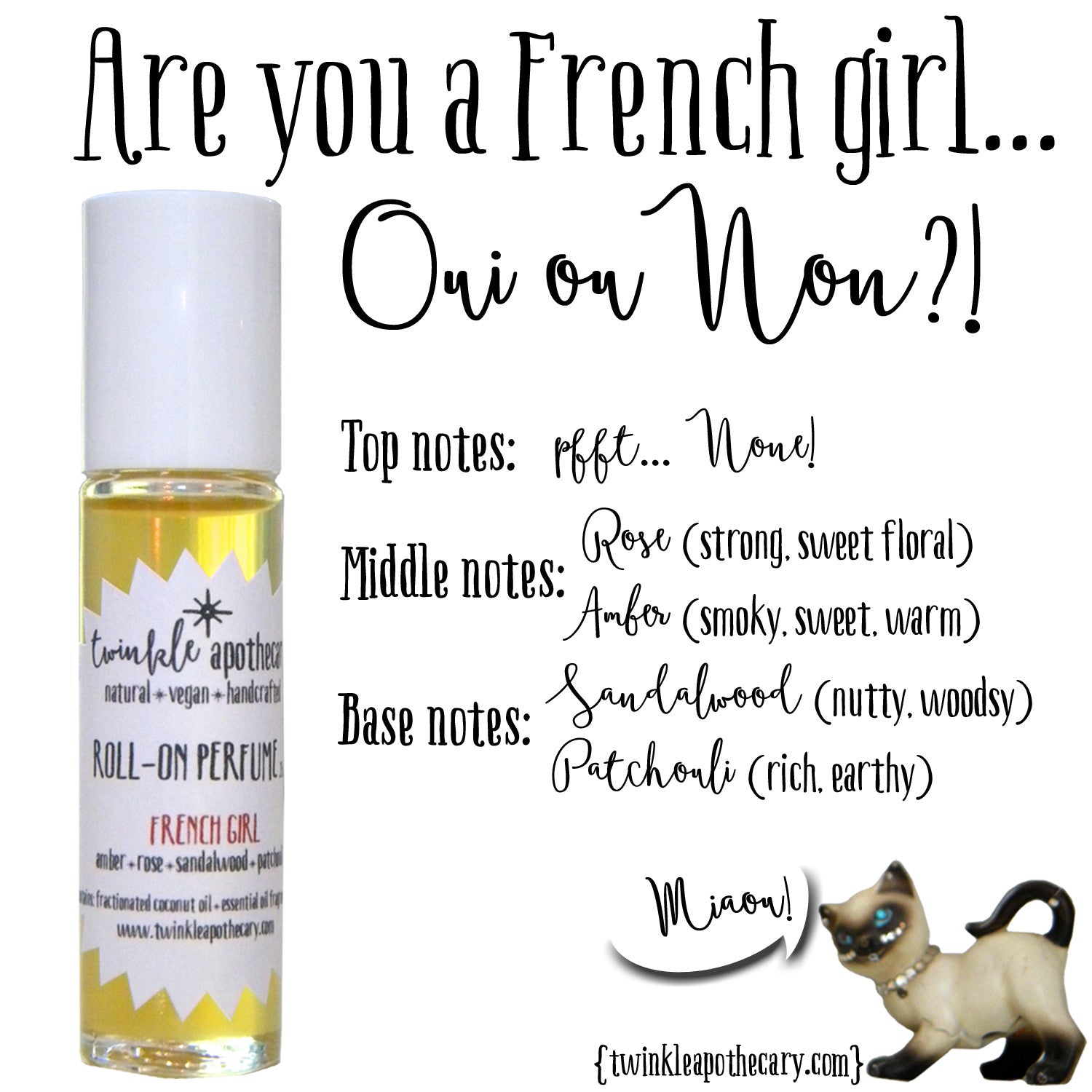 How do you know if a perfume is right for you? 
I guess you can't really, until you wear it…
(Perhaps I should have considered this more carefully before launching an e-commerce business…?! Oops?!)   
Before I started Twinkle Apothecary, I always had a bit of a love/hate relationship with perfume. I loved the idea of having a signature scent, or changing my fragrances to enhance my mood,
(so luxurious!)
 but there were so few perfumes that I actually enjoyed wearing! They were always too strong in all the wrong ways, or the part that I enjoyed the most faded too quickly. Then if I did find something I liked, I drove myself crazy wondering what was actually
in it
… I just can't get down with putting mystery ingredients on my skin! 
Once I got the idea to make my own deodorant, I knew it was time to start taking matters into my own hands. I wanted to make something special, fun, interesting… something different than the typical one-or-two note fragrances that most natural, vegan deodorant brands offer. 
The name says "girl," but to me, this is a real, grown up lady perfume. 
I've always associated smoky, sweet 
amber fragrances
with Paris, and the boldness of the other ingredients make me think of something a cool, stylish French woman would wear. 
It's pretty, sweet, sensual, bold, dark, earthy, warm, feminine and masculine… 
I swear it gets more complex with every wear. 
To me, it's a very relaxing fragrance… I love to put it on right before I get into bed at night, or before a yoga class.
(One of the great things about oil-based roll on perfumes is that they are meant to be enjoyed at close range. I love being about to wear a bold fragrance that doesn't overpower everyone in the room!) 
If you love dry champagne, red wine, the occasional sip of whiskey, and rich soy cappuccinos with a side of dark chocolate, you're probably going to love this fragrance. 
Or, if you identify at all with this adorableness: 
(Me watching this video:  "Ohhhh, I'm not weird… I'm just French!")
 As with all of Twinkle Apothecary's fragrances, you can buy French Girl in our deodorant, body + foot powder, dry shampoo, and of course, perfume! 
Why not try layering them all at once to give your signature scent even better staying power?! The perfume is very highly concentrated, but the deodorant, body powder, and dry shampoo are more subtle, so there's no danger of over doing it. You'll just smell lovely even longer… 
Oh la la! 
-XO- Stefanie