21-Day Spring Skincare Challenge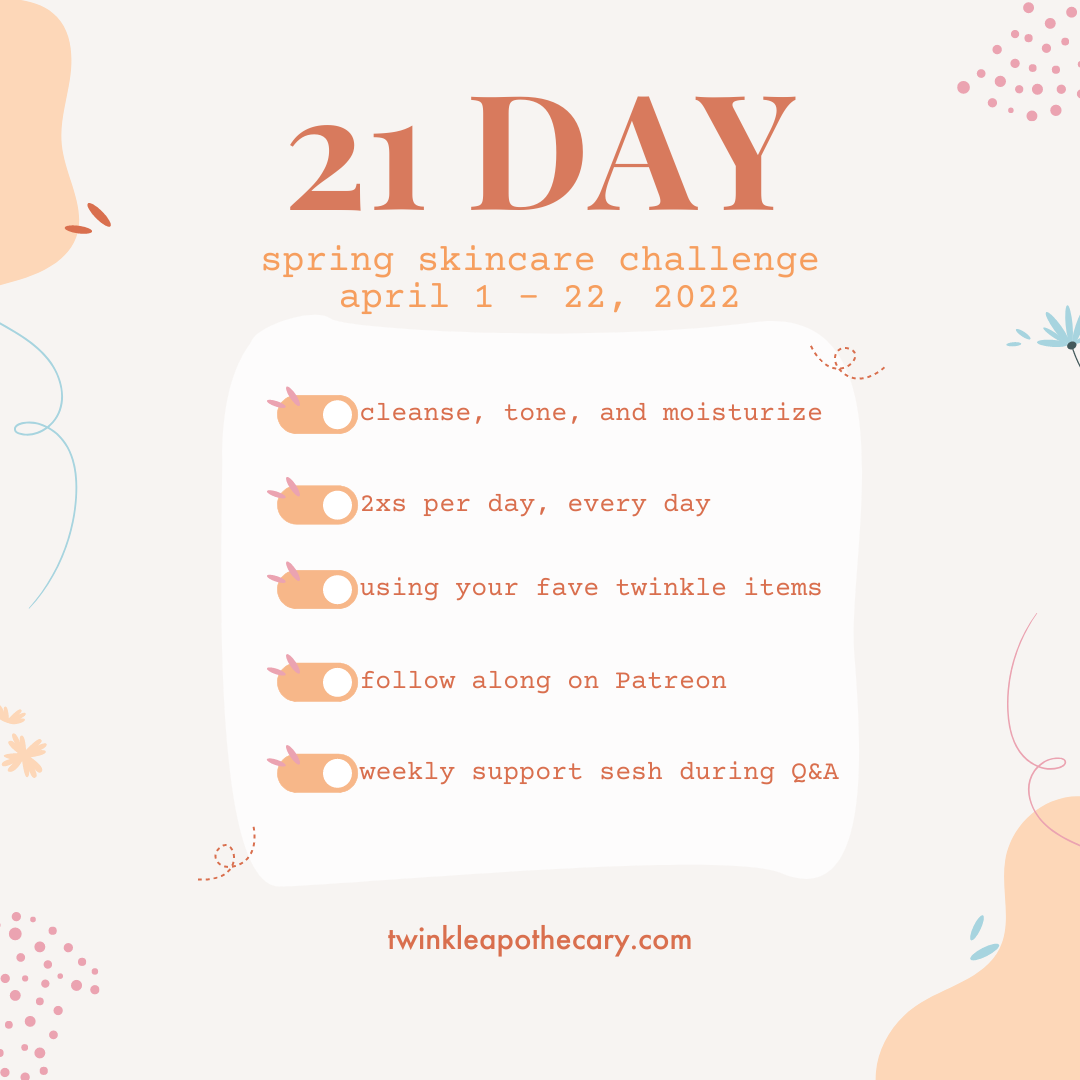 Happy Spring, everyone!
How does a little motivation to get your skin in shape for the new season sound?
I'm going to be hosting a 21-day skincare challenge on my Patreon, starting on April 1st, 2022.
I wanted to let you all know now here so that you can plan in advance/get your refills/get products ordered/join Patreon in time to play along!
A 21-day "challenge" may sound a bit intense, but don't worry. It's going to be very simple and low key. 
Here's how it works:
1. The rules
You have to cleanse, tone, and moisturize 2 times per day, every day, between April 1-22, using Twinkle Apothecary products. You can add anything you want (even products from other brands) to this routine, but cleansing, toning, and moisturizing twice a day is the minimum. 
2. The products 
You'll need to use Twinkle Apothecary products to cleanse, tone, and moisturize - I don't say this to exclude anyone - it's just that I can't vouch for the effectiveness of any other brand's products. Like I said, you're allowed to add more and get as elaborate as you like, but I want everyone participating to have the twinkle basics. If you're new to Twinkle skincare, I recommend starting with the travel skincare set ($69) which will have everything you need to participate in the challenge! 
3. The routine
You can follow my exact routines (below) or, change it up by subbing a different twinkle item, as long as that item is appropriate for that step. For instance, you can use powder or oil to cleanse, hydrosol or toning mist to tone, facial oil or butter or balm to moisturize... whatever you have on hand or prefer! 
I'm hosting this on my Patreon - again, not to exclude anyone - but because this is the easiest way for me to communicate with everyone and hold you all accountable! Trust me, what you get out of this challenge will be well worth your $5. (Also, did I mention that you get a coupon for signing up which use can use to buy the skincare to participate in this challenge? Just saying!) 
5. Stay accountable 
I'll be holding everyone accountable by asking you to comment on a post in my lens clips (that's the Patreon version of an Instagram "story") when you've completed your AM + PM routine twice daily, and I'll post/cheer on everyone's progress on my Patreon page. 
6. Discuss 
You'll have the chance to discuss how it's going, ask questions, pick my brain, or share your advice and tips with other participants during my weekend Q&A sessions! (This feature is always available to members of my Patreon whether there's a challenge happening or not, by the way.) 
7. What you get
Um, good skin and a new healthy habit! Not sorry if you get hooked on some amazing products in the process. ;) If you've ever wondered what it would be like if you stuck to your twinkle routine, now's your chance to find out and have me with you every step of the way.
I'm so excited to try this with you! I've wanted to do something like this for a while, but it took me some time to think about how to make it work. Now that I'm no longer stuck at my desk answering a million individual skincare emails each day (thank you for respecting my boundaries!) I have more time to devote to coming up with ways to help even more people have their best skin. And now I also have the perfect place to connect with everyone and make it happen on Patreon! 
So, if you'd like to join the challenge, all you need to do is get your skincare ready and join the Twinkle Apothecary Patreon on (or before!) April 1st. April 1st is also a Friday, so also get your questions ready for my first skincare challenge Q&A!
Scroll down to see the routines I recommend to everyone for a little inspiration, and of course, here's the link, again, to: join my Patreon.
Hope to see you there! 
- Stefanie -