Stefanie's Skincare Diary: Part 1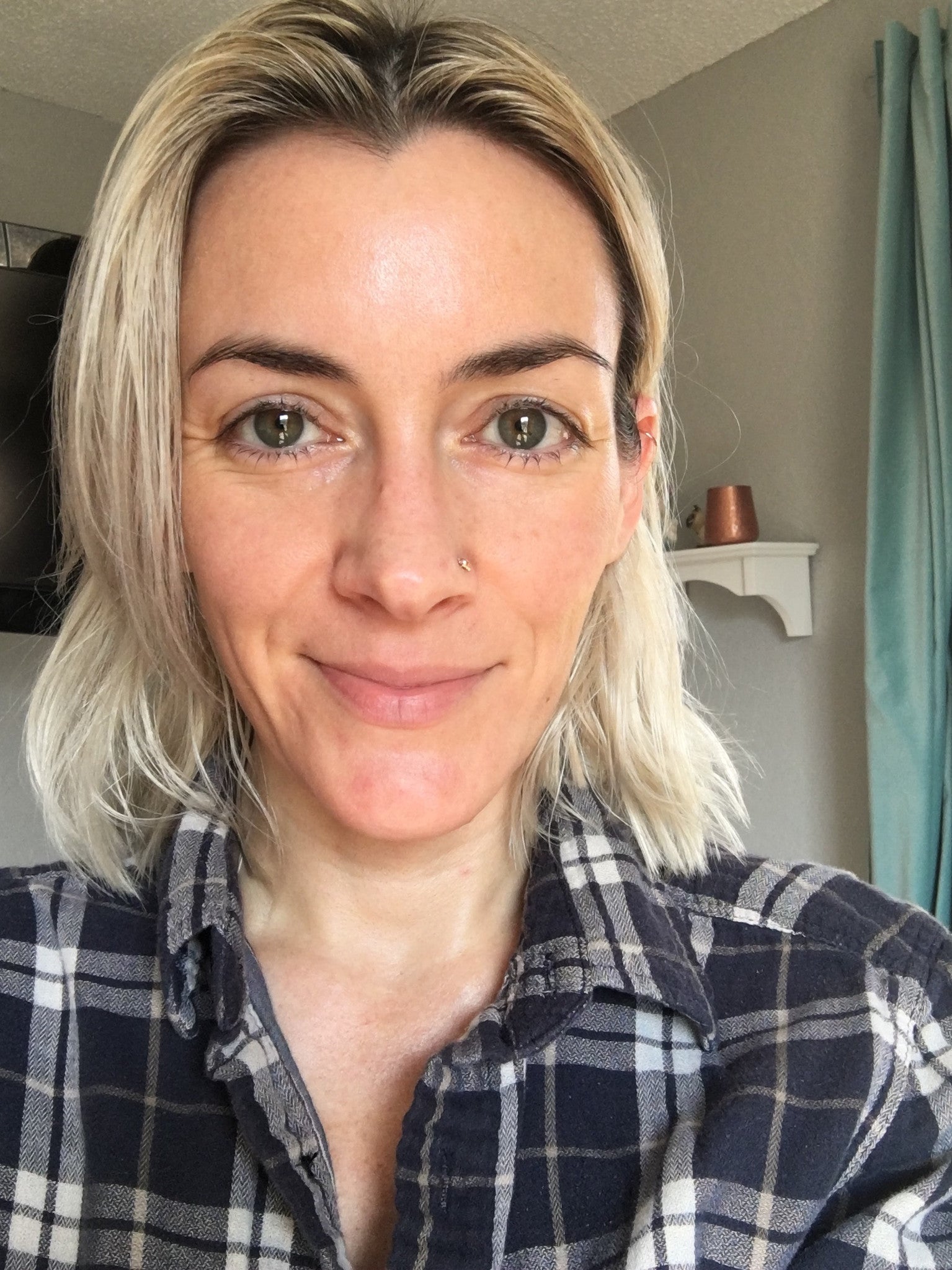 Hello, it's me, Stefanie - owner & creator of Twinkle Apothecary!  
Welcome to my website, my brand, my blog, my life. 
This is part 1 of a new blog series where I take you through a week in my life from a skincare perspective. 
I get TONS of questions about how to use my products, and since I basically made all of my facial care items for my own personal use, I thought it'd be fun (albeit a slightly embarrassing amount of internet overshare) to show you all exactly how I do use them. 
Before I begin, let me just say, that
although natural products and skincare has always been an interest of mine, I never, ever, in a million years dreamed that I would end up with my own beauty brand. To be honest, I have mixed feelings about it. I think that the mainstream beauty industry is pretty gross, actually. When I turn on the TV or flip through a magazine, I feel like I'm being bombarded with  p r o d u c t s. Each of them a special little miracle that's going to make my life better because it's going to get me one step closer to perfection.
Clearly, perfect skin and hair = perfect life, didn't you know? 
GROSS. 
I'm so over it. Perfect isn't real. It does not exist.
You know what I want my customers to feel? 
Comfortable. 
I want you to feel comfortable in your own skin and with your own body, how ever it looks in this moment. Because this moment belongs to you, and you should be making the most of it... not worrying about how you look. (Or what you're going to look like after your next facial, or what you're going to look like when your 40, or what you'd look like if you bought that amazing sounding miracle cream you just read about in a magazine...) 
I do want you to feel free to take care of yourself - mind, body, and spirit - so that you can live your best life. 
Your skin is always changing, and it's a constant reflection of your life. How much sleep are you getting? (Not much over here...) 
Are you exercising? Eating healthy foods? Drinking too much coffee and wine? (Guilty!)
Are you drinking enough water?
Do you see where I'm going with this?
It's not about products, you guys.  
That being said, I do think that whatever you're putting on your skin should be as clean and wholesome as possible. It just doesn't make sense to have a healthy, whole foods based diet and then slather a bunch of petroleum jelly on your face, you know?
Okay, I'll stop rambling and get on with it! 
I hope this gives you a bit of inspiration on how to create your own self care/beauty routines and fit them into your own life. 
I also posted a link of all of the products mentioned at the bottom of this post if you want to check them out for yourself!
SUNDAY, JANUARY 1
Happy new year!!
Definitely passed out in my makeup last night, oops! I rarely wear anything on my face, but last night I was wearing Mineral Fusion's BB cream. I don't think too much damage was done, but my face does seem a bit more dry than usual. 
I'm staying at my boyfriends house, but I always bring my travel skincare set, my makeup remover + cleansing oil, eye serum, and acne spot treatment. 
I run hot water over a washcloth while I massage the cleansing oil into my skin. Then I go for the eyes. When the water is good and hot I heat up the wash cloth, wring out excess water, and lay it on my face for a minute. Once it's good and steamy, I use the washcloth to wipe all of the oil and makeup. Then I rub some eye serum under my eyes, and acne spot treatment over my trouble spots - jawline, chin - trying to stay on top of those hormonal breakouts and stop them before they start!
And that's it!
Usually I would use toner and more facial oil, but I was feeling lazy and wine hungover.
I leave my face bare today. 
Night
Back home: I'm feeling like a good, luxurious facial would be a nice way to start the year, and also I have a sample of rose otto essential oil that I've been wanting test on my face - it's supposed to have amazing anti-aging and skin healing properties. 
I mix my powder cleanser with a bit of
sandalwood powder
and water, and leave a masque on while trying to read and relax and not think about work (haha.) The smell is heaven. I rinse it off, apply toner with a cotton ball, and add a drop of the rose essential oil to my usual 4-5 drops of facial oil. Oops - one drop is definitely more than enough! If I were to add this to a serum, there would probably only be a few drops in the entire bottle. The scent of the rose is a bit overpowering, (and I LOVE rose, so that's saying something) but maybe it's making some magic happen? 
I lightly massage a bit of beauty butter into my under eye area and up into my brow bone.
Bed time! 
MONDAY, JANUARY 2ND 
Morning 
Okay, yeah, there was definitely a bit of magic in that rose oil and sandalwood powder. My skin feels super soft, looks smooth, and seems a bit brighter. Nice!
Technically, it's a holiday, but I've got lots I want to do, so I roll out of bed and get straight to work! 
At some point in the mid-morning (or afternoon?) I spritz and little toner on my face, pat it dry, and massage a couple of drops of facial oil into my skin. Then eye serum. 
No makeup today. 
Evening
I've just taken a hot yoga class, and while I wait for my shower water to heat up, I mix my powder cleanser with water and give my face a quick (gentle) scrub. I rinse it off in the shower. Then toner and facial oil. 
Night
Before bed I massage a bit of beauty butter all over my face. 
TUESDAY, JANUARY 3RD
Toner, a few drops of cleansing oil as a serum, then eye serum.
Bare face all day (again - I work from home in my pjs y'all... typically covered in tapioca flour.) 
Evening 
After a treadmill workout (ugh - PS I do NOT run - I walk at an incline.) 
I hop in the shower and just rinse my face with warm water. 
After the shower I spritz with toner, pat dry, and apply a few drops of facial oil. 
Night
I mix my powder cleanser with water and leave it on as a masque while I brush my teeth. Then toner, facial oil, and beauty butter. 
WEDNESDAY, JANUARY 4TH
Morning
no makeup (like, ever, apparently... haha) 
Afternoon
  Post hot yoga: I rinse my face well with warm water in the shower, then apply toner with a cotton ball, facial oil, and eye serum 
While in the shower and pondering how I can answer everyone's questions about how to use my products, I get the idea to start a skincare diary blog. Wait... do I even remember what I've done so far this week? Yes! Perfect. Let's snap a selfie to commemorate the occasion: 
So here is my bare, unretouched, far from perfect 33 year old face, fresh out of the shower post yoga.
Now might be a good time to address another FAQ about my products: "Will your facial oil turn my face orange?" 
The answer is yes, a little bit, but only for a moment. 
As you can see here, my face is a little bit golden, because I had just applied facial oil a few moments prior. I'm not turning permanently orange. I'm just letting my skin soak up that lovely wildcrafted chilean rosehip oil. If I were to put on a little makeup (or my translucent face powder) any orange-ness would disappear completely. But I kind of like the extra glow! 
Anyway...
Night
I do a
coconut milk masque
and let it sit while I put away my laundry. Just living the life of luxury over here! But really though, it makes my skin sooooo soft and bright. Must remember to do this more often!
Follow with toner, facial oil, and beauty butter as an eye cream.
THURSDAY, JANUARY 5TH 
Morning
(No makeup today either) 
Afternoon
I rinse my face well with warm water in the shower, follow with toner, facial oil, and eye serum. 
Evening
Same shower routine as afternoon, after my hot pilates class.
Night
I mix a little aloe powder into my cleanser and do a quick masque, just for fun.
Follow with toner, facial oil, and beauty butter as an eye cream. 
(Apparently I'm on a major masque kick this week! Trying to focus on taking care of myself now that the craziness of the holiday season is behind me I guess...)
FRIDAY, JANUARY 6TH 
Morning
It SNOWED last night, and my kiddo is dying to get out and play.
Instead of my normal routine, I just apply copious amounts of beauty butter to my face before getting out in the snow. The temperature is in the teens. I lasted a full 30 minutes.
(I MISS LA!)
 Afternoon
Rinse my face well with warm water in the shower, then toner, facial oil, eye serum, and beauty butter. 
And guess what? I actually put on a little makeup. 
(Because I'm going to visit my boyfriend again, yay! He lives in Tulsa, about two hours away.) 
Here's what I look like with a little translucent mattifying powder, blush pink lip tint on my cheeks and lips, and mascara.
(I use Pacifica dream big mascara, and I think it's awesome.) 
I also look stressed because I'm running way late (lots of orders to ship today, hooray!) and I'm terrified drive two hours in the snow. Clearly I am crazy in love. Or maybe just crazy? 
Night
I wash my face with my powder cleanser, follow with a spritz of toner, facial oil, and beauty butter as an eye cream. 
SATURDAY, JANUARY 7TH
Morning/Afternoon
After sleeping in, I wake up and wash my face again with my powder cleanser and rinse it off while I'm in the shower. I don't normally wash my face in the mornings, but I was in the mood for a little scrub today. I always follow with toner, facial oil, and eye serum - have you noticed? 
I think I put on a little bit of my blush pink lip + cheek tint in the car on the way to a movie... 
Evening 
I put on makeup! BB cream, eyeliner, and all. Berry lip + cheek tint on my lips. So fancy! 
Night
I use my makeup remover + oil cleanser with a warm washcloth to remove my makeup, followed with toner and facial oil. 
SUNDAY, JANUARY 8TH 
Morning 
My skin seems a little dry - maybe I had too much wine last night? Or was it the BB cream? 
I use my powder cleanser to scrub off the flakiness around my nose, and rinse it off in the shower. Follow with toner, facial oil, eye serum, and beauty butter all over to combat the dryness. 
Translucent mattifying powder, mascara, and lip + cheek tint today for brunch and the museum!  
Night
Back home! I add a little activated charcoal powder to my masque tonight. Then I follow with my oil cleanser to remove any dark residue. Then toner, facial oil, and beauty butter as an eye cream. The next morning my skin is sooooooooo soft and clear. 
I'm a bit tired from the weekend, and suddenly a fighting cold, (or allergies?) but ready to get to back to work! 
So, that's it! Things you may have noticed: 
1) I rarely wash my face, and never ever use soap. It's necessary on the body of course, but I think it's totally pointless on my face. I happen to think that my powder cleanser is EVERYTHING - even on my combination, acne prone skin.   
2) I experiment a lot and don't really have a set routine - I don't necessarily recommend adding a different ingredient to your masque every night - simple is better! I test things out often because it's my job to know the effects of everything I offer.
I do however, recommend leaving yourself open to trying new things, and being flexible enough to break from a strict routine. Like I said, your skin is always changing, so how you care for it might need to change from time to time too. I love that my products are customizable and multi-tasking, and that there are so many different ways to use them.  You just have to find what works for you. I hope this helps!  
I'll share more diaries like this in the future so you can see how it evolves. I might even consider doing a much shorter version of this every week... 
What do you guys think?! 
-XO-