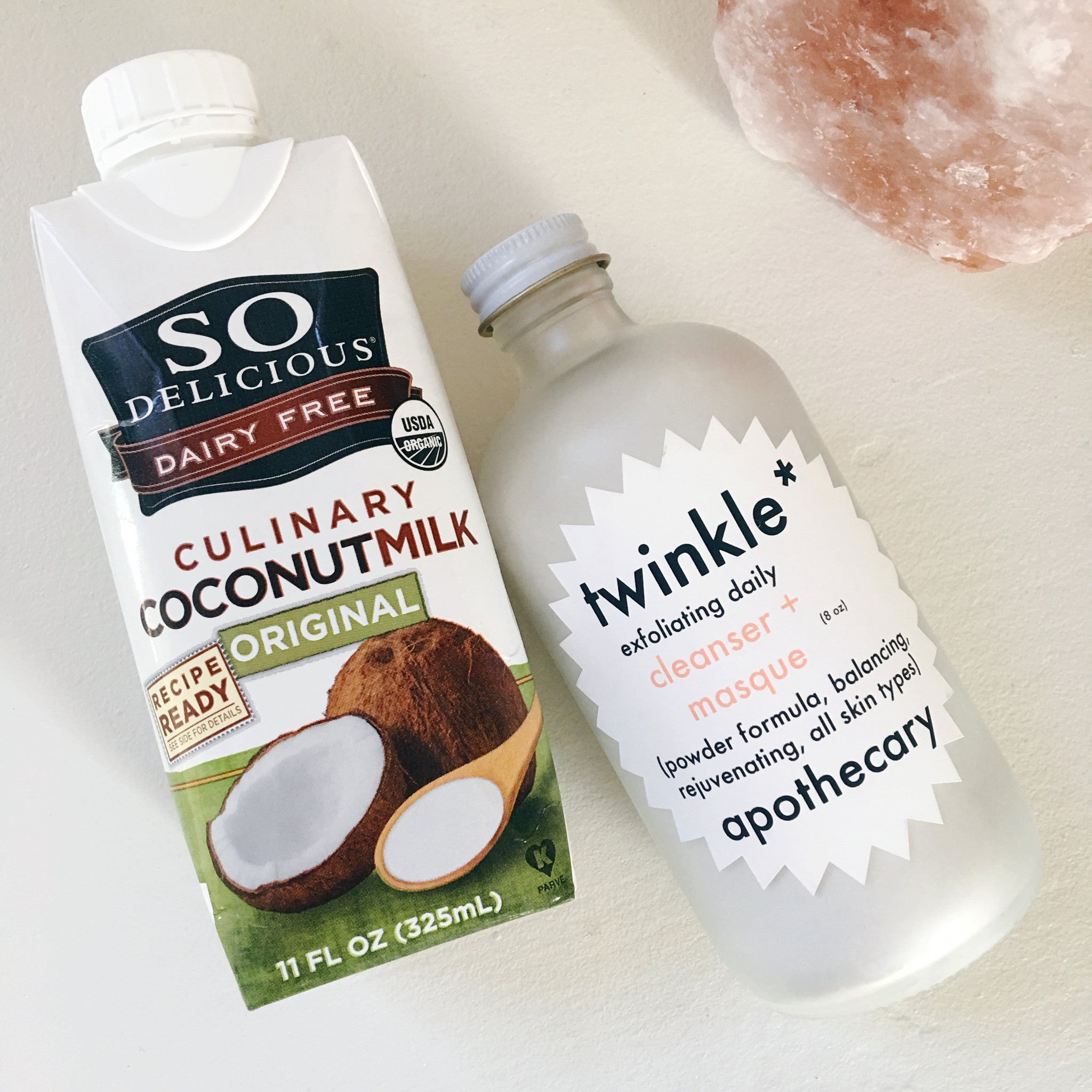 One of the (many) things that I love about my
powdered facial cleanser
is that it's customizable. You can use it straight up with pain old water and it works just beautifully to cleanse, exfoliate, and brighten your skin, 
OR,
you can fancy it up by mixing it with our
toner
, adding green tea powder, more clay,
facial oil
... whatever you like!
One product = luxurious skincare options galore. 
Why aren't more people doing this?! 
One super simple way to up the luxe factor when you wash your face is to mix our cleanser with coconut milk! 
Coconut milk (you'll want the full fat version) is high in moisturizing essential fatty acids, antioxidants, and lauric acid, which has antibacterial and antiviral properties, making it a great treatment for acne prone skin as well. 
The best, most effective kind of coconut milk to use would be homemade, from the meat of a freshly cracked coconut in your ridiculously expensive high speed blender. 
LOL 
I just picked up a carton of culinary coconut milk from natural grocers for $2.19 
I like the cartons because they're BPA free and you can easily stick whatever's left in the fridge to use later. 
This brand does have guar gum added, which is a natural (and perfectly safe) plant based emulsifier/thickening agent made from guar beans (kinda like green beans) that's even said to have it's own skin/hair conditioning properties. I imagine it's added so that the coconut fat doesn't separate from the water, like you see in canned coconut milk.
So NBD. 
(Note - this is in no way an advertisement for any certain brand of coconut milk. You can pick up a can, or any brand you like. Just make sure it's not the low fat version. Fats are good for your face.) 
Anyway...
 the how to is pretty self explanatory. 
Use about a tablespoon of our powder cleanser, and just a bit more coconut milk (maybe a smidge less than you see in the video that I made while entertaining my 4 year old) mix it together, and massage it into your skin. The less coconut milk you use, the more thick the masque. You can either give your skin a good scrub using circular motions as you apply, or if you're not wanting to exfoliate, just lightly rub the mixture onto your face. 
You can use a bowl like in the video, or you can just mix it up in the palm of your hand. 
Super easy. 
Let it sit on your face for as long as you like. 
You can do a mini masque while you brush and floss your teeth.  
You could let it sit all night long while you watch netflix and chill. 
Whatever you want. It's your face and this is a totally harmless treatment. (And PS it smells like heaven.)  
You may notice a slight tingly, tightening sensation.
Of course, if this is uncomfortable for you, please wash it off right away. (That was my common sense disclaimer...)  
Whenever you're ready, rinse it off with warm water. 
You'll notice that your skin feels softer, looks brighter, and may even feel a bit tighter and more toned.  
Personally, I have a lot of natural red/pink undertones in my skin, and when I do this, I notice that my skin tone looks much more even. 
I'm curious to hear from you though! Will you try this and let me know what you think?!
Be sure to subscribe so you can stay up to date on more skincare DIYs to come!
-XO-