July Freebies: Free Gifts with Purchase for Summer!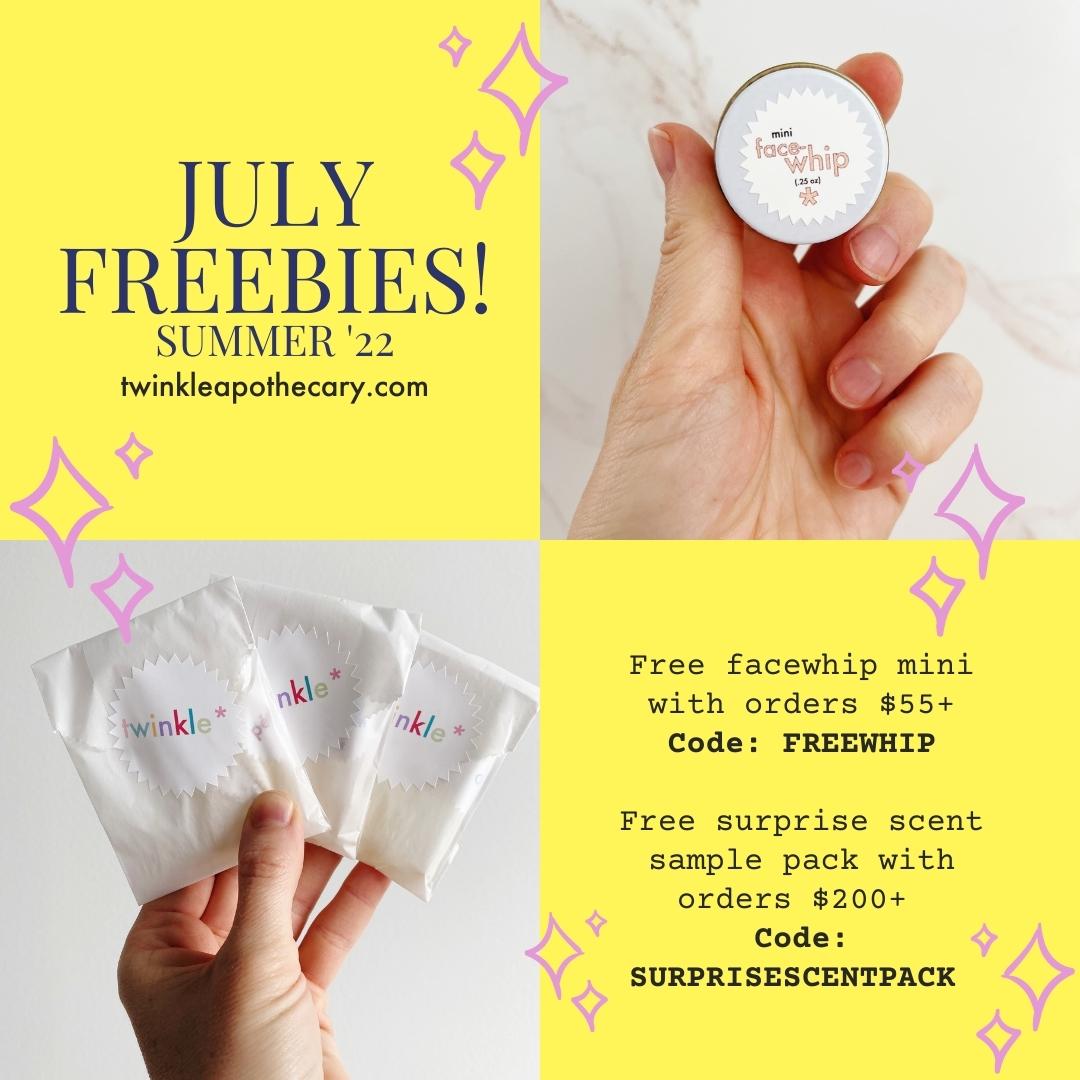 Happy Summer, Twinkle friends!
You might have noticed that I stopped including a free sample with every purchase at the beginning of the year. 
 Why?
1. Oh boy, money was TIGHT after a slow holiday season (thanks, omicron!)
2. I don't actually think it makes sense to shove more products in every box when I'm trying to have a minimalistic, sustainable brand.
3. I discontinued all but 8 of my perfumes, (speaking of minimalistic!) so there are a lot fewer things to try!
4. SO MANY of my customers are lovely loyal friends who already have everything. <3
 But, I know everyone loves the cute little minis and I know that it is a good way for new customers to try my products...
So starting right now, I'm going to have one or two (totally optional) free gifts with purchase available each month.
This month, I've got a free facewhip mini ($9.99 retail value) for orders over $55, and a free surprise scent sample pack ($19.99) for orders over $200.
Here's how it works: 
1. Put $55 (or $200) worth of products in your cart. 
2. Add a facewhip mini (or a surprise scent sample pack) to your cart too. 
3. Head to checkout and enter the follow codes in your cart: 
FREEWHIP for the facewhip mini 
or 
SURPRISESCENTPACK for the surprise scent pack! 
 And those items will be free. Easy! 
Keep in mind: 
You can't stack coupons. (Yet! Apparently that update is on the way soon?!) For now, you'll have to choose which coupon and/or freebie to get at checkout. Save up your rewards points if you want the freebies. If you already have the freebies, use your twinkle stars!  
Please take advantage of this and enjoy! Especially if you just missed my storewide sale at the end of June... whoops.
Remember to check your inbox to stay up to date because I'm not on Instagram this summer! (Or probably ever again. Would Twinkle Apothecary be the first beauty brand to leave Instagram? 100% ok with that.)
Anyhoo, good thing you've got those Twinkle Stars, am I right? ;) 
- Stefanie -