The Most Romantic Perfumes for V-Day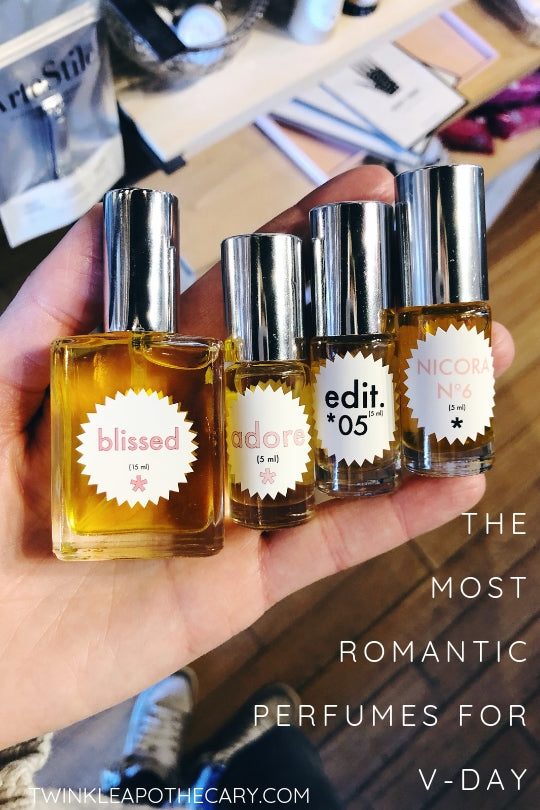 Now that I have completely taken over Valentine's Day as a holiday for showing myself love it's turned into one of my very favorites - and of course I have some opinions on what type of perfumes are the most seasonally appropriate that I'd love to share with you so you can join me in celebrating... yourself. Ourselves? Yay us!  
What makes a perfume romantic, you ask? 
Well, that's entirely subjective. 
But when I think of Valentines day, I think of flowers, (roses, specifically) sweets, and all of the warm and cozy vibes.   
The wonderful thing about creating perfumes composed entirely of essential oils and plant extracts is that you can utilize them for their aromatherapy benefits in addition to the beautiful fragrance that they add to your life. 
So think: florals like rose and jasmine to open your heart...  
Ylang ylang, vanilla, tonka bean, sandalwood, cedarwood, and patchouli all have grounding, calming, aphrodisiac properties... 
Stimulating warmth from spices like peppercorn, cardamom, nutmeg, etc.
And some mood-lifting citrus notes never hurt nobody!
There are a lot of great options from my collection, but here are my very top picks: 
This one has it all... 
If you've ever been fortunate to own a pair of Nicora's (HURRY QUICK) you know that this brand is all about quality. This perfume was designed with that same attention to detail. It goes on warm, fresh, and a little spicy - with blood orange and pink peppercorn, the middle notes are timeless florals that feel modern - warm rose, bright neroli, and creamy ylang ylang - and it's all anchored by a gorgeous base note composition that is built to last all day (and night) with mysterious oak moss, creamy tonka bean, and rich woody tobacco. 
It's a grown up kind of a fragrance that feels decadent and luxurious. PERFECT for date night without being too over the top to wear during the day. 
The vanilla! The rose! The citrus! The sweet, sweet cedarwood! 
This one also has it all, but in a much more simple way. 
Adore is one of my top selling scents, with very good reason. It's sweet, warm, bright, and uplifting, but still sophisticated and a little bit mysterious. Someone once told me that it smells like a hug. So maybe keep it on hand for when you need one? ;) 
This is another rose-forward scent from my signature fragrance collection, but it's not sweet and cozy like adore - think of it as more woody and fresh. 
I think this is one of the most uplifting scents that I make - frankincense and bergamot will pull you out of any funk - rose soothes your heart, and there's plenty of sandalwood for loving, eternal resilience. 
4. Edition *05 from The Asterisk Collection 
I don't usually gravitate toward "sweet" fragrances, but this bright, creamy, warm floral has been a go-to for me for several months now. It feels so cozy, yet uplifting and fresh. 
Edition 5 was an experiment of sorts for me - I wanted to make something very sweet and creamy, like a Christmas sugar cookie, but it turned into something much better, as they tend to do... 
The top notes are almond and lemon. It's creamy and sweet but not sugar-y. There are two varieties of rose, carnation, and ylang ylang in the middle notes, so this is definitely a classic floral scent, but please don't write it off as a something for a grandma. (Would I ever do that to you?) Cardamom and nutmeg are in there somewhere, but I wouldn't call it spicy. They just add to the complexity. The base notes... hey now... this is where I really came in to ruin the whole sugar cookie idea and it ended up being SO WORTH IT. Sweet tonka bean is there, but it's balanced with plenty of cedarwood, tobacco, vetiver, and orris root (which is possibly my favorite smell ever?) 
Side note I am perfectly OK with "earthy" fragrances being my thing. Yum yum yum. 
And if none of these are doing it for you, here are my honorable mentions: 
- Tuberose Vert and Pétillant Fleur from the Perfume Junkie Club 
- Flutter from my 2017/18 retired fragrances 
- Be Loved and Be Happy Aromatherapy roll-ons 
- Luscious, Basic... basically anything with vanilla 
and 
- Pink Mafia for a more fresh and spunky take on rose! 
Holy geez I have made so much perfume and have no plan on stopping... (so please try it?!?!) 😅
Valentine's is next Thursday, so definitely get your order in by Monday morning (the 11th) if you want to surprise yourself (or I guess your S.O.) by the big day! 
Better yet, just come to OKC and smell them all. :) 
See you soon! 
-XO-