Favorite Natural Perfumes For Spring!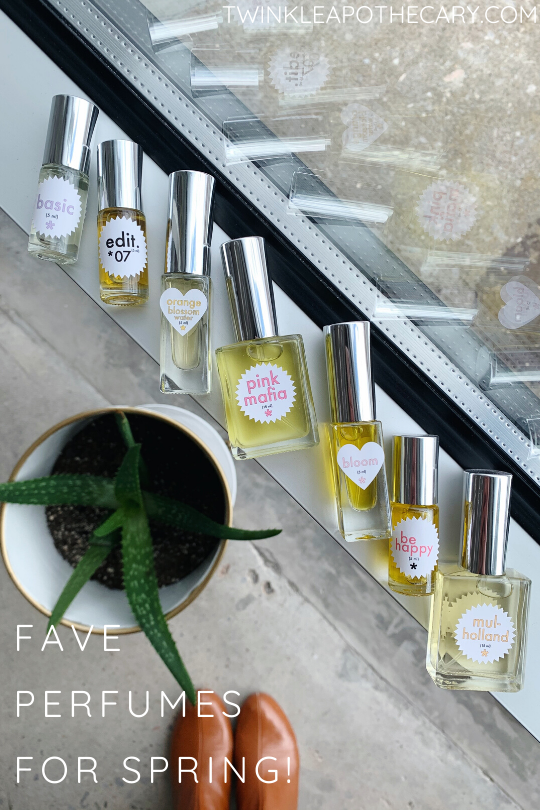 We're so close guys - daylight savings, spring break, and warmer weather is just around the corner, which means it's time to think about trying a new perfume! 
Around here, it seems like everyone goes absolutely crazy for fragrances in the fall and winter, (my limited edition fall perfume, Cardigan, is the top selling perfume of them all and it's only available the last 4 months of the year 😳) and - I get it - fall smells are great... 
but, spring smells are equally great, and great news, there are a whole bunch of lovely natural options here to choose from! 
I've covered my favorite winter, valentines, and transitional and season-less scents here on the blog before, but I've never devoted an entire post to spring, so I figured it was about time!  
Below, I've rounded up my top 7 favorite fresh, floral, juicy, creamy, bursting-with-sunshine fragrances that are perfect for new beginnings, peeling off your layers, and getting out and about in warmer weather (finally!)
So put the Cardigan down and give these current-seasonally appropriate scents a shot, ok? I know you're going to find one to love just as much!
In no particular order...    
Basic is the first of the 3 old-school twinkle signature fragrances that appears on this list (scroll down for more about the other two, Pink Mafia and Mulholland) which means that it's one of the very first perfumes I made back in 2015, and it still holds up. It's a forever best seller because it is fresh, clean, and sweet, but not too sweet. It's, well, Basic, only not in a boring way... my favorite thing that people say when they pick up this perfume in the shop is, "Oh but it's really not basic though, it's lovely!" (As if they were expecting something sad and plain?? LOL!) But really, I made this before calling people "basic" was a thing, and I was just going for a clean, appealing, crowd-pleasing scent. And I Nailed it! 
This is a great option for spring if you want something sweet that's not floral, and something fresh that's not too herbal or earthy. In fact, this is probably the least "earthy" scent that I make, although you know how much I hate that word, you know what I mean, right?? If you like vanilla, lavender, orange, and lemon, AND WHO DOESN'T? You will like this scent. Spring is the perfect excuse to give this bright, lavender, orange creamsicle pop of a perfume a try!  
Edition 7 is basically the opposite of Basic. Or, perhaps it's what you should choose if you want something basic but Basic really is far too basic for you... 
It's green, floral, sweet, resinous, and powdery, without being "too much" for spring. I'll tell you what I was going for with this one. I was going for a rich, classic, slightly oversized camel cashmere sweater. Something you could throw on when you don't know what you want to wear but you know you want to be dressed. 
It has some standout floral notes (plumeria, rose, orange blossom) but they don't "stand out" too much if you know what I mean. It's bright, interesting (there's a tiny little bit of cilantro in there) soft, and subtle, but very long wearing. The slightly amber-y vanilla-benzoin-sandalwood base notes are just right for lingering on your favorite rainy-day spring sweater. 
I almost put this one in the summer category because it is SO ZESTY but then I decided that anything orange blossom is a classic spring scent. (Did I just challenge myself to make a perfect summer orange blossom perfume?! Why yes, believe I did!) 
Orange blossom water goes off like a citrus bomb with yuzu, grapefruit, bergamot, and sweet orange, (yup, just throw them all in) with orange blossom AND neroli (quick perfume lesson: orange blossom and neroli are the same thing - neroli is the steam distilled essential oil of the bitter orange blossom and orange blossom is the chemically extracted absolute) so basically what I'm trying to say is that it's extra, extra orange blossom-y... and the base notes are almost non-existent. Just a tiny touch of sweet vanilla and woody vetiver to anchor all of that citrus to your skin.
Here's what I was going for with this one... Orangina. Not joking. 
Another old-school favorite from 2015! This one is a light, refreshing-yet-very-rosy perfume. The classic grapefruit-rose combo avoids being too stuffy or cloying because there's a kick of clean, sharp black pepper and grassy, green violet leaf to give your nose something more interesting to chew on. It's a cool-girl kind of floral that's perfectly light, not too sweet, and just the ticket for early spring. I wore it myself today, actually!
That's right, here we have yet another creamy, citrusy, orange blossom-y scent, but this one is different than the others, I promise! 
Bloom is nice and simple - a burst of juicy blood orange with classic warm floral heart notes (neroli, rose, ylang ylang) in a caramel-y tonka bean base. If I had to pick the perfume that felt the most like spring in a bottle, this would be it. Classic.  If Orange Blossom Water is Orangina, Bloom is a gourmet sherbet float with champagne, a spritz of rose water, and a twist of orange. But don't think of this one as a gourmand fragrance - it's just a nice, balanced, creamy, fresh floral. 
Be Happy is yet another iteration of citrus, rose, and neroli, and it is just that, and it is extremely effective. Not so much a true perfume as it is more of an aromatherapy experience, this blend of grapefruit, bergamot (an ingredient I've recently decided I don't use nearly often enough, btw) rose, and neroli is sure to put a spring in your step. I use it in my morning meditation practice when I want to guarantee I'll have an extra great day, or just anytime I need a burst of energy and, um, happiness. Because it's so simple, I recommend playing around with layering this one with other perfumes - it'd be beautiful with anything vanilla or sandalwood based, but I also love it with sage, patchouli, and amber fragrances! 
Mulholland is an ode to jasmine, which I discovered when I lived in Los Angeles and would take my son on long walks in his stroller from my apartment off of Ventura avenue in Sherman oaks, all the way up through the hills to Mulholland drive. It was a period of intense anxiety and loneliness for me as a newly single mom to a toddler but I was so comforted by the warmth of the sunshine combined with the jasmine growing on my neighbors' fences (okay yeah I didn't exactly live in the neighborhood but no one seemed to mind!) that when I started making perfume I knew I needed to find a way to capture that feeling - the feeling of hope that somehow, someway, I was going to be ok. We were going to be ok. 
This one will always be my favorite, and it will always be what I turn to when I need to be reminded that winters (and those cold, scary feeling seasons in life) don't actually last forever.  
- Stefanie -