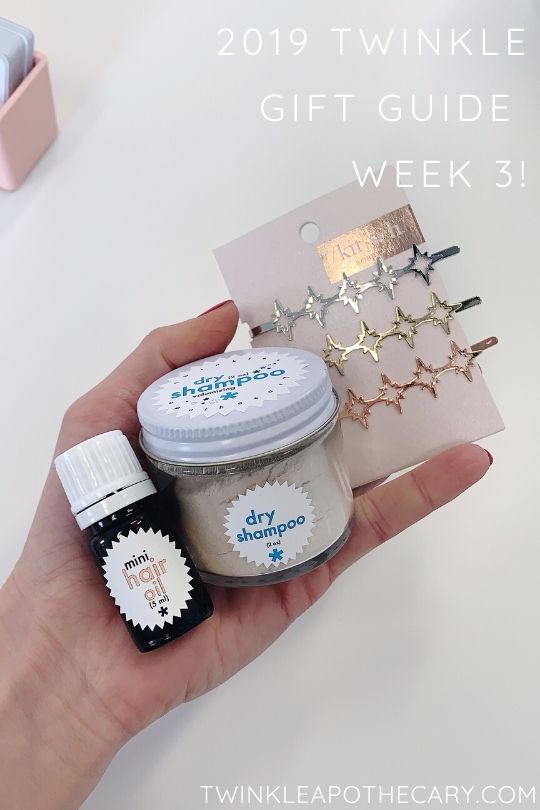 Happy December! 
There are just 15 days left to shop online to guarantee Christmas delivery, but don't worry. Gifting these products is so easy! Let me show you how:
TEA | TEA STRAINER | SLIPPERS | PERFUME JUNKIE CLUB  
STYLING CLIPS | WAVE SPRAY | POMADE | HANDMADE HEADBAND 
VEGAN LIPSTICK | NOTEPAD | MATTIFYING POWDER | FACEWHIP 
AROMATHERAPY NECKLACE | SINGLE NOTE PERFUME MINIS 
Note! Two things: I didn't realize when I ordered these what the felt pad inside was actually wool, so this might not be the best gift for a strict vegan. Whoops! Also, this is one of the few times that I'll recommend buying someone just sample sizes, because you can actually pour these out onto the necklace. 😉
GEMSTONE FACEMASK | AROMATHERAPY PERFUME 
HANDMADE SLEEP MASKS + GEL INSERTS | HANDMADE CAT RING | LIP BALMS 
HAIR OIL | DRY SHAMPOO | BOBBY PINS 
And that's all for this week! Note how there's a subtle theme to each gift and a good mix of samples to full size items. I think it's tempting to just get someone all sample size things to avoid the risk of buying them a full size thing they won't use, but sometimes you just have to take the risk. Be bold! Full size things are more fun to gift and make more of an impact/look way more impressive. 
I also sometimes get the impression that people feel like they have to buy something that I handmade or they're not really supporting me. SO NOT TRUE. I carefully selected all of the accessories in my shop to compliment my handmade products, and they're all from female founded or small handmade businesses that you can feel good about supporting as well. I know this might sound crazy to most of my customers, but not everyone wants handmade skincare for Christmas. (Crazy, but it's true!) Buying them something else from my shop is a great introduction to my brand as well! And honestly, you're doing me a favor by buying something from me that doesn't require getting my kitchen dirty to restock. 
I never discount my accessories during the year, so please feel free to take this opportunity to utilize the "build your own bundle" discount codes (see the banner at the top of the page) to put together some really fantastic gifts for your friends and family. Or yourself! 
Check back next Sunday for more! 
-XO-